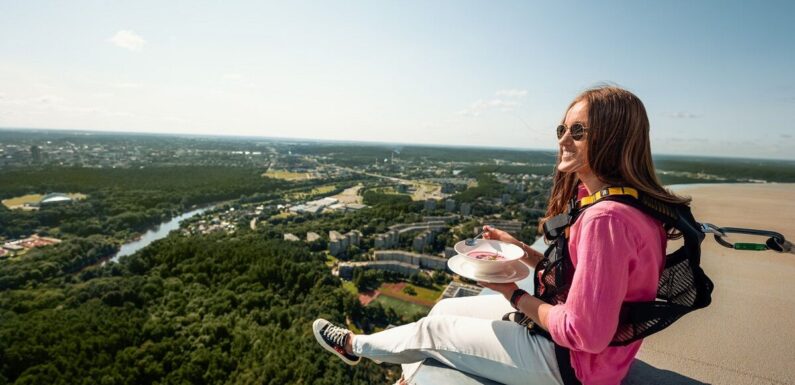 Foodies, cooks and culture seekers take your lead from Lithuania and discover why the beetroot is the pride of the country's gastro scene.
For those with the chance to be the capital Vilnius this coming weekend, you are in for a treat as it celebrates cold beetroot soup with its wonderfully eccentric Pink Soup Fest that's dedicated to one of the tastiest of vegetables – a much-loved staple in eastern Europe.  
On June 10 festivalgoers will be able to tuck into delicious variations of the dish and join in themed entertainments that hail the start of summer.
Similar to the Spanish gazpacho because it is also served chilled, Pink Soup also features cucumber, fresh dill, eggs, and buttermilk in its recipes and is served with a side of hot potatoes. 
Vilnius's gastro scene has turned into a winner over recent years with a multicultural fusion cuisine dimension that includes Jewish, Polish, and Lithuanian dishes along with those from Lebanon, Japan, Nepal, and France.
The festival unites, making common cause for Vilnius's restaurants, cafes, pubs, nightclubs, guides, businesses, entertainers and the automotive community. 
Special deals will be available inviting festival goers to try unique variations of the dish and take in eye-catching soup-themed art works.
One of those highlights will be a mural by the artist Eglė Žvirblytė near Bernardine Garden in the heart of Vilnius. 
Fuchsia tints will be everywhere with visitors encouraged to attend in soup-related fancy dress, be it a beetroot, egg, or a carton of buttermilk, and then slide down the Barbakanas Bastion hill—which offers panoramic views of the Užupis, the bohemian district, and self-proclaimed separate Republic, then straight into a specially-made artificial soup bowl.   
After the hill slide, the Pink Soup King or Queen will be crowned, visitors can roam to their hearts' content and revel in the music.
Since the fest aligns with Vilnius' 700th anniversary year, visitors will also have the chance to soak up the festive atmosphere and visit other events.
More information: https://www.govilnius.lt/pink-soup-fest
We use your sign-up to provide content in ways you've consented to and to improve our understanding of you. This may include adverts from us and 3rd parties based on our understanding. You can unsubscribe at any time. More info
Source: Read Full Article