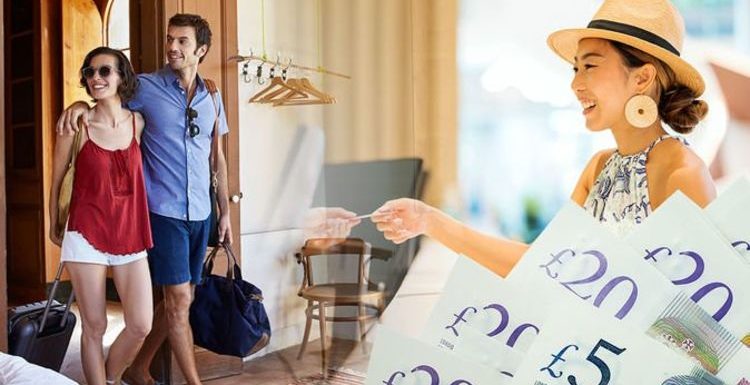 Best time to book hotels is…
We use your sign-up to provide content in ways you've consented to and to improve our understanding of you. This may include adverts from us and 3rd parties based on our understanding. You can unsubscribe at any time. More info
Booking a five-star hotel instead of a three-star hotel is bound to drive up the cost of your stay, but in some cases, heightened demand can also see prices rise. This includes stays at busy times of the year, such as the summer months of school holidays.
As a result of the pandemic, over the last two years, hotel prices have risen and fallen in line with restrictions and demand.
However, as 2022 begins it seems pricing is finally beginning to normalise.
According to Expedia: "Overall, average lodging prices have gradually increased over the past year.
"While domestic accommodation rates dropped in 2020, prices have started to normalise to pre-pandemic levels, however, due to the high demand for domestic travel, prices are still slightly higher compared to 2019."
However, Expedia has been gathering data from its booking platform to conclude when the best times to book and save money will be in 2022.
From scheduling your stay to making the booking on certain days of the week, savvy holidaymakers could be in with the chance of saving up to 50 percent.
Niamh Jenkinson, PR manager for Expedia, added: "As travellers continue to plan their future trips, we want to help make the process as easy as possible, while helping them save a few extra pounds on the way.
"We know planning a holiday can be stressful at the best of times, though by being flexible and applying these handy hacks, we hope travellers will feel more confident and ready to travel again."
DON'T MISS
Travel rules latest: One popular destination now easier and cheaper [REPORT]
Flights: The cheapest times to book and travel in 2022 [DATA]
Spain is hoping to attract expat retirees with 'more than 20 projects' [COMMENT]
When is the cheapest day of the week to book a hotel stay?
According to the data collected by Expedia, when it comes to domestic holidays, the lowest average daily rate (ADR) for accommodation tends to occur on a Friday.
By booking your stay on a Friday, versus on the most expensive day which is a Sunday, travellers could save five percent.
For international trips, the best day to book your stay is on a Monday.
Travellers who book on Monday could also save five percent versus booking on a Saturday.
When is the cheapest day of the week to stay?
As you might imagine, weekends tend to be one of the busiest times for hotels.
According to Expedia's research, if you're looking to save money, the best day to begin a domestic stay is on a Monday.
Compared with a Saturday, hotel guests could save as much as 20 percent.
The same applies to overseas stays, however, savings are a little less, coming in at approximately 10 percent.
How else can you make savings on hotel bookings?
Being smart with your time isn't the only way to bag a bargain stay.
Though it may seem obvious that choosing a lower star-rated hotel could help you reduce spending, the drop in rating doesn't have to be huge to see sizeable savings.
Expedia said: "Travellers can save almost 50 percent, on average, by simply opting for a four-star property over a five-star, while down-starring to a three-star from a four-star can save travellers around 30 percent."
Source: Read Full Article