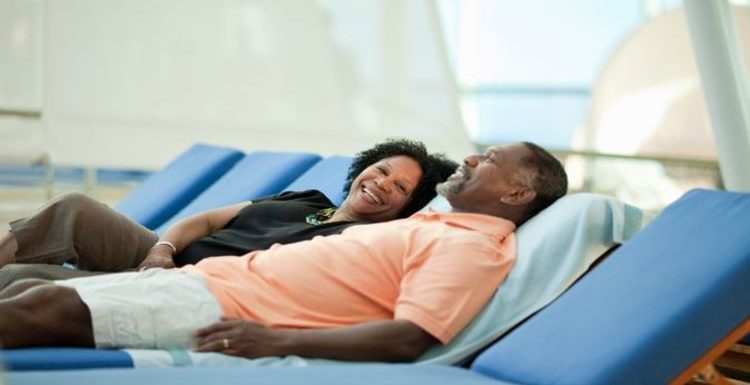 Billionaire Cruise Ship: Chef reveals how much food is cooked
We use your sign-up to provide content in ways you've consented to and to improve our understanding of you. This may include adverts from us and 3rd parties based on our understanding. You can unsubscribe at any time. More info
Reddit user 'electricamethyst' uncovered some cruise secrets when they asked 'What is your favourite cruise tip most people don't know?' From dining tips to magnetic walls, some of the advice was surprising.
Most cruise holidaymakers might head to bed before the early hours, but one cruise veteran said that's the best time to make the most of some of the ship's facilities.
SeaPasser said: "If you wake up at two am it is the best time to wander around to take pictures, use the freshly sanitized tubs, or enjoy the serene moments."
Cruise liners can be very busy so using the facilities at night can guarantee a guest a more private experience.
A commenter added that most cruise ships keep at least one of their jacuzzis open overnight for night owls.
One of the most popular tips was an extremely useful packing hack that new cruise guests might not be aware of.
Hartastic said: "The one I always give to newer cruisers (probably well known to veterans) is that getting on a ship is a lot like on an airplane in that you give up your luggage before you go through security to get on board and it then shows up at your room sometime that first day.
"So anything you absolutely want to have the first day (sunscreen, sunglasses, swimsuit if you want to swim etc.) be sure to toss in a carry-on since you never know exactly when your luggage will come."
Luggage is delivered to a guest's room by staff later on in the day so guests will need to make sure to pack their essentials in hand luggage.
Guests who are setting off from a sunny location will want to make sure they have sunscreen to avoid getting burned.
Redditor, Chs135, unveiled another top packing hack that many newcomers might not be aware of.
They said: "The walls are magnetic – bring a couple of magnetic hooks and it instantly keeps things organised – hang hats, bathing suits, lanyards…"
While this tip might not work on every cruise ship, many ocean liner cabins do have magnetic walls.
By bringing a few extra hooks, cruise guests will be able to hang up wet swimming costumes or evening outfits and keep extra room in their closet.
A highlight of a cruise for most guests are the incredible all inclusive dining options. Some of the more luxurious ships will have endless choices for guests.
Steverz said: "You can get as many plates of whatever you want as many times as you want.
"Order two at a time if you want. Might be harder on lobster night, but they'll always accommodate if possible."
If guests are lucky enough to be able to choose their cabin location, the cruise veterans shared the ideal spot.
Redditor hawtp0ckets said: "I'm not sure if this is something 'most people don't know' as it may be totally obvious to everyone, but before my husband and I went on our first cruise our friends told us to book our room as close to the elevator as we could.
"We (stupidly) did not do that and the walk to our room every time from the elevator took forever. I definitely regret that."
However devpsaux said: "There is a sweet spot though. Too close and there's a lot of noise, especially if it's a ship with one of the big atriums. I usually try to book four to five staterooms away from the elevators.
"That way it's pretty close, but you don't get the noise of everyone coming off the elevators at all hours."
Source: Read Full Article