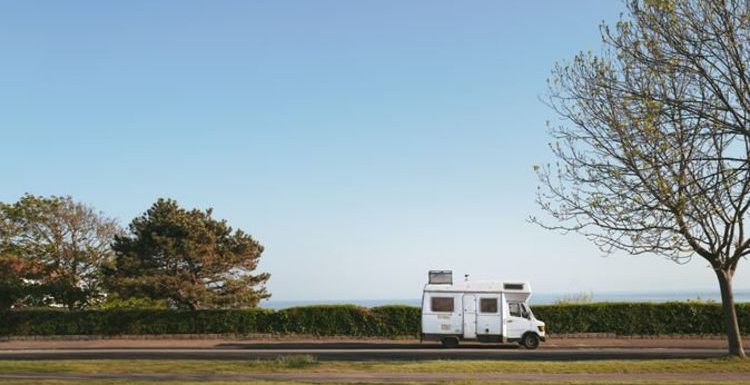 RAC shares their guide to towing a caravan
We use your sign-up to provide content in ways you've consented to and to improve our understanding of you. This may include adverts from us and 3rd parties based on our understanding. You can unsubscribe at any time. More info
Going caravanning or camping in the autumn or winter may not be Britons' first thought, but it could be a wonderful opportunity to explore the country for cheaper. Ed Bassett, head of wanderlust at caravan and motorhome sharing economy platform Camptoo believes off-peak could be the 'best time' for a staycation.
He said: "March to end of October, you can do a lot in vehicles. But again, why not do a winter staycation?"
The UK is home to hundreds of thousands of motorhomes, and "that's growing about seven percent per annuum".
Ed said: "The UK is the second biggest market for caravans and motorhomes and campervans. Half a million people have tow-in caravans and about 300,000 people have motorhomes which they drive.
"Most of these people will be intending to use their vehicles all year round."
Camping and caravanning in the off season is all about experiences.
Ed said: "If you want to go whisky tasting in Scotland, I would always say well make your trip about that, make your holiday around that.
READ MORE: Most beautiful coastal town in the UK named
"If you like art, or heritage or castle or cheese, make the road trip about that."
The most important part of planning a caravan or camping holiday is to have "a destination and an activity" Ed said.
"I always think it's about what are you going to do in the vehicle?"
This crucial part of planning a holiday applies to both summer, and autumn/ winter trips.
The off-peak season is a fantastic time to go on a trip, with prices reduced.
Ed said: "We work in peak and off peak. July and August are super expensive, June, April, September, less expensive.
"But obviously the best time to travel are going to be May, January, February, March and then October, November, December.
"You're not far away from paying half price.
"So if you wanted to go for a weekend to try it, your best time to go would be in the off peak, and just go camping in March or May, when it can still be very warm."
And even if the weather isn't cooperating, a caravan holiday isn't off the cards.
Ed explained: "We have vehicles with stoves in them, like you have narrowboats with stoves. You can create that winter experience, provided you have the right clothing, anything is possible."
With off-peak caravan rentals being cheaper and with more availability to pick the vehicle that fits your needs, the key, according to Ed, was to "try something new".
Ed said: "That makes the holiday much more interesting. If you're not activity focused, go on an art trip, do some painting.
"There's so much stuff to do in the UK. People click on activities and stuff to do."
Even if summer is coming to an end, a caravan holiday is still an option.
And beyond camping and caravanning, there are a range of fantastic activities to enjoy across the country.
Ed reminded Britons: "Walking in autumn and winter is wonderful.
"Obviously skiing is a bit restricted here, but I know loads of people who take their motorhomes to France to ski and stay in a campervan or motorhome."
The point of a holiday, caravan or otherwise is the "experience of getting somewhere and doing new things".
Whether it's during the peak or off-peak seasons, spontaneity should be encouraged.
If Britons follow Ed's advice, many may start planning an autumn or winter caravanning adventure.
Not only will they discover something new, but they will save money in the process too.
Source: Read Full Article