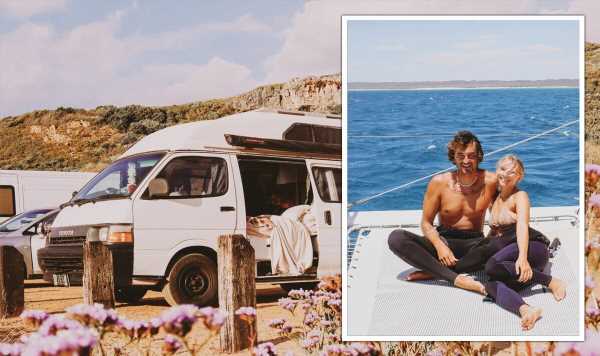 The Travel Show: Simon Calder shares his money saving tips
We use your sign-up to provide content in ways you've consented to and to improve our understanding of you. This may include adverts from us and 3rd parties based on our understanding. You can unsubscribe at any time. More info
Becca Hill and Tommy Lloyd each travelled to Australia separately in 2020. Although the pair originally each planned to stay a year, they had to change their plans when the pandemic hit.
Tommy said: "I had spent months saving and building an itinerary in preparation for my dream trip.
"When it was finally starting to happen, news broke of the restrictions. I didn't quite know how to process it.
"I had to make a very quick choice between packing up and returning home, or committing to the uncertainty and staying without any Government assistance."
Becca added: "We both recognised that farmwork was the safest thing that we could do at the time as it guaranteed some security and meant that we would not be left isolated.
"It was on the muddy fields of Bundaberg farm, covered in irremovable layers of dirt, that we actually met."
Tommy earned money driving tractors on the farm while Becca worked in the sweet potato, blueberry and macadamia nut fields.
The new couple then decided they would travel Australia in a camper van instead of returning home.
Tommy said: "We bumped into a campervan mechanic and it was as if he had been sent from heaven.
"He was able to help us find a van for $9,500 (£5,451) and then spent the next eight weeks helping me kit out after work."
The couple then went on an epic adventure taking in Whitsunday Island, the Great Barrier Reef and Fraser Island.
However, work opportunities were extremely limited and the pair were forced to take on some unusual jobs.
The pair found themselves tending to graveyards and working as sandwich makers in Subway.
Becca said: "If we had not committed to staying in Australia, not only would we not have met, but I would have kept a very different perspective on life.
"I most likely would have gone for further studies and Tommy would probably have settled for a job.
"When these expectations were taken away, we were able to reset and think about what we really wanted in life."
Darryl, co-founder of Welcome to Travel, said: "It is easiest to leave job hunting until you are in Australia as there are so many going over there that you are unlikely to have any issues starting work.
"And if you are planning to stay in a hostel, you will be surrounded by people in similar positions who will be there to give advice and support along the way."
Southern Australia recently launched a refreshed 'Ten Pound Pom' scheme offering Britons the chance to fly to Adelaide for just £10.
Britons must be under the age of 30 or 35 in Northern Ireland to qualify for the scheme which includes a return ticket.
It is named after the popular scheme set up after World War Two where Britons travelled to Australia for £10 to find work.
Source: Read Full Article