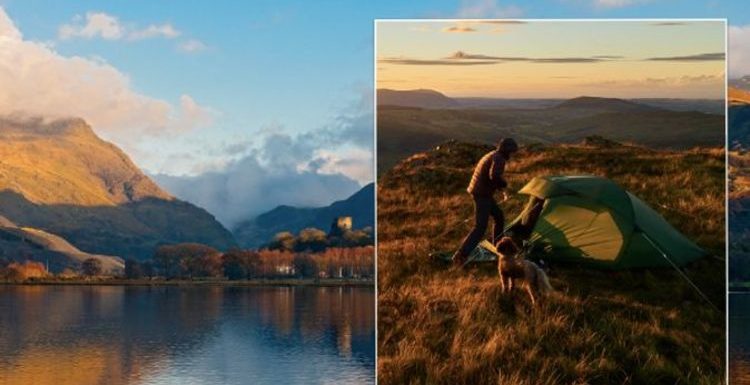 Tour of the Lake District's most ROMANTIC areas
Staycations saw a surge in 2020 as the coronavirus pandemic saw international holidays plans roadblocked by restrictions and travel bans. With the UK set to face yet another year of pandemic turbulence, experts foresee another successful year for domestic tourism.
As part of their "UK Camping Trends Report" for 2021, experts from CoolCamping.com have analysed the hotspots already booking up fast to determine where the most popular camping destinations will be this summer.
"While the pandemic led to a rise in UK camping holidays last year, and staycations on the whole, we expect that level of demand to remain high into the summer of 2021," explains the report.
By analysing page views for destinations advertised on the coolcamping.com website, the team were able to identify the most sought-after destinations in the UK.
While coastal hotspots certainly ranked within the top destinations, it was the North's Lake District which has, so far, seen the most attention.
We will use your email address only for sending you newsletters. Please see our Privacy Notice for details of your data protection rights.
"Coming out in the top spot is the Lake District National Park, which accounted for 16.32 percent of all page views over the past year," states the report.
"This is followed by the New Forest with 9.55 percent and Cornwall with 9.29 percent.
"Devon, Norfolk, Dorset and the Peak District are all popular choices too."
The Peak District, Cotswolds, Brecon Beacons, Yorkshire, Suffolk, and Northumberland also feature within the top 20 camping hotspots.
DON'T MISS
Package holidays: Jet2, easyJet & TUI – Latest cancellation updates [UPDATE]
Cruise: Latest holiday restart dates as of February [INSIGHT]
Spain holidays: Express readers to ditch Benidorm holidays [COMMENT]
However, the experts also offered a warning to those hoping to go on a staycation in 2021.
"Holidays can book up fast and Brits planning staycations this summer need to be plan ahead to book the most in-demand locations," said a CoolCamping.com spokesperson.
Despite a surge in alternative camping accommodations, such as yurts and treehouses, it seems more traditional camping pitches remain popular.
"Unsurprisingly, with many tens of thousands across the UK, it was the traditional grass camping pitch which came out on top, beating any of the more exclusive accommodation options substantially," states the report.
"The standard grass pitch accounted for 62.82 percent of all bookings in 2020 as traditional summer camping boomed, while the second most popular option was a grass pitch with electricity which made up a further 9.01 percent of bookings.
"On the quirkier side, it was bell tents which came in third place, accounting for 5.09 percent of bookings, with pods taking in 4.72 percent of bookings."
The top 20 "most popular" destinations for 2021 are:
1. Lake District
2. New Forest
3.Cornwall
4. Devon
5. Norfolk
6. Dorset
7. Peak District
8. Snowdonia
9. Pembrokeshire
10. North Wales
11. Kent
12. Yorkshire
13. Cotswolds
14. Sussex
15. The Gower
16. Northumberland
17. Suffolk
18. South East England
19. Brecon Beacons
20. South Wales
Source: Read Full Article