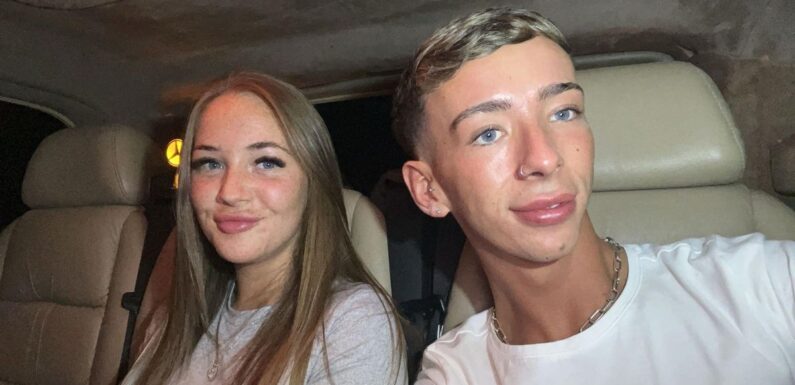 A group of friends excited to begin their all-inclusive holiday in Turkey were shocked when security at their accommodation apparently told them to "go away". The three youngsters were gobsmacked at the situation that unfolded after paying £1,500 for their trip.
Aaron Hatton, 20 and Danielle Halsall, 20, from St Helens, flew out to Turkey with another friend from Manchester Airport on October 6. They planned to spend seven days at the hotel having booked an all-inclusive package holiday with Loveholidays.
However, arriving at the airport for their £1.5k holiday, the three friends got into their transfer and were dropped off outside their hotel at around 1am where things began to go wrong. They claim that the gates to the hotel were closed and locked while they could see people on their room balconies.
READ MORE: 'I used to scrimp and save to travel – now I go on free holidays around the world'
Read all the latest stories from the Daily Star's travel team
Aaron told the Liverpool Echo that they managed to speak to somebody who was standing on a balcony and after doing so they were approached by a member of security. Sadly, it seems they were not able to actually get inside the hotel.
Aaron said: "We just wanted to go somewhere hot for a nice little holiday and booked something with Loveholidays. We got to the airport [in Turkey] and everything was fine, and we booked a private transfer and went to the checkpoint where they picked us up.
"We were dropped off at about 1am at this hotel we had booked and it was locked at the gates. We went round to the other side and we could see people on the balconies so we asked them how to get in – they said to go around to the front.
"There was a security guard looking at us and we were trying to get through but they kept saying go away, find somewhere else and that the hotel wasn't open to the public. We showed them our phone with the booking and the name of the hotel but they kept shaking their head."
The group had no choice but to stay at one of their original hotel's sister sites – but were told they could not drink alcohol there as part of their all-inclusive holiday. They claim that booze was meant to be a part of the package that they booked. Aaron noted: "After 11.30pm we were told we could only get a drink from the water machine and that it wasn't safe to leave the hotel at night. They told us to go and lock ourselves in our room.
"We also paid extra for a bigger room with a sea view [at the initial hotel] which was worth £84 a night and after looking up the new hotel that was £18 per night, so we were downgraded. The room [in the new hotel] had one double bed and one single bed which was very cramped. "
The pals weren't able to get in touch with love holidays until October 8, they claim, when they decided they would rather go home. Their families forked out £570 so that the three could return to the UK early after just 48hours abroad.
Aaron said: "It was so stressful and traumatic. We were left in a country we didn't know in the middle of the night with nowhere to go. We registered a complaint on October 13 and it just said it was processing, we have tried to call loveholidays but they said the phone line was for people who were still on holiday. It seems like loveholidays are just not bothered."
A spokesperson for loveholidays said: "We're very sorry Mr Hatton's holiday did not live up to our usual high standards. We're investigating the relocation error with our accommodation supplier to ensure it does not happen again and are doing all we can to support Mr Hatton's claim. While we're still within the usual timeframe to investigate this complaint, we've already been in touch with Mr Hatton to apologise and reimburse his accommodation costs, alongside offering a £100 voucher from loveholidays."
Source: Read Full Article