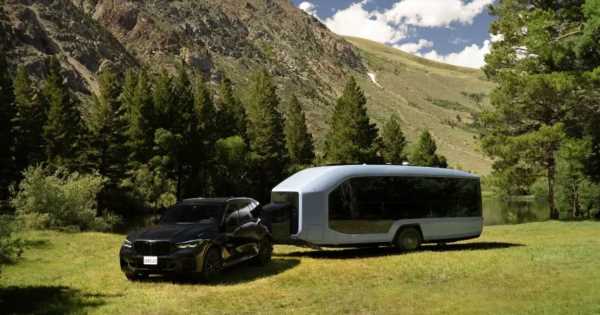 Caravan holidays were once very popular in the UK before taking a dip and becoming unfashionable – however Covid staycations and the rise of the motorhome have caused a renaissance. Now, the world's most advanced caravan is making a splash among UK holidaymakers.
The small home on wheels is perfect for heading off to campsites around the UK or beyond and boasts extremely comfortable features like a full sized shower. So you can say goodbye to cramming yourself into a tiny bathroom. The caravan-style trailer home also has wraparound windows meaning you'll be able to take in the scenery as you drive.
The new Pebble Flow EV also pulls its own weight and runs on electric so it can be charged through public chargers, a home callbox or through campsite sockets plus there's a 1kW solar panel system that charges the caravan when it's parked. All that electricity will come in handy when you're on holiday in a heatwave too as the camper has air conditioning throughout.
READ MORE: UK's best hotspot for a romantic weekend is 'like Italy' with pretty beach
Check out our travel section for more holidays, travel news, hacks, flight secrets and more…
One of the newfangled additions to the design which won't be seen in other caravans is the iPhone control – which lets you control your home through your mobile. You can use the Pebble Flow app to direct your cabin temperatures, lights, door locks and even to change driving modes.
But, that's not where the technology ends. Apparently, according to Pebble, drivers can tell the caravan to park itself into tight parking spaces… so no more struggling to squeeze in required. On top of that, the caravan has a "magic hitch" feature that means your caravan automatically attach the EV to your truck or car.
The InstaCamp function also lets you automatically deploy the stairs, awning, stabilisers for rocky or uneven terrain and parking brakes. So you'll be set up at your campsite with zero effort from you.
On top of that the 25-foot trailer EV has a luxury interior so you can go camping in style. There's a Queen-sized bed, a flip down desk and fully equipped kitchen and a microwave plus the beautiful interior has been designed to look clean and sleek. It's so nicely appointed that it looks like a fancy studio apartment.
The California-based Pebble company said that it will be the "most technically advanced travel trailer on the market" – and unsurprisingly it's charging fair whack for those who want one new. The Pebble Flow costs £90,000 or £100,000 if you want the Magic Pack that includes all the smart features.
An android version of the app is in the works, but for now it only works on iPhone. The Pebble Flow is expected to go on sale by the end of 2024 – so from next year you could be relaxing in your own caravan in a beautiful staycation spot. pebblelife.com.
Want the Daily Star's top travel stories and best deals straight to your inbox? Sign up to our free weekly newsletter here
Source: Read Full Article