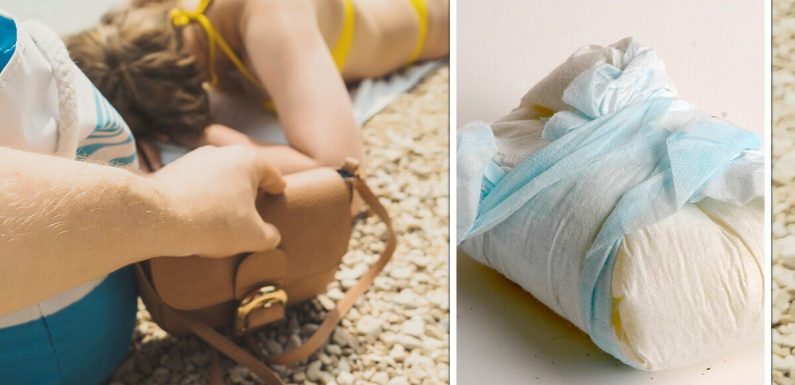 We use your sign-up to provide content in ways you've consented to and to improve our understanding of you. This may include adverts from us and 3rd parties based on our understanding. You can unsubscribe at any time. More info
The "nappy hack" is an increasingly popular travel tip that some holidaymakers have revealed on social media. TikTok user @belleluciak shared a video showing how she hid her valuable items and mobile phones in a nappy which she left on the sunbed while she went for a swim.
The TikToker explained this was a "fullproof way to stop valuables being stolen" as "no one is going to steal a nappy" or what it looks like a dirty nappy.
Most social media users thought this was a "genius" hack but others said they "would be scared someone would pick it up and throw it in the bin".
Holidaymaker Kalina Stoianova loved the travel tip and shared her favourite place to hide the valuables at the beach.
She said: "I used to do a hole under my beach towel but I guess a nappy also works incredible."
@belleluciak Nutella for extra points #hack #nappyhack #beachhack #hacksoflife ♬ Monkeys Spinning Monkeys – Kevin MacLeod & Kevin The Monkey
A baby nappies pack can be purchased in Asda for just £9 or in Aldi for under £3, but travellers will only need to pack one for their holiday.
The nappy can be reused every day and in fact, the dirtier it looks, the more effective it will be in deterring thieves.
SimpliSafe's General Manager, Jonathan Wall, commented: "People have been known to hide their belongings in unusual places when abroad.
"Some spots include under the mattress, socks, hats, hollowed books and even nappies!"
Although these are "creative ways of protecting your belongings", Jonathan recommended always using the safe most hotel rooms have as this is a "more straightforward safety precaution".
If holidaymakers are looking for extra protection in the hotel room, the experts advise buying a jammer which is a portable device that slips under the door for another layer of protection.
"Alternatively, placing the 'Do Not Disturb' sign on the outside of your door gives the impression that you're always in your room," he added.
The experts also urged travellers to plan ahead and do their research before as travelling with expensive items can be daunting. "It is super important," he added.
"Get to know your destination by reading traveller reviews on the likes of Tripadvisor, for example," he recommended.
"When exploring or sightseeing around the local area, if you have expensive items on you, you may want to wear an anti-theft bag as it's a simple way to protect your items.
"Anti-theft or proof bags can help keep your belongings safe by making it extremely difficult for thieves to rip your bag or cut the strap."
Some anti-theft bags retail on Amazon for less than £15. These are handbags and backpacks with hidden zip compartments which make it more difficult for thieves.
They are often waterproof and keep the valuables and money away from pickpockets.
Similarly, if Britons are planning a trip to the beach, purchasing a water-proof bag is also a good practice.
Jonathan said this is an effective way "to ensure valuables are never left unattended f you're going into the sea".
Source: Read Full Article