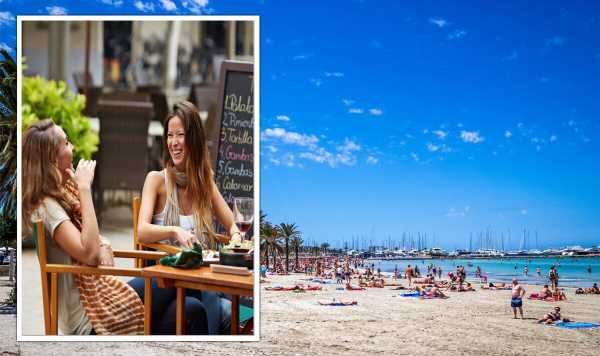 Simon Calder offers travel baggage advice
We use your sign-up to provide content in ways you've consented to and to improve our understanding of you. This may include adverts from us and 3rd parties based on our understanding. You can unsubscribe at any time. More info
Becky Roberts, 50, moved to Majorca from London. She decided to make the move after reevaluating her life and plans for the future.
She said: "As I'm not married and have no kids and run my own PR business, which I can do anywhere in the world, I figured I'd go for it!
"I've been here just under four months and have no regrets. It was really stressful getting everything sorted on my own without the help of a partner but I've been loving it so far."
While Becky has been loving her new life in Majorca, she's particularly enjoyed getting out of her comfort zone.
She said: "You never know what's going to happen, who you're going to meet, or what challenges you might face.
"I didn't know a single soul when I moved here, which either makes me adventurous or mad!
"However, I figured the need to meet new people was the perfect excuse to take myself out for drinks or dinner frequently – which I love!
"Get out of your comfort zone, make an effort and you'll be surprised by what happens."
Becky now lives just 10 minutes from the beautiful Majorcan coastline but her new life wasn't without challenges.
She said: "It was tough to gear myself up mentally that I wasn't just having a mid-life crisis and being irresponsible.
"In practical terms, downsizing and letting my flat in London was tricky.
"I didn't want to spend lots of money on storage, so I had to downsize a lot of my belongings and clothes before renting out my flat.
"It was actually very cathartic but I think the local charity shops were starting to get tired of me after a while!"
While downsizing can be tricky, it's also an opportunity to get rid of a lot of things that are no longer being used.
British expats should be able to get rid of quite a lot of winter clothes as thankfully the weather in Majorca is far sunnier.
Becky added: "The support and encouragement has been wonderful, both from people at home and those I've met since moving here.
"I've been called brave a number of times, which felt strange initially, although now I look back on it, I guess I was.
"I'm not usually very good at asking for help, but I've realised that it's not a badge of honour to struggle which has completely changed my attitude.
"People generally love to help and give advice, especially when they see you've moved on your own and that you're keen to find out about their country.
"Be inquisitive, I've been given so much good advice just by putting myself out there and asking questions."
Helen Ivashko, Consumer Lead at Wise, commented: "It might be tempting to think that your current bank account already allows you to manage money abroad.
"But you could lose huge amounts of money on poor exchange rates and hidden fees by changing your salary across currencies with a domestic bank.
"This becomes even more of an issue for people who are really trying to save money on living expenses while making the move abroad.
"Managing finances in another country can be stressful, but there are ways of making it easier.
"Multi-currency accounts can offer local bank details, direct debits, and even Apple Pay, so you get all the convenience of your regular bank, without the cost."
Source: Read Full Article