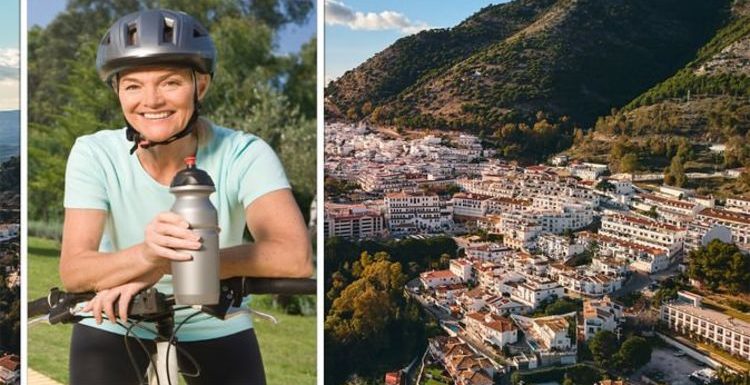 Benidorm Sun, Sea and Sangria: Couple on their love for resort
We use your sign-up to provide content in ways you've consented to and to improve our understanding of you. This may include adverts from us and 3rd parties based on our understanding. You can unsubscribe at any time. More info
Around 60,000 British expats live in Spain's sunny Costa del Sol. But when it comes to choosing a destination to settle in, there are a couple of areas that deserve attention.
Express.co.uk spoke to Marc Pritchard, sales and marketing director at Taylor Wimpey España, about the charms of the Costa del Sol.
Marc told Express.co.uk: "When it comes to the best area in which to purchase property in Spain, the Costa del Sol is stealing the limelight right now.
"Between its stunning beaches, championship-quality golf courses, 300 days of sunshine per year and superb local cuisine, the area is packed with appeal.
"It's also easy to reach from the UK and provides something for everyone, from serene landscapes to bustling towns and cities."
Many budget airlines offer cheap flights to the Costa del Sol from most major UK airports.
Expats will be able to visit family and friends in the UK regularly, providing there are no more travel restrictions.
While there are many popular areas to purchase property in the Costa del Sol, Marc said there are a couple of areas he would recommend.
Marc said: "In terms of locations within the Costa del Sol to buy property, both Mijas and Estepona warrant a close look.
"The beauty of the mountainous Mijas municipality is just breathtaking, while there's something quintessentially Spanish about the whitewashed houses covered with bright flowers through which Estepona's streets wind."
The beautiful town of Mijas is situated between the popular holiday destinations of Fuengirola and Marbella.
Meanwhile, Estepona is one of the Costa del Sol's most attractive resort towns with a palm lined promenade.
Estepona's town centre is famous for its charming flower filled square and fishing port.
Marc added: "When it comes to the type of properties people are looking for right now, it's all about space, both inside and out.
"Inside, buyers want light-filled rooms with floor-to-ceiling windows, with open plan layouts that they can flex to meet their needs, whether that's holidaying, working from home or anything else.
"High-speed internet connections are a must."
Since Brexit, many Britons have chosen to buy holiday homes rather than relocate to Spain.
Britons can spend 90 out of every 180 days in the EU without residency since the Brexit transition period ended.
Marc added: "Outdoors, buyers are seeking large terraces and/or gardens, as well as communal gardens and pools.
"Many are also looking for both space and healthy lifestyle benefits in the surrounding area, meaning that golf properties in the Costa del Sol are proving particularly popular right now."
The Costa del Sol has some of Spain's best golf courses making it a great choice for expats who want to spend a lot of time out on the green.
Source: Read Full Article