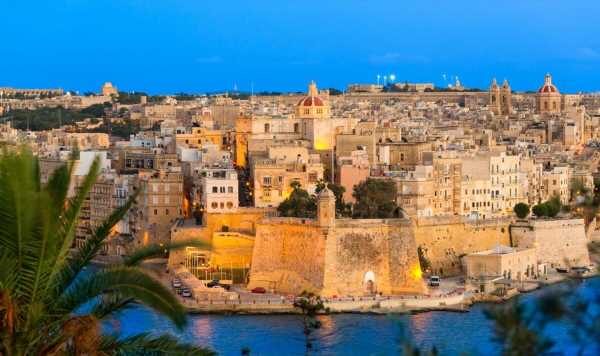 Searches for "last-minute holiday deals" are up 180 percent on Google, so it's clear, getting away and enjoying some sunshine is on everyone's agenda this year.
From beautiful beaches to stunning cities, new data has unveiled the most affordable must-see holiday destinations for 2023.
1. Malta
Nestled in the Mediterranean Sea between Italy and Tunisia, Malta is a stunning island that sees over 300 sunny days a year.
Anyone looking for non-stop parties should hit up Paceville in the town of St. Julian's. Or for something a little more serene, head to the wine bars in the fortress city of Valetta.
Culture lovers can enjoy the many ancient temples, medieval fortresses, cathedrals and museums. With a complex and rich history made up of Roman, Moorish, French and British rulers, there are over 7,000 years of heritage to explore.
Best cheap hotel/hostel: Mr Todd Hotel, Sliema
Best bar: City Bar
Best nightclub: Numero Uno
Best place to eat: Is-Suq Tal-Belt (Valetta's indoor food market)
Must-see tourist attraction: St. Peter's Pool
2. Lisbon, Portugal
Delicious food, a vibrant nightlife, and white sandy beaches; Lisbon really does have it all. Located on the West Coast of Portugal, Lisbon has soared in popularity in recent years, offering exceptional value for money compared to other European cities.
For a real taste of a typical Lisbon night out, head over to Bairro Alto. During the day the town is quiet and unsuspecting but by sunset, the cobbled pavements come alive, transforming the streets into a bustling festival.
Time Out Market Lisboa offers the best Portuguese food in town. With 26 restaurants, eight bars and dozens of shops, you'll be spoilt for choice. For something sweet, try Portugal's famous delicacy – the Pastéis de Nata.
Best cheap hotel/hostel: Home Lisbon Hostel
Best bar: Portas Largas
Best nightclub: Galeria Zé dos Bois
Best place to eat: Time Out Market Lisboa
Must-see tourist attraction: Vasco da Gama Bridge
3. Hvar, Croatia
Lying between the islands of Brac, Vis and Korcula, Hvar is a breathtakingly beautiful Croatian island, and fun-seeking travellers should visit Hvar Town. It's packed with lively beach bars and iconic nightclubs but because of its popularity with backpackers, you'll also find cheap eats and affordable bars.
There's plenty to keep visitors occupied in the main town but it's well worth exploring the rest of the island, with its rolling hills, isolated coves and lavender fields. Public transport isn't great so the easiest way to get around is by renting a scooter.
Best cheap hotel/hostel: White Rabbit Hostel
Best bar: Kiva Bar
Best nightclub: Carpe Diem
Best place to eat: Restaurant Mizarola
Must-see tourist attraction: Day trip to the Pakleni Islands
Don't miss…
'Budget summer destination' is 'beautiful' – full list[LATEST]
Best country for retired British expats named[RESEARCH]
Cruise guest slammed as 'selfish' by wife that 'hates cruises'[COMMENT]
4. Gran Canaria
Located just off the coast of northwest Africa, Gran Canaria is one of Spain's most popular Canary Islands. Up north, there are leafy mountains, volcano craters and wonderful wild beaches, perfect for hiking, cycling, water sports and day trips to remember.
The north is where you'll also find Gran Canaria's lively capital – Las Palmas. Whether it's the old town of Vegueta, the district of Triana or the beachfront of Playa De Las Canteras, there are plenty of restaurants, bars and nightclubs to keep you up until the early hours.
Best cheap hotel/hostel: White Rabbit Hostel
Best bar: Kiva Bar
Best nightclub: Carpe Diem
Best place to eat: Trattoria Pizzeria Calabrè Las Palmas
Must-see tourist attraction: Dunas de Maspalomas
5. Morocco
Located on the tip of northern Africa and just an hour's ferry ride from Spain, Morocco is a captivating country, and Marrakech is a great place to visit.
Spend days wandering through colourful souks and the market square and marvel at the sights, smells and sounds. At night, choose from rooftop bars and restaurants in the old town or head to one of the many nightclubs, where circus entertainment meets clubbing.
If you're after a little relaxation, treat yourself to an inexpensive and rejuvenating full-body scrub and massage at a traditional hammam.
Best cheap hotel/hostel: Equity Point Hostel
Best bar: L'Envers
Best nightclub: Theatro
Best place to eat: Le Tanjia
Must-see tourist attraction: Jema El Fna
6. Copenhagen, Denmark
Denmark might not be the first place that springs to mind as a summer holiday destination. But hear us out. With 400 islands, thousands of miles of coastline, average temperatures between 20°c and 22°c, and incredible music festivals, summer is the best time to visit this Scandinavian country.
Denmark's buzzing capital, Copenhagen, is a stunning Instagrammable city with an incredible cultural scene. It boasts hundreds of bars, restaurants and cafes, and is best explored by foot or bike. While it can be pricey, it does have a big student population so there's still plenty to do that won't break the bank. Don't miss Distortion – the city's huge five-day street party celebrating nightlife, dance music and "orchestrated chaos".
Best cheap hotel/hostel: Steel House Hostel
Best bar: Joy
Best nightclub: Rust
Best place to eat: Reffen Street Food Market
Must-see tourist attraction: Nyhavn
7. Bali
Known for its beautiful beaches, forested volcanic mountains, and iconic rice paddies, Bali has become one of the most in-demand holiday destinations. It's popular for its yoga and meditation retreats, and in recent years, a hedonistic nightlife has been growing that will see you partying until the sun rises.
The nightlife in Bali is concentrated in the southern villages of Kuta, Legian, and Seminyak. Here, you'll find nightclubs, restaurants, bars, and plenty of beach parties. During the day, make sure you take a trip to the rice fields and lush tropical jungles in Ubud. Or, take a tour to the island of Nusa Penida to snorkel with majestic manta rays.
Best cheap hotel/hostel: Hotel ZIA Bali
Best bar: Single Fin
Best nightclub: Sky Garden
Best place to eat: MyWarung
Must-see tourist attraction: Ubud rice paddies
8. Budva, Montenegro
Located just a short drive from Tivat Airport, Budva in Montenegro is a prime location for sandy beaches and lively nightlife. Dubbed Montenegro's Cote d'Azur, the stunning old town is filled with incredible places to eat and drink and in the summer, seafront bars pop up all over the place.
Top Hill is Montenegro's famous open-air nightclub, with spectacular views over the town of Budva iconic DJ names, such as Fatboy Slim, Eric Prydz, and Roger Sanchez have made appearances.
Thrill-seekers should head to Krapina Village and take an exhilarating zipline ride down the Tara River. Or consider rafting or kayaking the untamed waters instead.
Best cheap hotel/hostel: Freedom Hostel 2
Best bar: Old Town Pub
Best nightclub: Top Hill
Best place to eat: Mercur Restaurant
Must-see tourist attraction: Boat trip to Hawaii Island
9. Milan
A fast-paced metropolis in northern Italy, Milan is known worldwide for its high-end restaurants, amazing architecture, and fashion and design. So, it comes as no surprise to discover it's a little pricey, but ther are cool, affordable places away from the expensive tourist spots.
For sightseeing, visit Milan's Gothic Duomo Cathedral and head to the rooftop to get an epic view of Milan's iconic skyline. After that, head to Quadrilatero del Silenzio to spot the flamingos, marvel at Da Vinci's 'The Last Supper' at Il Cenacolo or take a boat tour to explore the fascinating canal network.
The nightlife in Milan is varied but a night out at Tunnel Club is a must. Located in a former railway shed underneath the railway tracks of Milan's Central Station, people travel from far and wide for its techno, trance and house music.
Best cheap hotel/hostel: Ostello Bello Grande
Best bar: Fonderie Milanesi
Best nightclub: Tunnel Club
Best place to eat: Pizza AM
Must-see tourist attraction: Duomo Cathedral
10. Istanbul, Turkey
Whether it's hot air ballooning in the Cappadocia region, or exploring the white sandy beaches and crystal-clear waters along the Turquoise Coast, Turkey is brimming with incredible things to do.
The best way to sample the nightlife is by visiting one of the many rooftop bars with panoramic views of Istanbul's skyline. Open until 4am every day, Ritim is a lively rooftop bar that's popular with students. For something more relaxed, Balkon Restaurant and Bar in the Pera district has reasonable drinks and a bohemian feel.
Best cheap hotel/hostel: Hostel Le Blanc
Best bar: Balkon Restaurant & Bar
Best nightclub: Klein
Best place to eat: Sultanahmet Köftecisi
Must-see tourist attraction: Grand Bazaar
Source: Read Full Article