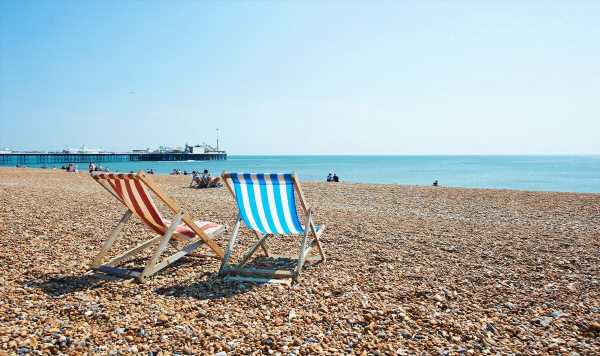 We use your sign-up to provide content in ways you've consented to and to improve our understanding of you. This may include adverts from us and 3rd parties based on our understanding. You can unsubscribe at any time. More info
As temperatures drop across the country this month, many may be looking for the sunniest spots for a weekend getaway. A study carried out by Cofton Holidays revealed that Brighton, in East Sussex, is the destination to travel to for the best chances of sunshine.
British weather is notoriously unpredictable but travel experts at Colton Holidays analysed the Met Office data to see which UK destinations have the most reliable sunny climates.
They studied the latest weather records for the UK's most popular holiday destinations and found that Brighton is the sunniest spot in the country with 1,891.75 average yearly sunshine hours.
Brighton beach attracts thousands of visitors every summer and one of them, @wendyanddavid536, left a review on Tripadvisor explaining: "Very long beach, great to walk along, plenty of places to eat and drink, loads of entertainment for kids."
The visitor also recommended the Lanes, which she described as a "fascinating old area" in Brighton.
She explained: "A great place to wander round the narrow winding streets with a fascinating mixture of old shops and restaurants.
"Very old pubs and some modern (somewhat out of place) shops. Plenty of good places to eat and drink."
Brighton, one of the most popular staycation spots in the country, was followed by Torbay, Devon, Bristol and Cornwall.
The study also looked at the top destinations for coolest weather and revealed that the Yorkshire Dales is the area with the lowest average maximum temperature.
The Yorkshire Dales, with an average temperature of 10.81°C, was followed by the Scottish Highlands with 11.23°C, and the resort town of Scarborough with 11.46°C.
London is the warmest destination with an average yearly maximum temperature of 15.75°C, followed by Torbay, with 14.92°C, and Devon, with an average of 14.67°C.
Holidaymakers looking for the best chances of showers should head to Snowdonia (2,697.13mm) and the Lake District (1,862.91mm).
The Scottish Highlands followed with an average volume of rainfall of 1,862.91mm.
The cities with less rain are London (562.86mm), York (646.93mm) and Nottingham (715.57mm) where the average volume of rainfall per year is the lowest.
Chris Jeffrey, Director at Cofton Holidays commented: "It's understandable that people are opting to stay closer to home. However, the move towards staycations is part of a wider trend that started during the pandemic.
"It's lovely to see more and more repeat guests at Cofton who have fallen back in love with holidaying in the UK.
"And of course, we're delighted to see that our glorious corner of Devon is consistently one of the warmest and sunniest each year."
The top 10 sunniest staycation destinations in the UK:
1. Brighton (1,891.75 sunshine hours)
2. Torbay (1,737.19 sunshine hours)
3. Devon (1,665.49 sunshine hours)
4. Bristol (1,658.27 sunshine hours)
5. Cornwall (1,606.89 sunshine hours)
6. Blackpool (1,591.58 sunshine hours)
7. Bath (1,581.99 sunshine hours)
8. Liverpool (1,572.53 sunshine hours)
9. York (1,557.12 sunshine hours)
10. Scarborough (1,557.12 sunshine hours)
Source: Read Full Article