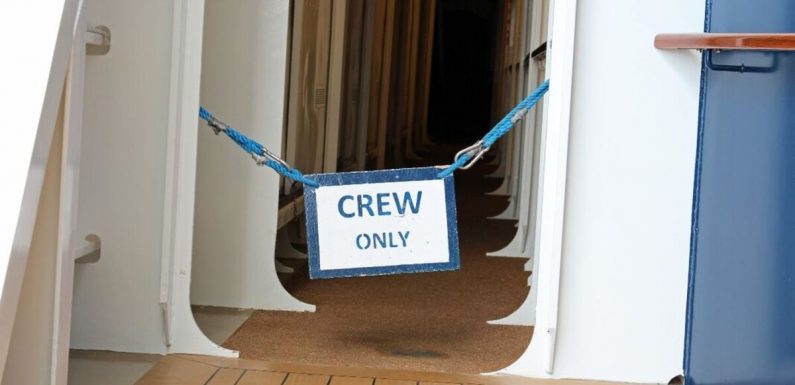 The Cruise: Cabin host shares process of cleaning room
We use your sign-up to provide content in ways you've consented to and to improve our understanding of you. This may include adverts from us and 3rd parties based on our understanding. You can unsubscribe at any time. More info
With thousands of passengers onboard, cruise holidays aren't always incident free. But what kind of incidents can get someone in trouble on a cruise?
On Reddit, an ex-crew member warned: "As a former crew member, I saw a lot of guests getting in trouble because of many reasons such as domestic disputes, fighting drunk, harassment and stealing.
"Most guests were not aware that the law onboard is not the same as the law in the USA.
"If an incident takes place on international waters, then the maritime law is effective and more strict."
Passengers should remember that different laws apply in different countries and there may be harsher punishments than in the UK.
But while the majority of passengers won't break the law, there are a few smaller issues that could get them in trouble.
One guest said: "We were waiting in line to get on the cruise at port and since there were no people in line, we ducked underneath the retractable strap dividers to get to the end of the line faster.
"One of the port employees loudly said 'Be an example and walk all the way around the ropes and not under it'."
Queue etiquette can be controversial and passengers should try to stick to the cruise line's rules.
Another passenger said: "My ex got kicked out of the casino for cursing. Then he got in a fight with his brother on the deck and it was caught on video.
"He had his card turned off until he went to security and got everything squared away. Man I dodged a bullet with that one."
Cruise cabins can be cosy and it's not that unusual for fights to break out between members of the same holiday group.
A cruiser shared: "I got a talking to. My aunt kept unplugging my scooter and my anxiety got the best of me being trapped in the cabin every morning.
"I threw all her stuff outside in the hall. Security showed up about ten minutes later asking what was going on.
"I was in tears when they arrived and they said I couldn't do that. Another human being telling me I couldn't act like a five year old snapped me out of it.
"I felt dumb as they helped me bring it all back in. Then they relocated my aunt to another cabin so I could charge my scooter and enjoy the last day of the cruise."
One regular cruiser said: "My husband passed out on a sofa in the main lobby after enjoying the drinks package all day.
"Staff wheeled him up to the room. Next morning there was a note at the door from security stating he was cut off from purchasing anymore booze for 48 hours.
"I bought large cans of Fosters beer on my plan and he shared mine. Several days later he fell off a bar stool but no one noticed."
Drinks packages allow passengers to enjoy a large number of drinks onboard for a set price.
However passengers that overdo it will often be cut off by the cruise line for their own safety and that of other guests.
Source: Read Full Article