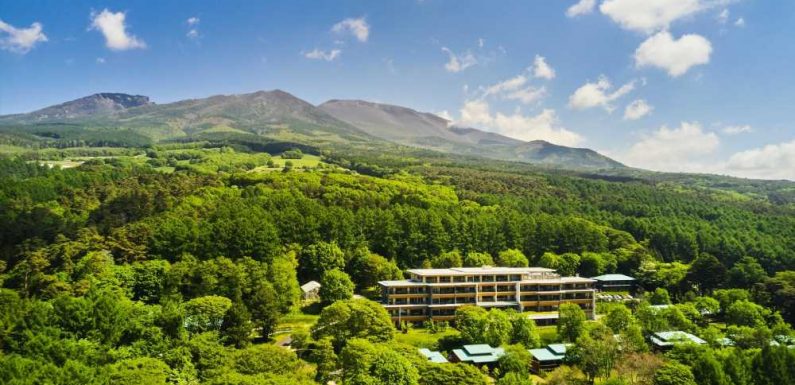 It should have been Japan's year—twice. With coronavirus delaying the 2020 Olympic Games in Tokyo and the government forbidding foreign spectators when the Olympics finally do happen later this month, much of the infrastructure designed to host the estimated 40 million visitors is hardly getting the bookings expected. But the $74 billion dollars that the Japanese government expected to be pumped into the economy during the Games prompted hoteliers and entrepreneurs beyond Tokyo to open fresh resorts and hotels for all sorts of travelers. Though some had to delay their ribbon cuttings amid the pandemic, many are finally open for whenever the international public can return. From stylish urban spots in Kyoto to treetop hotels in Okinawa and castle stays on the southwestern island of Kyushu, these are the new hotels in Japan you can book for later trips, since we can't make this summer. 
For foodies: Hiramatsu Karuizawa Miyota
Having cut their teeth in the gourmet restaurant business, the Hiramatsu group has launched a family of European-style ryokans across Japan with two recent openings, including last year's grand opening of Hiramatsu Kyoto. The latest addition to the growing number of Hiramatsu properties is in Miyota, in central Nagano, a quick train ride west of Tokyo, where locals go for onsens and leisurely mountain hikes. There are nine villas and 28 fully-equipped rooms with their own private Japanese hot spring on terraces with sweeping views of Nagano, home of the 1998 Winter Olympics. Adrenaline-seeking powder heads will love their off-piste ski sessions during the day before nesting back in their room when the sun goes down. The pet-friendly hotel has two restaurants—Le Grand Lys and La Lumiere Claire—with chef Akio Yanaghiara bringing both Japanese and French flavors together well at both restaurants.
Book now: From $590 per night; expedia.com 
For exploring the city: Fauchon Kyoto
You are going to want to book into the new Fauchon Kyoto not just for its French influence (yes, it is "Fauchon" of French patisserie fame) but because, in a city dripping with exceptional hotels including the Ace and the Aman, Fauchon somehow bagged the best location in town. The 70 rooms overlook the Kamo River and are within strolling distance to the historic Matsubara bridge and Shijo Kawaramachi shopping district, not to mention the 1,600 Buddhist temples and 400 Shinto shrines dotted all over town. At this second boutique hotel by the Parisian brand, magenta-colored furniture are accented with golden sakura petals to celebrate its Japanese location. Rooms are decorated with washi paper and the hotel offers traditional tea ceremonies as well as Fauchon French goodies like millefeuille pastries by local bakery, Izutsu. 
Book now: From $478 per night; expedia.com
For moments of zen: Azumi Setoda
Housed in a 140-year-old building that once served as the primary residence of the influential Horiuchi family, designer Shiro Miura has turned the former home into a 22-suite modern ryokan and the first Azumi hotel in Japan. Launched by Aman founder, Adrian Zecha, who fell in love with Japanese ryokans in the 1950s during his first visit to Japan, Azumi Setoda gives a fresh take on the traditional Japanese B&B with tatami-matted rooms and communal bath houses for guests to soak in together, but the knockout feature is the hinoki cypress wood bathtub in each guest room with unbeatable views of the island. Located in Japan's premiere art region, Setouchi, guests can go forest bathing or enroll in ikigai classes, just a few of the immersive cultural experiences Zecha wants each guest to have at Azumi. Art lovers will love the accessibility to Naoshima Island and the Setouchi Triennale art festival, which are all in the same area.
Book now:  From $1,011 per night; azumi.co
For the nature lovers: Treeful Treehouse Sustainable Resort
Japan's Okinawa Island, off the south coast of the main archipelago in the Pacific ocean, is affectionately nicknamed "island of longevity" with the average Okinawan living well into their nineties. With more than 400 residents deemed centenarians, it seems only fitting to get back to nature like a true Okinawan. That's where the new eco-luxury Treeful Treehouse Sustainable Resort comes in. Located in the city of Nago, the resort is set to open later this summer and features four design-forward treehouses overlooking the Genka River with 360-degree views of its tropical surroundings. Known for its beaches and turquoise waters, days are best spent lazing around on the beach or staying cool in the resort's fully air-conditioned private rooms inside the treehouses, built 36 feet above the ground.  As a guest, enjoy jungle trekking in Yanbaru Forest, swimming along the Genka River, or going Ryukyu mountain turtle spotting in Takae.
Book later: From $1,350; treeful.net
For history buffs: Hirado Castle
Spending a night in a chateau isn't a limited to Europe. It can happen in Japan too, but it's rare. Which makes the 18th-century Hirado Castle in Nagasaki on the southern island of Kyushu even more special. The first UNESCO-recognized castle to allows overnights anywhere in the country, it'll reopen this summer after a soft opening in 2017 proved overwhelmingly positive. Visitors can sleep in a two-story Kaiju Yagura turret and get exclusive after-hour access to the castle's on-site museum and public gardens. Inside, guests can ogle a wall-to-wall art collection by local artists, as well as a nine-course dinners featuring exceptional Hirado wagyu filet. Activities include horseback riding by the sea and Hirado Kagura, a sacred music and dance performance by Shinto priests. It's a regal, wholly transporting experience a city less tourist-ridden than Hiroshima.
Book now: From $5,500 per night; hirado-castle.jp
Source: Read Full Article