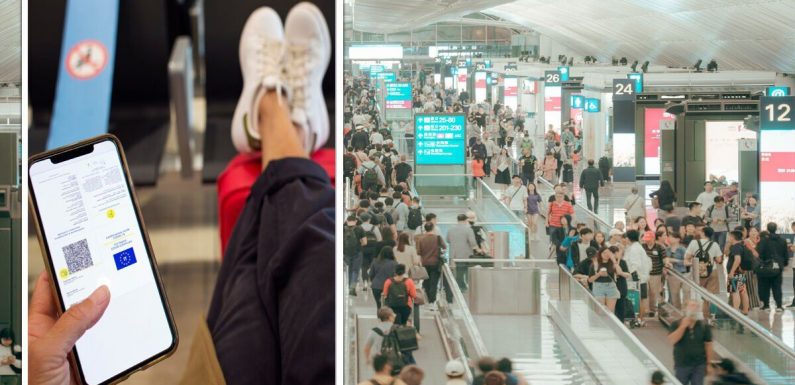 Martin Lewis issues advice on travel and refunds
We use your sign-up to provide content in ways you've consented to and to improve our understanding of you. This may include adverts from us and 3rd parties based on our understanding. You can unsubscribe at any time. More info
Booked a summer holiday this year? There are a few common scams to watch out for in Europe.
Unfortunately, many Britons will face roaming charges in Europe this summer as companies introduce post-Brexit rules.
Britons should check with their provider whether they'll be subject to charges before roaming this summer.
However, Britons need to think twice before connecting to a random free wifi while they're on holiday.
Ian Stafford-Taylor, CEO of FairFx said: "Airport wifi can be expensive, so many would jump at the opportunity to connect to a free network.
"But stop and think before jumping online. Why would there be a free wifi network in an airport where you usually have to pay for access?
"Connecting to unsecured networks could leave you vulnerable to scammers trying to steal sensitive information."
He added: "Planning ahead for all the costs that might arise on your travels is the best way to manage your holiday budget.
"One that people often forget to plan for is Wifi and data roaming charges, but be warned, even the free networks come at a cost to your personal data.
"Only connect to trusted Wifi networks, especially when travelling.
"If you haven't got any data allowance left, but you are desperately in need of internet connection, consider buying a drink or meal from a nearby cafe or restaurant that offers Wifi to its guests.
"If you travel a lot, and you'd rather not pay for data roaming, it could be worth considering getting a travel router you can use to access Wifi from a trusted local network."
It can be hard to know whether a free wifi is safe to connect to but it's always better to be safe than sorry.
Another scam to watch out for this summer is fake accommodation listings. Losing money on accommodation can be very costly.
Ian said: "While you often can't arrange to view your accommodation before you arrive at your destination, we have some advice to help you book with peace of mind.
"Carefully read the recent reviews left behind by others, take a look at reviewers' profiles to confirm they are real people who have reviewed other locations and finally, ask the host questions or arrange a video tour to establish if the offer is genuine.
"This shouldn't be a problem for an authentic host, particularly if you're staying for a longer period and paying a more substantial sum."
Ian also suggested that Britons book accommodation through trusted sites such as Airbnb and Expedia.
He advised British tourists to avoid suggested ads on social media as these could be fake listings.
Britons can use Google image reverse search to check if photos are legitimate or have been stolen.
If Britons are particularly worried they can book with a holiday company registered with ABTA for added security.
Source: Read Full Article