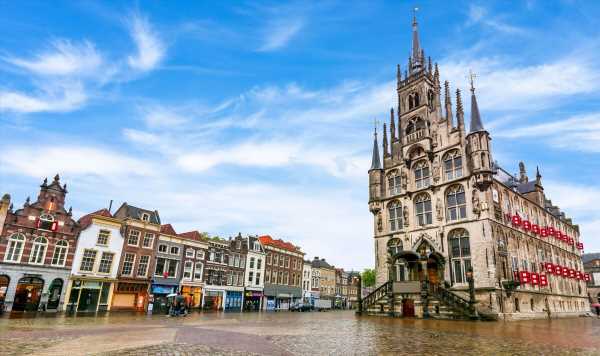 World-renowned for its famous cheese of the same name, Gouda is an attractive and walkable city located just 45 miles south of Amsterdam.
Celebrating its 750th birthday last year, a sense of pride fills Gouda's historic canals and cobbled streets – this is a city all too happy to be the self-proclaimed "cheese capital of the world", and yet you don't even have to be a cheese connoisseur to appreciate this quaint Dutch city.
With a population just shy of 75,000, the truth is Gouda has the atmosphere of a traditional Dutch town rather than a hustling and bustling cosmopolitan city – in the best possible way.
The first thing you'll come to learn after spending mere moments in this little slice of Dutch heaven is that you've been pronouncing Gouda ("How-da") wrong your entire life.
Heading towards the historical centre you'll find yourself in the picture-perfect town square, Plaza Markt. Home of the famous 300-year-old Gouda cheese market which runs every Thursday from the beginning of April to the end of August, the square is a snapshot of years gone by.
READ MORE: I explored the capital city of Europe's richest country on a budget
Standing at the centre of Plaza Markt is the beautiful Stadhuis Gouda (Town Hall), which began construction in 1438 after a fire caused lasting damage to the previous town hall. On the right-hand side of the delicately crafted building is a carillon which chimes every half hour, providing a two-minute-long mechanical puppet procession celebrating the granting of Gouda's city rights in 1272.
Obviously Gouda is known for its delicious cheese, and it's somewhat of an achievement to say you've eaten Gouda in Gouda. There are multiple cheese vendors alongside the cobbled streets that sell the round cheese for very affordable prices so that you can take an authentic wedge home with you.
However unlike other eponymous cheeses or even Champagne, Gouda cheese can be called Gouda even if it is produced outside of the city.
Cheese lovers are in for a treat when visiting the Gouda Cheese Experience – a surprisingly thorough, modern, and interactive museum about the history of Gouda cheese and its production.
Don't miss…
Simon Calder shares 'gorgeous' and cheap European destination for winter sun[HOLIDAY]
'Incredible' city is one of this year's best winter staycation destinations[LATEST]
Ideal winter destination is one of Europe's most walkable cities[INSIGHT]
Support fearless journalism
Read The Daily Express online, advert free
Get super-fast page loading
Entrance to the Gouda Cheese Experience is €16 (£13.90) but it is genuinely worth every penny. Try your hand at farming with an interactive cow milking game, find the answers to some tricky cheesy questions to become a "Cheese Master" (complete with your own badge), and, of course, a cheese tasting session completes this incredibly "grate" experience – a real highlight of any trip to Gouda.
The Netherlands is also famous for Stroopwafel, a round caramel-filled waffle cookie, which originated in – you guessed it – Gouda. The Kamphuisen family in the city still bakes stroopwafels following their original recipe from 1810.
There are many notable buildings and monuments to admire whilst wandering through the canals and side streets. The Molden De Roode Leeuw (Red Lion Flour Mill) is one of the oldest windmills in the Netherlands and is still operational, you can purchase flour from a small shop next door.
The Waag (weighing house) is an original cheese weighing house from the 1600s. There is a museum on site at the price of €7.50 (£6.52), as well as cheese and wine/beer tastings for an additional cost.
Visitors can learn the process and methods of how cheese is weighed, and even be weighed themselves – receiving a certificate stating their weight in pounds of Gouda cheese.
Sint-Janskerk is a church in Gouda dedicated to St John the Baptist, the patron saint of Gouda. It is the longest church in the Netherlands, with a length of 123 metres. Inside it is beautifully decorated with colourful stained glass windows.
Source: Read Full Article