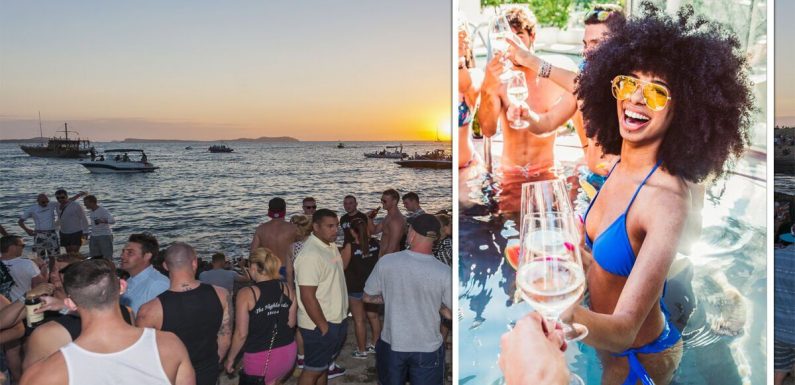 Martin Lewis issues advice on travel and refunds
We use your sign-up to provide content in ways you've consented to and to improve our understanding of you. This may include adverts from us and 3rd parties based on our understanding. You can unsubscribe at any time. More info
Illegal parties in Ibiza are under fire as the Balearic Government launches a harsh crackdown on attendees. Owners of properties would also be fined under new rules.
Villa owners would also have their tourist licence stripped under the tough new rules. They will have to pay a fine of 300,000 euros (£253k) if their property is used for a party.
The law has been approved by the Balearic Government and will mainly affect Ibiza, the central party hub.
However, illegal gatherings have also been held on other popular holiday islands, including Mallorca.
Illegal raves are commonly organised via private messages on Whatsapp and social media.
Invitees are told a time and place and are taken to the parties with DJs and an open bar in private cars and minibuses.
The Balearic Government has infiltrated the messaging system and is hiring private detectives to attend the parties.
The Government can't raid the parties without a court order so will rely on the bogus guests to feed information to the authorities.
Party attendees would be nabbed as they returned home while the DJs and organisers would receive fines.
Minister of the Presidency, Mercedes Garrido, said the Executive's plan was to prevent the parties which pose a security problem.
The Government also believes them to be unfair competition for legally established nightlife venues.
Opposition parties have raised concerns about the new regulations as tourist home owners may not have control over their guests.
They have claimed the Government is "overreacting" and "abusing its powers".
The new law contains a clause which states that if an owner knows a party will be held and does nothing, they will be fined.
Local paper Periodico de Ibiza, said: "The Government has chosen to approve a decree law so that the rule enters into force immediately and sanctions can be adopted before the season begins, which is when more parties of this type take place."
It's not the first time the local Government has used private detectives to infiltrate illegal gatherings.
Last year, at least seven illegal raves were detected in August due to tip offs from undercover officers.
Tourist resorts asked the Ibiza council to repeat the campaign after it was judged a "tremendous success" by the Professional Association of Private Detectives of Spain.
Spain is launching a huge crackdown on drunk and rowdy behaviour as drink limits are introduced in the Balearics.
Resorts such as Magaluf and Ibiza have been the setting for raucous scenes in the past with tourists causing mayhem.
Thomas Cook customers staying in the resorts will now have a six drink maximum on all-inclusive holidays.
Additional reporting by Rita Sobot.
Source: Read Full Article