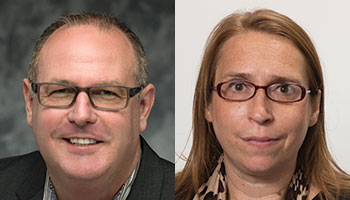 Frank Belzer is on the board of Visit Florida and chairs its marketing committee. He  is a former Universal Parks and Resorts executve. Sandra Thomas-Comenole is an award-winning travel marketing professional and behavioral economist.
Whether from novelty or necessity, travel providers have adopted robots, drones and other technologies to make travel safer, more interesting and arguably better for consumers. Safety is the top concern for travelers today, and the travel industry appears ready to meet that requirement with new technologies.
Travel is on the rise. Destinations are reopening, and airline traffic is rising fast; soon 2 million passengers will be traveling through U.S. airports every day. The travel and tourism industry is poised for a great comeback, and perhaps the people most excited by this news are consumers themselves: Roughly 89% of travelers have formulated travel plans for the next six months, according to Longwoods International's ongoing travel sentiment study.
However, customers are still rightly concerned about their safety. They expect a very high level of sanitation to be in place. They are concerned about what is required of other guests and if other travelers are following the rules and regulations. At the same time, customers are committed to adjust or cancel their plans if the news on Covid-19 takes a turn for the worse. Yes, travelers are eager to return — they are tired of the isolation and restrictions. Nonetheless, they still place a premium on their safety and that of their family or co-travelers.
This strange combination of suppressed desire and lingering concern might explain why so many long-time standards and practices in the travel and tourism industry have been undergoing major transformations. The technologies required to satisfy guests have stimulated the growth of creative new companies. Travel suppliers across the board are providing exhaustive details around their sanitation policies while attempting to get attention as they implement new technologies that they believe will put guests' minds at ease. Let's consider a few of those that are already be having an impact on travel customers.
• Sanitizing drones: Drones are being mobilized in outdoor and confined spaces to disinfect a variety of public areas. Planes, trains and playgrounds are just a few of the spaces that have employed this flying technology.
• Touchless check-in: Touchless check-in minimizes contact with hotel staff and other travelers. Hilton implemented their touchless check-in via their branded app several years prior to Covid-19. Other hotels are following suit, with most hospitality companies providing this option.
• Ionizing the air: Poor air quality, ventilation and purification can have many adverse effects on individual well-being, among them decreased work performance and an increased risk of catching airborne illnesses and viruses. Hotels, indoor attractions, airlines, cruise ships and even restaurants are installing new and improved indoor environmental purification systems that infuse the air with ions, binding harmful elements and neutralizing them, resulting in air quality similar to that found in alpine elevations. Essentially, these purification systems break down the cellular structure of known viruses, such as coronavirus, neutralizing coronaviruses by as much as 99.92% in laboratory tests. Norwegian Cruise Line, Virgin Voyages and MSC Cruises have all installed such systems from the company AtmosAir.
• Microbe-fighting fabric: New technologies have been developed that enable everyday fabrics to kill harmful bacteria, mold and mildew. That's right: antimicrobial fabric has been clinically proven to reduce pathogens and germs. Applied Silver is one company that has been deploying this technology system in hotels.
• Harnessing the sun: Ultraviolet (UV) technology has been around for billions of years but has only recently been enlisted to sanitize against pathogens in the travel industry. UV pathogen-killing light treatments have been adopted to protect the food supply chain for restaurants and are one of the steps in the extensive cleaning process of some hotel rooms and public spaces.
• Deploying robots: This is where it gets very cool. Robots have long been a novelty in hospitality. Now they have become a necessity, as robotics are enabling hotel staff to social distance from each other and guests while providing a high level of customer service. Hotel robots help hotels create a safe, efficient and memorable experience for guests by automating the delivery of food and room supplies, while providing critical logistics support for the operational side.
Travel is coming back. And it is coming back safer, thanks to these futuristic technologies. Next time your customers hop on a plane, let their kids play on the playground or snuggle between the sheets in their hotel room, they have robots, drones, fabric, touchless apps and ultraviolet technology to thank.
Source: Read Full Article