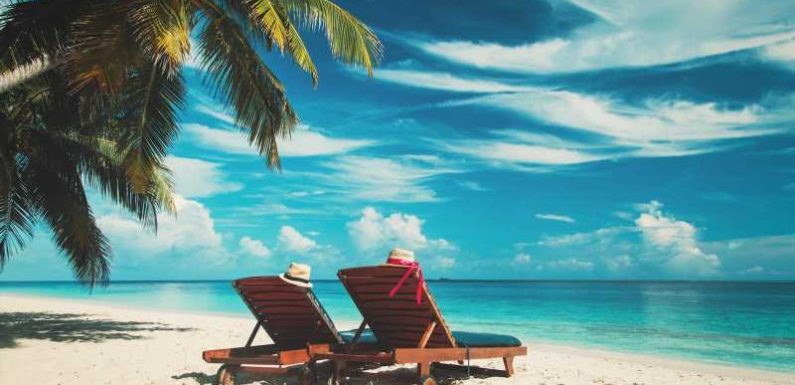 While also a source of adventure and enjoyment, planning for a trip and traveling can be tricky. While there's plenty of activities to look forward to, there is a lot you need to plan for, both expected and unexpected. You need to pick a destination, make reservations, plan how you're going to get around, book tickets, navigate an unfamiliar area, and figure out what to pack. Never mind if you stumble across any hiccups along the way like bad weather, medical issues, canceled bookings, or finding out that all your luggage is missing when you get to the airport.
If you're a member of the LGBTQIA community, traveling to other parts of the world and even through your own country can present even more challenges. Individuals, partners, and groups face issues like finding safe and inclusive environments, discrimination, availability of gender-neutral bathrooms, presenting identification documents when you're gender non-conforming, getting medical attention, and passing TSA screenings to name a few.
Fortunately, there are plenty of trailblazers and online resources that can give you an idea of what to expect when you're on the road, and even how to capitalize on your points and miles when you do. We've put together a guide on how to navigate the exciting but stressful ups and downs of exploring the world for lesbian, gay, bisexual, and transgender travelers. Read on for resources and help with travel inspiration, planning your trip, and how to stay safe on the open road.
Travel Inspiration
LGBTQ Travel Influencers
From plus-sized lesbians to gay couples, there are LGBTQ travel influencers based all over the world. From LGBTQ friendly bars to which natural wonders of the world to visit, look no further than these LGBTQ travel influencers. Below are eight bloggers focused on the best spots for LGBTQ individuals and couples to explore. 
Once Upon A Journey: Amsterdam-based couple Roxanne and Maartje are travel bloggers, social media influencers, and YouTubers who have been to more than 45 countries together. After quitting their jobs and spending their lives traveling, the couple recently settled down in the Netherlands. Despite being a lesbian couple, the two don't shy away from visiting non-affirming LGBTQ countries. They write on everything from backpacking in Iceland to lesbian nightlife in Los Angeles and New York City.


View this post on Instagram

This Colorful World: After meeting in 2014, Lisa and Lauren have become inseparable. When the couple isn't offering courses or running their business The Beatnik Group, they're out traveling together and documenting it on their travel blog. Their Instagram account is a collage of their life together and their adventures when they leave home. On their blog, you can find some of their favorite spots in Stockholm, Finland, Trillevallen, and Paris.


View this post on Instagram

Couple of Men: From South Africa to Iceland, German-Dutch couple and founders of the gay travel blog Couple of Men Karl and Daan have seen it all. While they live in Amsterdam, Netherlands, their blog and social media accounts are dedicated to their adventures outside of their home. Together, they've visited more than 50 countries and five continents, all the while documenting gay nightlife, theme parks, and some of the best natural views in the world.


View this post on Instagram

Asian Maple Leaf: Barry has dedicated his entire career to traveling the world. Not only does he run the Asian Maple Leaf blog and social media accounts, but he is also the travel campaign manager for Gayborhood Agency, and an editor and writer for Swagger Magazine, ManAboutWorld, Out Traveler, Passport Magazine, and Out Magazine. Originally from Canada, Barry now resides in New York City where he chronicles his adventures there as well as his excursions all over the U.S. and world.  


View this post on Instagram

Authentic Food Quest: Queer couple Rosemary and Claire focus their travel storytelling on one of the most important aspects of sightseeing: food. The two go in-depth on international cuisines, traditional dishes, recipe origins, and local eateries. On the pair's Instagram, Rosemary also delves into what it's like traveling as a Black woman as well as addresses how people react when they find out they're not traveling as friends but as a couple.


View this post on Instagram

Fly Brother: Travel blogger Ernest White II is the host of the docu-series "FLY BROTHER with Ernest White II" as well as the founder and CEO of Presidio Pictures, a media company dedicated to telling the stories of BIPOC, LGBTQ+, and seniors/elders. On his social media pages, he posts travel tips, his favorite highlights from a city, and the top reasons to visit a particular area of the world.


View this post on Instagram

Bani Amor: Bani Amor is a queer, disabled, Ecuadorian travel writer whose work is featured on national publications like CNN Travel, Fodor's, AFAR, Eater, and Bitch Media. Much of their work is centered around decolonialism, race, accessibility for disable folks, and power. For those who want to learn more, they host a four-part, four-week online workshop called "Dismantling Coloniality in Travel Writing" where they break down how to navigate toward decoloniality in your writing.


View this post on Instagram

Voyaging Vagabond: The plus-sized queer woman who runs Voyaging  Vagabond is on a mission to spread body positivity around the globe. Chantel updates her social media followers on places to find art, the best views, and the most colorful spots to take photos. She is also sure to keep her audience on her blog entertained with the many ridiculous situations she finds herself in like the time she got kicked out of a ball pit bar in London. 
LGBTQ Travel Blogs
Where are the best places to visit for Pride? Which bars have the best LGBTQ nightlife? These five LGBTQ travel blogs and magazines will guide you through how to enjoy your vacations to the fullest. 
ManAboutWorld: This online publication is a platform written by and for gay men from all over the world. Founded in 1992, the magazine is meant to inspire gay adventurers who want to explore the world.  Their website provides free guides, travel LGBT safety tips, and a destination index of dozens of cities. On their social media accounts you can expect to find delicious looking food, gorgeous views, and ancient landmarks.
Gaycation Magazine: This magazine keeps its fan updated on the latest LGBTQ travel shows, best drag shows, and most queer-friendly bars. Their social media pages are littered with inspirational travel photos and videos as well as with a few hidden gems you should plan to visit. Gaycation Magazine supplies its readers with resources on LGBTQ friendly hotels, guides, and places to go.


View this post on Instagram

Out Traveler: This travel magazine will keep you updated on all the latest trends when it comes to LGBT travel. From luxurious hotels in Monaco and roasted Dungeness Crab to the worst and safest countries to travel to as an LGBTQ person, Out Traveler has covered it. During the COVID-19 pandemic, Out Traveler still provided plenty of virtual travel stories, and a long list of LGBTQ-friendly resorts for when travel restrictions are finally lifted.
Connextions Magazine: Connextions Magazine tells the stories of LGBTQ travelers and helps adventurers find some of the most interesting ways to spend their time while hitting the road. Among their content, you can find treehouses you can stay at, LGBTQ Pride parades, and girls-only camping trips. On their Instagram account, expect to see exotic animals, booze-filled drinks, and breathtaking pieces of art.
Passport: Featuring travel experts, Pride shows, beautiful views, and the most important cities foodies need to visit, Passport will give you the insight you're looking for when you're planning your next vacation. One of the best things that Passport offers, however, is its in-depth look at cultural aspects and cuisine of different countries like rum in Puerto Rico, types of salt from around the world, and how to make agua fresca.
Travel Planning
LGBTQ Travel Experiences and Services
If you're unsure about where to begin with your travel plans, you can hire a travel agency or find free travel guides online. While some services are location specific to one area, other services are more generalized and can help you plan trips anywhere you want to go. Below are several travel experiences and services you may find useful during your planning.
Out Adventures: Don't want to travel alone but not into large groups? Out Adventures provides you the opportunity to connect with a small group of people whether you want to go on a Galapagos cruise, go on a safari in Kenya, or hike through Norway. Out Adventures offers destinations all over the world that are customized to provide you the vacation you're looking for.

View this post on Instagram

Pride Peru: As the name implies, this travel organizer specifically focuses on LGBTQ vacationers venturing through Peru. Travelers can explore the Peruvian Amazon Jungle, trek up Machu Pichu, or tour Lake Titicaca. Pride Peru also provides a list of local bars and clubs that are LGBTQ friendly and safe for you to visit.
GayCities: From Seattle to Reykjavik, GayCities offers travel insights and services in nearly every corner of the world. The platform publishes articles centering on LGBTQ events and places, and makes it tantalizingly clear as to why you should make it a point to visit them.
Celebrity Cruises: Well-known cruise company Celebrity Cruises has been awarded Best Large Ship Cruise Line for LGBTQ+ Passengers at the Cruizie Awards for four years. Celebrity offers cruises to the Caribbean as well as legal wedding ceremonies onboard the ship. Whether you're there to have fun or enjoy your honeymoon, Celebrity Cruises is sure to be a welcoming vacation vessel.
Purple Light Vacations: This LGBT travel agency plans unique and customized trips for its customers whether you're looking for cruises, land vacations, or vacations specifically with other men or women. This organization isn't just for people who identify strongly as gay or lesbian. Purple Light Vacations also offers the option for "Straight but not Narrow vacations." Vacationers have access to costume design and concierge services that Purple Light Vacations offers.
LGBTQ Resorts and Hotels
Are you looking for a view of the mountains or beach? Or perhaps you're looking for a breathtaking view of a city skyline. No matter the vacation you're hoping for, there's a plethora of LGBTQ friendly resorts and hotels that are ready to offer you a relaxing and enjoyable time. Read on to learn more about LGBTQ resorts and hotels.
Load Error
Misterb&b: At Misterb&b, there are 100,000 LGBTQ-friendly hotel rooms and 310,000 LGBTQ hosts for you to choose from during your trip. As one of the world's largest LGBTQ travel communities, Misterb&b pulls accommodations from 200 countries. Through this service, not only do you have the option to receive discreet invoices, but the platform also offers you the option to connect with other Misterb&b travelers during your trip. 
Hotel Gaythering: This gay owned boutique bar in Florida touts itself as "the gayest hotel in Miami Beach," and we're inclined to believe them. Hotel Gaythering serves gay guests exclusively and is for adults only. Guests not only can enjoy exclusive service, but also a sauna, beautiful art installations, alcoholic beverages, and karaoke. In addition to offering various types of accommodations, Hotel Gaythering offers guests a local guide to food, transportation, and attractions.
The River House at Odette's: Scenic and serene, The River House at Odette's made it on our list when it partnered with Equal Dignity Pop-Up Nuptials to offer free wedding ceremonies to LGBTQ couples. Originally built in 1794 as a rest stop for boatmen known as the River Stop, today, this New Hope, Pennsylvania LGBT-friendly resort draws people from all over. Stop by for the drinks and food, stay for the live music and scenery.  
Mirror Lake Inn Resort & Spa: This winner of the AAA Four Diamond award and bed and breakfast/inn category of the 2020 Gay Travel Awards flies its Pride flag all year round. Located at Lake Placid, New York, this luxury resort offers its patrons a private beach, beautiful gardens, and spa, all against a backdrop of the Adirondack Mountains. Nearby Mirror Lake Inn offers plenty of outdoor excursion opportunities with 10,000 lakes and ponds and 2,000 miles of trails.
Sofitel Los Angeles at Beverly Hills: Just down the road from LGBTQ-friendly shopping mall the Beverly Center and host to Riviera 31, which is considered one of L.A.'s best night clubs, Sofitel Los Angeles at Beverly Hills is a favorite among the LGBTQ community. To top it off, Sofitel Los Angeles is Pride Certified and dedicated to providing inclusive services to all its guests.
Travel Resources
LGBTQ-specific travel safety resources
While the perks of meeting new people, having new experiences, and enjoying delicious food and drinks are enticing, safety should always be your number one priority when traveling. Unfortunately, there are still many areas of the world that discriminate against and even criminalize same-sex relationships. Below are five resources to check while making travel plans.
GoAbroad's LGBTQ Study Abroad Guide: If you're an LGBTQ student and excited to study abroad, be sure to check out GoAbroad's LGBTQ Study Abroad Guide to prepare yourself for your upcoming stay. This resource can connect you with scholarships, warn you of challenges you might face, help you navigate building a community, offer you tips on how to travel with a romantic partner, and help you find study abroad programs specifically for LGBTQ students.
U.S. State Department: This U.S. government-run site provides LGBTQ travelers with information on how to navigate outside the country. The U.S. Department of State – Bureau of Consular Affairs offers a traveler's checklist, a guide to other countries' laws, a list of important documents to keep on you, and information on where to find the nearest embassy should you run into trouble while on foreign land. The platform highly recommends that those who are planning to travel or live internationally download the free app, Smart Traveler Enrollment Program (STEP).
National Center for Transgender Equality: TSA checks can be invasive and traumatic for many members of the LGBTQ community, especially for transgenders. Transgender individuals face harassment and intrusive body searches, especially if their identities are outed without their consent. The National Center for Transgender Equality provides resources and support to transgender individuals who are traveling or planning to travel so they know what to expect and know their rights if faced with an invasive security check.
Equaldex: This platform offers LGBTQ travelers an interactive map resource that provides insight on which countries are accepting and which are non-affirming, and even potentially dangerous. In countries such as Saudi Arabia and Guyana, same-sex relationships can even be punishable by death. Therefore, if you identify as LGBTQ, you may want to avoid traveling in some of these areas. Equaldex even offers a breakdown of the United States and United Kingdom. 
OutRight Action International: For 30 years, OutRight Action International has been advocating for the rights of LGBTQ people across the world. To keep its readers safe and informed, this nonprofit organization releases studies, news articles, and reports on policies and safety issues regarding the LGBTQ community so that travelers have a good idea of what to expect when traveling, what areas to avoid, and how to stay safe in an unfamiliar area.
LGBTQ travel apps
Traveling can be stressful, but by downloading certain apps on your phone, you can avoid many of the frustrating or even dangerous aspects of navigating a new area. Read on to learn about several apps you should use while traveling either across the country or globe.
Refuge Restrooms: One of the most important, and sometimes most dangerous, challenges a gender non-conforming, intersex, and transgender person can face is where to find a safe place to use a restroom. The Refuge Restrooms app allows you navigate locating safe and/or gender neutral bathrooms all over the world when you're traveling. Should you find a bathroom on your own that is safe to use, you can submit it to appear on the Refuge Restrooms app.
Facebook LGBTQ Travelers group: As Facebook is one of the largest social media platforms in the world, it makes sense to use it as a resource for travel. The LGBTQ Travelers group allows you to meet new people and find places to eat, where to stay, and the best things to do in the area, whether that be visiting a museum or where to find the best cocktails. The group is public and currently has 2,500 members.
SCRUFF Venture: Like Grindr, SCRUFF is a gay dating app. However, the platform also came out with a feature that allows users to meet one another while traveling. SCRUFF allows you to make connections and meet new friends while adventuring around the world. The app connects you with travelers, ambassadors, and any upcoming or current events. There are more than 500 locations to choose from when traveling with the SCRUFF Venture app.
Meetup: While this platform can be applied to just about every type of interest there is out there, Meetup has specific events and opportunities to meet people for those in the LGBTQ community. Here you can find dating meetups, running groups, picnics, happy hours, hiking excursions, book clubs, and more. Not only can you use this app while you're on the road, but you can use it to meet people at home, too. 
Grindr: When you think of Grindr, the first thought that probably comes to your head is that it's a dating app. While this is true, many gay travelers and communities use the app as a means to meet people while traveling and set up private events and meetups, especially if they're traveling or living in an area where being LGBTQ puts them in a precarious or even dangerous position. 
The bottom line
Not only can traveling through an LGBTQ-friendly organization or company help you have the adventure of a lifetime, but it can also allow you to take advantage of your points and miles. This could in turn get you discounted or free LGBTQ-friendly accommodations or even transportation.
While traveling as an LGBTQ individual presents its own safety concerns and challenges, today there are many more affirming areas, organizations, and companies that will offer you a refreshing and enjoyable vacation. Be sure to do your research on legislation in the areas or countries you're visiting to make sure you can avoid any potentially dangerous situations. On the other hand, be sure to check other resources on how you can draw inspiration, most easily meet new people, and find activities that will closely match the experience you're seeking while hitting the road. 
Source: Read Full Article