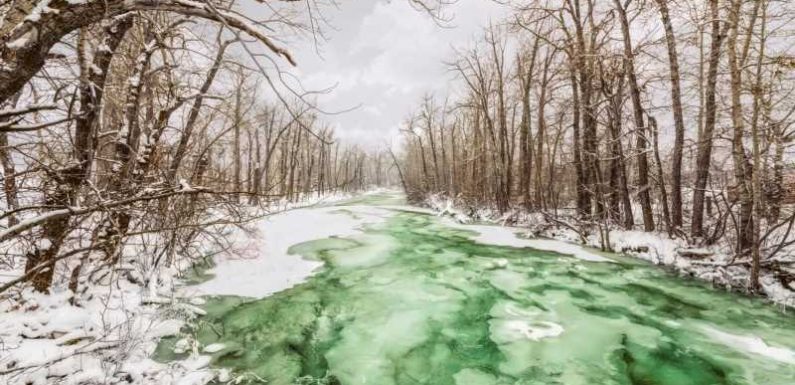 Winter in Montana
Each year in Red Lodge, Montana our temperatures dip extremely quickly into subzero levels, as they were this day. Ice is always lighter than water, however there are conditions that do allow for ice to build up from the bottom of a water body. Known as anchor ice, it serves as a reminder that nature is in charge of the rules. – Renee Lund, Red Lodge, Montana. If you're excited to look through these beautiful winter pictures, also take a look at these vintage photos of what winter used to look like.
Winter in Washington
This was my first trip to Mount Rainier on a visit to my children who lived in Port Orchard, Washington. There were so many beautiful photo opportunities on the drive through the park. – Cathy Williams. If winter isn't your season, here are some stunning fall pictures.
Winter in Illinois
We'd just gotten through one of the nastier snow storms of the winter. The road to this barn had been drifted shut for a couple of days and the township used a large snow blower to clear it. This was soon after it had been reopened to traffic. – David Zimmerman, Pecatonica, Illinois. Here are the best winter destinations in every state.
Winter in Alaska
I went on a trip to Alaska and all my friends were asking, "Why Alaska in the winter?" We saw some amazing scenery that just took your breath away—and it wasn't even that cold out! – Katherine Plessner, Verona, North Dakota. These cozy winter quotes will help you embrace the season.
Winter in Wisconsin
I love the frost clinging on the tree branches and everything else in this beautiful winter picture. Scenes in Wisconsin are so pretty with the freshly fallen snow turning everything white and clean. – Thomas Sisco. Look at these charming towns that are even cozier when it snows.
Winter in Maryland
There are many beautiful sunrises on the Chesapeake Bay, but this day the light was special. The sun glowed like a starburst and the ice flows in the foreground caught the moment and the reflection. – Linda Hubbard, Edgewater, Maryland. Learn about these fascinating winter solstice traditions from around the world.
Winter in Massachusetts
Winter for me officially starts when the first snowy owls arrive here in the Northeast. I took this beautiful winter picture just as a storm was approaching. The sky had turned dark gray, the winds had picked up and tiny drops of snow had just started to fall. The beauty of the bright white of the owl and snow against the stormy sky as well as the intense look on the owl's face was priceless. – Kathy Diamontopoulos, Haverhill, Massachusetts. Want to enjoy winter without traveling? These are the best winter staycations in every state.
Winter in Iowa
The water sparkles and dances in the sun. You can almost feel how cold the water is just by looking at it. I took this picture near my home as a great reminder that beauty can be found anywhere if you only look. – Michelle Bouvette, Ames, Iowa. Here's what a blizzard looks like from space.
Moose in winter
As I was walking down the street in Fairbanks, Alaska, these two moose came out of the bushes and started walking toward me. I was scared as one was a calf, a large calf, but momma was still protecting it. Shaking, I took a step back and snapped a picture. I was very happy when they turned around and went into some trees. – Katherine Plessner, Verona, North Dakota. These destinations are even better in winter.
Winter in Pennsylvania
As I was walking to work during an early morning snowfall on a cold winter day, I passed by this local pond. I was immediately struck by the serenity of the scene. There was no wind. There was no one else around. Just silence as the snow softly fell. I don't think I have ever felt so at peace as I did that day just standing there listening to the quiet. – Zelda Rowley, Lancaster, Pennsylvania. Here are some of the best places to ski in the United States this winter.
Winter in Missouri
This lone tree in the field behind my house makes a great subject to photograph any time of the year. A blanket of snow that fell in mid-December added to the texture of the scenery. – Steve Edwards, Holden, Missouri
Mourning dove in snow
I like how the dove is not quite sure who or what I am. It eventually figured out I was okay and stayed long enough for me to get this beautiful winter picture. – Laurie Painter, Silver Cliff, Wisconsin
Winter in Nebraska
This picture was taken after a snowfall in our yard in Nebraska. I believe it shows Mother Nature at her best! – Danette Lillard, Lyman, Nebraska. Check out these stunning photos of landmarks covered in snow.
Winter in the Great Lakes
The frozen waves of Lake Michigan make such interesting sculptures, such as this wall of icicles. I had a friend lower me down the edge of the ice so that I could capture this moment. This is one of the most beautiful scenes I've ever seen with the dying glow of the sunset lighting up the ends of each icicle. – Carson Offill, Columbia, Maryland
Winter in New York
I took a walk one morning after a heavy snowfall in the park near our home. Two deer followed me thinking I had food for them. They stood still in the snow and posed for this beautiful winter picture. – Ronald Draper, Buffalo, New York
Winter driving
I was a snow plow operator on the midnight to noon shift. By the time I headed in for my shift, it was too late, the roads were impassable. I ended up getting stuck trying to get back home. After a night in my truck, I finally got someone to pull me out. – David Zimmerman, Pecatonica, Illinois
Snowy red barn
A heavy snow accentuates the gorgeous red barn, the corral and the fir trees … a peaceful playground for the horses that are just waiting to get out and frolic in the new fallen snow! – Judy Wroda, Asheville, New York. Here are some surprising facts you probably never knew about snow.
Winter ice jams
After two weeks of brutal cold, a brief warm spell and heavy rain brought ice jams along the lower Susquehanna River. Another cold spell followed and I wanted to capture the incredible power of moving water as it piled up massive slabs of river ice into a picnic grove, easily pushing over a young tree. – Brian Morganti, Bernville, Pennsylvania
Little red truck
This beautiful winter picture brings me back to the good old days when life was a bit slower. – Bruce T. Doll, Lowell, Michigan
Frosty trees
This was one of those rare mornings when there was frost all over everything, appearing like a winter wonderland! After a few hours it was all gone, but it was beautiful while it lasted. – Lynn Beard, Belvidere, Illinois
Gallery: 15 majestic photos of frozen Niagara Falls that will make you want to visit (INSIDER)
Winter in North Dakota
The prairie dogs at the Theodore Roosevelt National Park are fun to watch any time of year! – Katherine Plessner, Verona, North Dakota. Does looking at these winter pictures make you crave warmer weather? These photos will get you excited for summer.
Beautiful winter picture
Goose Creek in Blockville, New York, is a place where the fishermen and hunters swarm when the season is right. But for me, the right season is winter. Just look at the wondrous scene the snow has painted! It looks like a black and white pencil drawing, but is truly just nature's skillful artistry! – Judy Wroda, Asheville, New York
Winter in Tennessee
The expression of this female cardinal says it all: "It's cold, may I come inside to warm up?" Winter is my favorite time of year to photograph because the cold and snow brings the birds to the feeders. – Jean Owens, Paris, Tennessee
Winter in the woods
Every season has it's own unique affect on the landscape in the forest. Winter's the season that warms my heart with its pristine blanket of white covering Mother Nature while she sleeps. – Renee Lund, Red Lodge, Montana
Weathered barn
I was off the beaten track when I came across this weathered barn in southern Wisconsin along a winding back road. I waded through the snow to have a look and found it to be abandoned, with the possible exception of the wild creatures that had left their trails through the fresh snow. – David Zimmerman, Pecatonica, Illinois. These natural phenomena only happen in winter.
Winter in Yellowstone
Photographing bison in Yellowstone National Park is a wildlife photographer's dream. These bison, taking shelter from a storm, stand in gorgeous contrast to the winter wonderland surrounding them. – Debbie McCulliss 
Snowy covered bridge
I took this picture of Sach's Covered Bridge while I was touring Gettysburg. The bridge is a few miles from the battlefield and it was worth trying to find it. – Mike Blottenberger, Hanover, Pennsylvania
Winter in Colorado
This is Bierstadt Lake in Rocky Mountain National Park. It is a mile and a half hike to get to the lake, and with the snow, I got a perfect reflection. – Robert Burns, Ozark, Missouri
Hoarfrost in winter
I've made four winter trips to Yellowstone National Park. This photo shows Lamar Valley on an early morning drive through the park when it was -32 degrees. This frosty phenomenon is called hoarfrost, a deposit of needle-like ice crystals formed on the ground or on vegetation by direct condensation at temperatures below freezing point. – David Douglas, Lakeland, Florida. These pictures will change the way you look at moths.
Dog sled race
While in Alaska I had the fun experience of attending a sled dog race. It was amazing to see how much these dogs just wanted to run! – Katherine Plessner, Verona, North Dakota
Falling snow
Winter was our time of rest when the sounds were muffled and all things were made silent and comfortable by the falling snow. – Randy Dolph, Fort Collins, Colorado
Winter in West Virginia
Deckers Creek in Preston County, West Virginia looked stunning with a blanket of snow all around.  The water racing over the falls, the snow laying on the trees, and the silence of the woods created a picture-perfect scene. – Candy Thompson, Kingwood, West Virginia. Here are some photos that will get you ready for spring.
Winter in Oregon
Visitors enjoy the many scenic wonders of Crater Lake National Park. A winter visit allows the beauty and tranquility of the season to be discovered on a more intimate level. This was my experience on a beautiful winter morning of snowshoeing. — John Kuehnert, Sierra Vista, Arizona
Winter in Kentucky
When we get these beautiful wet snows that stick to everything, I cannot stay inside in the warmth of the house. I must get bundled up and go walking with camera in hand to capture all the beauty around me. The sun was shining bright after a night of beautiful falling snow and the sky was so blue—an awesome combination. – Juanita Jones, Lawrenceburg, Kentucky. Look through these stunning photos of national parks covered in snow.
Snowy swamp
This scene took my breath away. An ugly swamp with weeds, beaver dams, and fallen trees has now given way to the mystical beauty of the cleansing snow. The brilliant colors of the weeds now shine forth so vibrant against the stark white, the reflection of this serene beauty mirrored in the calm waters. Who knew such beauty was hidden in such an unlikely place? – Judy Wroda, Asheville, New York
Pretty pastel sky
I took this beautiful winter picture on the first dawn of the New Year and I was fascinated by the pastel colors that blended above the new fallen snow from the night before. – Mike Blottenberger, Hanover, Pennsylvania
Winter in the Country
We had a blizzard in our area. After the blizzard had slowed down, I drove through the countryside to see how beautiful the fresh snow would look. I love old barns and horses, so when driving past my neighbor's house I saw that their two horses were out and snapped this picture. – Heidi Eliason, Emerald, Wisconsin. These perfectly timed nature photos look fake—but aren't.
Rural winter scene
This tree, located at our rural home, has been a constant in my family's life throughout the years. This photo of the tree covered in hoarfrost serves as a reminder to seize the moment and take those rare opportunities in life when they are offered. – Shelene Codner, Dumont, Iowa
Winter in Ohio
This little bluebird doesn't look too happy about the falling snow. – Tami Gingrich, Middlefield, Ohio. These are the most beautiful snow-covered towns around the world.
Winter on the water
Wild Bill Lake is a small but beautiful storybook lake located on the West Fork of Rock Creek just outside Red Lodge, Montana. The winter seems to highlight some of the detail and colors that make up this quaint area. – Renee Lund, Red Lodge, Montana
Winter in North Carolina
I snapped this photo of my daughter walking through the winter wonderland in our yard. We don't see a lot of snow here, so she was in Heaven! – Kelly Dove, Spring Hope, North Carolina. Check out these gorgeous rainbow photos.
Rest and renewal
This beautiful winter picture of a hay rake reminded me how there is a time for everything. There is a time for work, and there is a time to rest from work. – Mark Heisey, Creston, North Carolina
Winter in Wyoming
It was mesmerizing to watch these bison using their heads to search for grass against the background of the Teton Mountains on a -20 degree day. – Sharon Plowman, Harrisonburg, Virginia
Winter in Arizona
My two brothers and I planned to drive to California for our Christmas break. We had a route that would take us through national parks. It was a Thursday night and we just got to the Grand Canyon. We woke up to snow on Christmas morning! – Rachel Via, Powder Springs, Georgia. These stunning photos capture the striking beauty of birds.
Pretty as a picture
I loved photographing this partial barn around the corner from me, especially in the snow. Sadly, it has since been demolished. – Carol Norwood, Myerstown, Pennsylvania
Sparkling ice storm
We had a snowstorm followed by an ice storm transforming the mountains into a sparkling winter world. My husband and I drove along several country roads to see the beauty of winter, but my favorite road was the dirt road at the top of the Tuscarora Mountains. – Anne Duvall, Greencastle, Pennsylvania
Winter in Michigan
One of my favorite lighthouses to photograph is Point Betsie in Frankfort on the shores of Lake Michigan. The ice freezes and pushes up against the banks and mixes with the sand from the beach. – Rebecca Granger, Bancroft, Michigan. These penguin pictures will melt your heart.
Winter on the farm
I took this picture in winter on our farm. Scout is one of our horses. – Lauren McCammon, Prince Frederick, Maryland
Christmas colors
Central Illinois was covered with a blanket of hoarfrost. It lasted most of the day as the temperatures didn't climb too high to melt it off. The beautiful winter picture was taken at one of the oldest farmsteads in Champaign County, Illinois. – John Moore, Tolono, Illinois
Old Glory in winter
The red, white, and blue American flag looked so lovely flying on this wintery day. – Anne Duvall, Greencastle, Pennsylvania. Now that these winter pictures have brought you peace, look through these calming pictures that we all need right now.
The post 50 of the Most Stunning Pictures of Winter Across America appeared first on Reader's Digest.
Source: Read Full Article