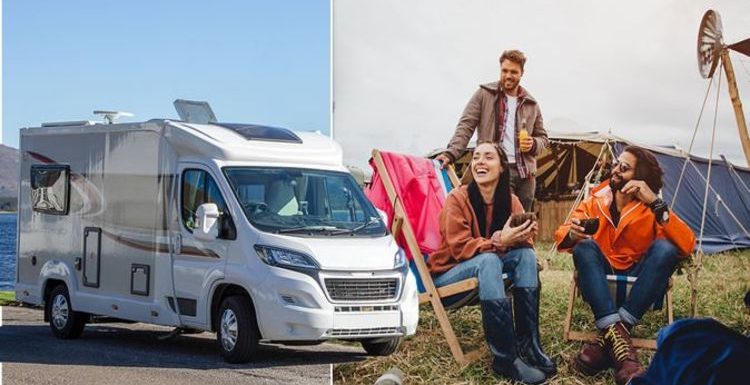 The Camping and Caravanning Club detail virus safety measures
Many holidaymakers whose international travel dreams were shattered in 2020 turned their attention to domestic holidays instead. Once the first lockdown began to ease, campsites across the country rapidly filled up with eager guests.
Now, one travel expert believes it will be a similar scenario in 2021.
Already Dan Yates, founder of Pitchup.com, is predicting "huge demand" for camping and caravan holidays.
He says Britons should "consider booking sooner rather than later" if they hope to enjoy a holiday in the great outdoors.
"Outdoor holidays exploded in popularity last year, with one booked up to every three seconds on Pitchup.com and an all-time record of 6,500 bookings in a single day (nearly double our previous record) for these 'fresh air hotels'," the expert explained.
We will use your email address only for sending you newsletters. Please see our Privacy Notice for details of your data protection rights.
"Whilst there is availability, it certainly would be wise for those with specific requirements to consider booking sooner rather than later, as even in a normal year, availability can become harder to come by the further through summer we are.
"For those who are struggling to find accommodation our stats show there is significantly more accommodation inland away from the coast, so worth considering Lincolnshire or the wider Shropshire/Warwickshire area for example."
Mr Yates added: "Availability is likely to be tighter than in previous years, a surge in new sites has mitigated the reduction in pitches at established sites, many of which have increased spacing.
"We saw a significant number of UK sites join Pitchup last year compared to 2019 and expect this trend to continue for 2021, the majority on farms or other large landholdings away from the main tourist resorts."
DON'T MISS
UK holidays: Top staycation hotspot for 2020 crowned [AWARDS]
Caravan holidays: Brexit and covid see boom in caravans [INSIGHT]
Camping & caravan: Top tips for staying warm when camping in winter [COMMENT]
Despite the surge in popularity, the camping pro urged Britons not to "panic" about sites filling up.
Thanks to the popularity of UK staycations last year, Pitchup has seen approximately 25 percent more campsites sign up to the platform meaning even more choice for holidaymakers.
He continued: "We have plenty of sites which still show availability and are available to book for summer holidays this year – and hundreds more signing up every week given changing regulations which allow landowners to create new campsites without planning permission.
"These new sites offer a novel type of holiday – a chance for urban families to meet the animals, for example – reducing pressure on local infrastructure, minimising contact with residential areas and boasting some of the most remote rural economies.
"What's more, unlike other accommodation types, with so many temporary facilities unused after the collapse of the festivals market, adding more pitches to meet the exploding demand can be as simple as opening a gate."
He also highlighted the increased safety measures which have now been put in place by the majority of holiday parks.
"To quote the deputy chief medical officer, it's a 'biological truism' that outdoor environments are safer than those indoors, and unlike other accommodation types, many of our clients have tens or even hundreds of acres to devote to social distancing," he said.
"Campsites have implemented many safety measures to win customers' confidence, from regular deep cleaning of shared facilities to contactless check-in.
"Many have also relaxed their cancellation policies to allow free changes."
For those who are embarking on their first-ever camping trip in 2021, Simon McGrath from The Camping and Caravanning Club recommends holidaymakers should think hard about where they are going and where it will yield the type of trip they desire.
He also recommends trying a trip "closer to home" before embarking on any far-flung camping holidays.
"It's a good idea to spend a night in your tent close to home first and it's an especially good way to introduce children to the pastime too," recommended Mr McGrath.
"Camping in the garden is great family fun and it also means the kids are never far from the loo should they need a visit during the night."
Source: Read Full Article