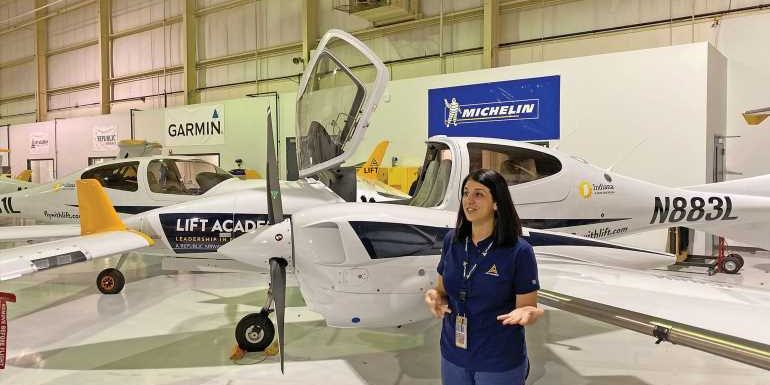 Regional carrier Republic Airways has asked the DOT to grant it an exception to the 2013 rule that requires pilots to log 1,500 hours of flight time before flying for a commercial airline.
In an April 14 application to the DOT, Republic, which operates American Eagle-, Delta Connection- and United Express- marketed flights in partnership with the Big Three U.S. carriers, argued that pilot trainees who complete a tailored Air Transport Pilot (ATP) training program at the carrier's Lift Academy pilot training school should become eligible to fly for the airline after completing 750 hours in the cockpit.
If approved, the Lift Academy ATP program would be the first nonmilitary or nonacademic flight training program to receive relief from the 1,500-hour rule. That rule requires 1,500 hours as a default, but under current regulations, graduates of four-year university pilot training academies can become a commercial airline co-pilot with 1,000 hours of flight time, while graduates of two-year college flight training programs can become a commercial pilot with 1,250 hours of flight time. Republic's exemption requests matches the consideration given to military pilot trainees, who become eligible to for the co-pilot seat on a commercial airline after 750 hours.
In its DOT application, which was first reported on by Flight Global, Republic argued that the rigorous curriculum and structure of its proposed training program would exceed the safety standards of the military training program.
Related: It's time to rethink the pilot-training rules (Wheels up)
Why Republic wants the exemption
The Republic application coincides with an acute U.S. pilot shortage, which has led to rapid turnover at regional airlines as pilots are hired away by higher paying mainline carriers. The shortage has also caused American, Delta and United to pull back on the regional aircraft routes that they operate in conjunction with carriers such as Republic.
In its application, however, Republic didn't make mention of the pilot shortage. Instead, it cited  as public benefits the chance to make a dent in the dearth of women and minority U.S. commercial airline pilots and reducing the cost of obtaining an ATP certificate. Just 9% of ATP certificate holders are women, the carrier said, while certification can cost upward of $200,000 in some cases.
"Sluggish industry progress toward diversification of cockpit participation calls for a renewed, industry-wide commitment to diversity, equity and inclusion. This is clearly a broken pipeline," the application reads.
A controversial proposal
Other regional airlines have ramped up efforts to ease the 1,500-hour rule. Prior to its inception, pilots could fly co-pilot a regional flight with just 250 hours of flight time.
But efforts to weaken or reverse the 1,500-hour rule are sure to be controversial. The rule was put in place as a response to the 2009 crash of Colgan Air Flight 3407 near Buffalo, N.Y., which killed all 49 passengers and crew as well as one person on the ground.
Since then, the rule has enjoyed strong support from the Air Line Pilots Association union, family members of the Colgan crash victims and legislators from both parties, who argue it has made flying on U.S. airlines safer. 
Source: Read Full Article