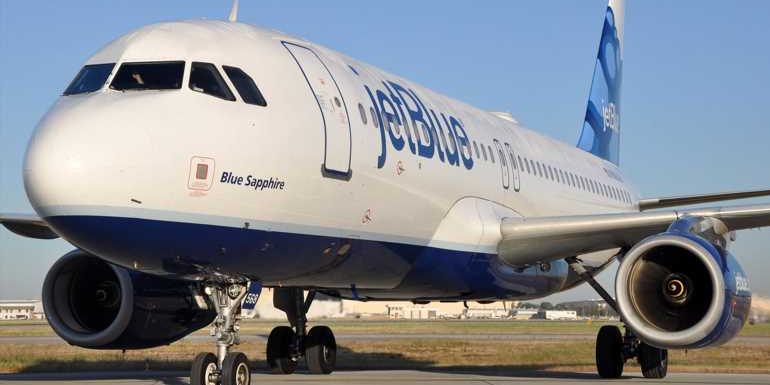 JetBlue CEO Robin Hayes pledged Tuesday to take "swift and significant action" to get the airline's cancellation-plagued operation back on track for the summer flying season.
JetBlue canceled 10% of its scheduled flights during the first three weeks of April. And schedule disruptions this month will take a 6% toll on JetBlue's pretax income margin for the second quarter, the airline reported during an earnings call Tuesday. As a result, JetBlue won't reach profitability this quarter, though it expects June to be a profitable month.
During the call, JetBlue president Joanna Geraghty attributed the troubled operation to a combination of elevated pilot attrition; disrupted pilot training during the winter omicron surge; staffing shortages among air traffic control and the airline's contractors; and severe weather in the Northeast and Florida.
Reducing capacity growth plans
Two weeks ago, JetBlue said it would reduce its schedule by 8% to 10% through the summer to help improve operations. The carrier was more specific on Tuesday, laying out a revised full-year capacity expectation of flat to 3% more than it flew in 2019, compared with its earlier expectation of being up 11% to 15% over 2019.
Reducing capacity, JetBlue said, will add more buffer room throughout the day to make up for operational difficulties and will put less stress on crew resources. In addition, Hayes said that JetBlue will build more resilience and redundancy into its operation at New York JFK, where it will operate approximately 190 flights per day this summer.
Also at JFK, JetBlue said it will redevelop a portion of its Terminal 5 lobby to add more kiosks and open additional space for customers.
Reducing aircraft utilization
With pared-down system capacity, JetBlue plans to reduce its aircraft utilization by double digits for the remainder of the year, chief financial officer Ursula Hurley said. It plans to use the additional fleet flexibility to have more ready spare aircraft on hand in cases of disruptions, and to get ahead of planned aircraft maintenance.
Investing in tech to improve hold times
JetBlue also promised it would reduce call-center hold times by investing in online chat capabilities and support via Apple's iMessage and making improvements in self-service capabilities on its website. In addition, it said it would have its largest ever customer support team in place this summer.
A pledge to improve Newark
Finally, JetBlue said it has trimmed some of its planned growth at Newark to ease congestion there.
Scott Kirby, the CEO of Newark hub heavyweight United, last week called out JetBlue and Spirit specifically, saying their operational failures at Newark were making it more difficult for other airlines to adhere to their own schedules at the capacity-constrained airport.
Few details on the Spirit merger
During the earnings call, Hayes offered little comment on the progress of negotiations with Spirit over a potential merger.
"Our team is working very diligently and very hard to move things along with Spirit," he said, before stating that he wouldn't say any more on the topic.
Related: JetBlue's Spirit bid: A challenge to the Frontier merger
JetBlue reported a net loss of $255 million for the first quarter.
The carrier's first quarter revenue of $1.74 billion was in-line with
analyst expectations, according to the investment site Seeking Alpha.
JetBlue stock had plummeted close to 9% in early afternoon trading. 
Source: Read Full Article