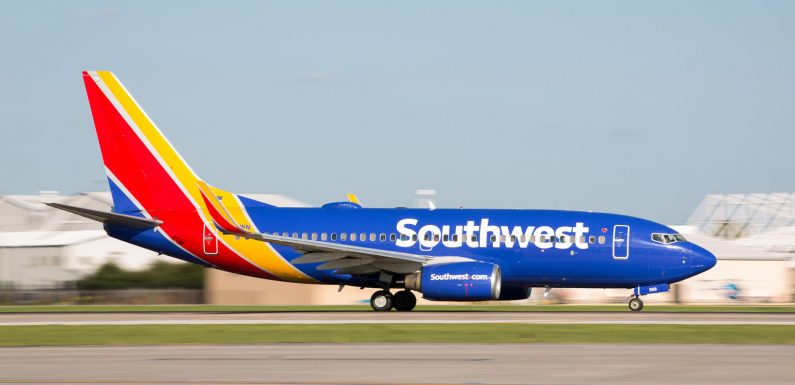 Southwest Airlines expects revenue for the second quarter to be 8% to 12% higher than revenue in Q2 2019, as continued high fares more than make up for staffing shortfalls that are limiting capacity. 
"So far we have not seen any dampening of demand," said CEO Bob Jordan during Southwest's Q1 earnings call on Thursday. 
Domestic airfares were up 21.5% from 2019 for the week ending April 10, according to ARC. And though Jordan said Southwest has only changed its fare schedules modestly so far this year, the carrier is achieving higher yields by selling proportionately more tickets in higher-fare buckets. 
Meanwhile, Southwest will fly 7% less capacity in Q2 than it did in during the same period in 2019 due to staffing constraints, including a pilot shortfall. 
Southwest intends to hire 1,200 pilots this year and a total of 10,000 employees overall, net of attrition. Thus far, said Jordan, the carrier has replaced somewhere short of two-thirds of the 640 pilots who took early retirement during the early portion of the pandemic. 
Companywide, Jordan said, the carrier has been hiring staff at a rate of approximately 1,500 people per month this year. But many of those new hires are still in training, and even among those who aren't, efficiency is still down as new employees get up to speed. 
Related: Leisure travel sellers have busted the dam
Even with those challenges, Jordan said Southwest customers can expect more reliable operations this summer than last, when staffing shortages and inadequate planning for the surge in domestic travel led to just a 62.4% on-time rate in June and on-time performances below 68% in July and August. 
The long lead time to plan for an anticipated busy summer and its restraint on adding capacity will help operations, Jordan said. 
He also said that the carrier has begun adding more frequencies on shorter business routes as it works toward fully restoring its pre-pandemic network by the end of 2023. This quarter, Southwest expects its average flight length to be 5% shorter than during the first quarter. Those added short-distance frequencies will make Southwest's network more resilient to disruptions than it has been over the past year, according to Jordan. 
Related: Southwest details benefits of new fare category
For the first quarter, Southwest reported a net loss of $278 million. The carrier reported revenue of $4.69 billion, beating analyst expectations by $20 million, according to the investment website Seeking Alpha. 
The company said it returned to profitability in March following January and February, months that were negatively affected by the omicron variant of Covid-19. Southwest expects to be solidly profitable for the remainder of the year and for 2022 as whole.
Source: Read Full Article