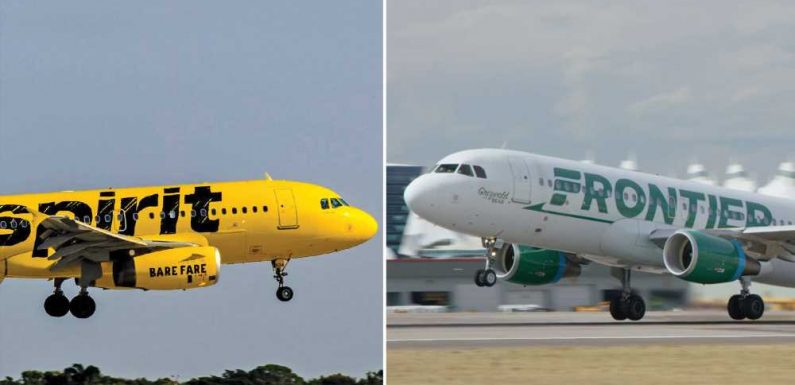 Spirit Airlines has postponed its shareholder vote on merging with Frontier from June 10 to June 30. 
"The special meeting was postponed to allow the Spirit board of directors to continue discussions with Spirit stockholders, Frontier and JetBlue," Spirit announced Wednesday. 
The move came two days after JetBlue made its most recent purchase offer for Spirit of $31.50 per share, including a $1.50-per-share upfront payment as well as a $350 million reverse breakup penalty if a Spirit-JetBlue merger were to be blocked by antitrust regulators at the Justice Department. 
Under the existing Frontier-Spirit offer, Frontier is slated to pay each Spirit investor 1.9126 shares of Frontier stock plus $2.13 in cash for each Spirit share they own. Frontier stock was trading at approximately $10.30 Monday morning, making the value of Frontier's offer approximately $21.80 per share.
Frontier has also offered to pay $250 million to Spirit in the case of regulatory denial. 
"We welcome this development as a necessary first step toward genuine negotiations between the Spirit board and JetBlue," JetBlue CEO Robin Hayes said in response to the postponement of the proxy vote. "Spirit shareholders are clearly urging the Spirit board to engage with us constructively and provide us with the same information previously made available to Frontier so that we can reach a consensual transaction."
Spirit noted in the postponement announcement that its board has not changed its recommendation that stockholders adopt the Frontier merger agreement. 
"Spirit remains bound by the terms of the merger agreement with Frontier, and Spirit's board has not determined that either JetBlue's unsolicited tender offer or its updated proposal received on June 6 constitutes a superior proposal as defined in the merger agreement," the airline said. 
Frontier did not immediately respond to a request for comment.
Spirit's board has contended that the Frontier offer is the better one despite the lower purchase price because a merger with JetBlue would have little chance of being approved by the Justice Department. The DOJ is already suing to break up the Northeast Alliance, a JetBlue-American Airlines partnership. 
And, Spirit argues that regulators would be more concerned about a merger of a higher-cost airline like JetBlue with a ultralow-cost carrier than a merger between two ultralow-cost carriers. 
A Spirit merger with either Frontier or JetBlue would create the fifth-largest U.S. airline.
Source: Read Full Article