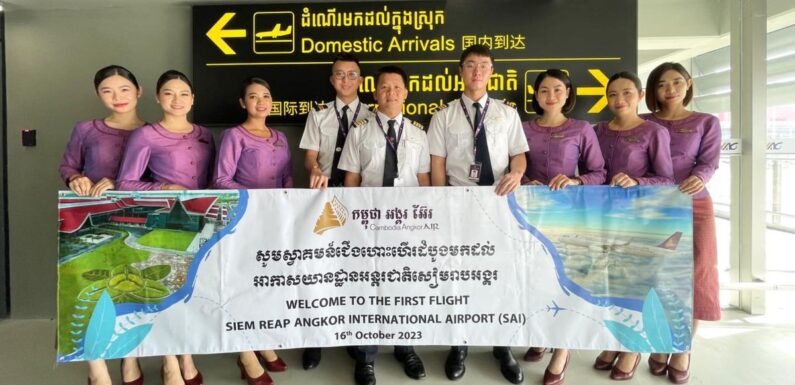 PHNOM PENH, Cambodia (AP) — Commercial operations began Monday at Cambodia's newest and biggest airport, designed to serve as an upgraded gateway to the country's major tourist attraction, the centuries-old Angkor Wat temple complex in the northwestern province of Siem Reap.
A Bangkok Airways flight from Thailand was the first to land, with 16 additional flights scheduled for the first day of operations at the Siem Reap-Angkor International Airport.
The airport was built at a cost of about $1.1 billion on 1,730 acres of land about 25 miles east of Angkor Wat.
Construction began in 2020 to replace the old airport, about 3.1 miles from the temple site, which is being retired in part because of fear that vibrations from frequent flights were damaging the temples' foundations.
The new airport can handle 7 million passengers a year, with plans to augment it to handle 12 million passengers annually from 2040. It was constructed under a 55-year build-operate-transfer program between Cambodia and China.
According to the country's ministry of tourism, Cambodia received some 3.5 million international tourists in the first eight months of 2023, while for the whole of 2019 — the last year before the coronavirus pandemic — it received some 6.6 million foreign visitors. Tourism is considered one of the main pillars supporting Cambodia's economy.
Another Chinese-funded airport is being constructed at a cost of $1.5 billion to serve the capital Phnom Penh. The new Phnom Penh international airport, formally known as the Techo International Airport, is set on 6,425 acres and scheduled for completion in 2024.
Source: Read Full Article