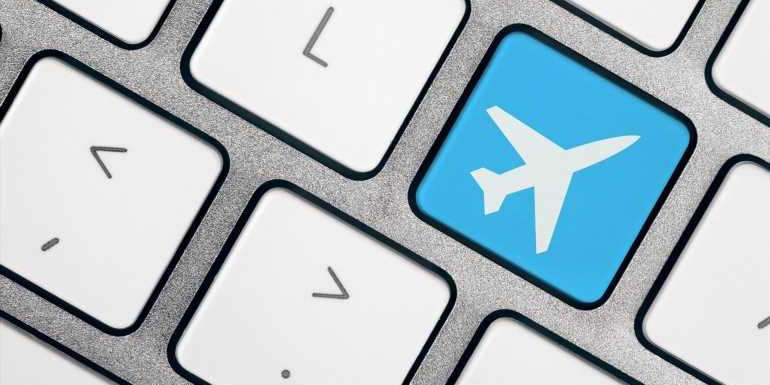 Despite being hit in February with the largest fine ever levied against a travel agency by the DOT's Office of Air Consumer Protection, FlightHub Group CEO Chris Cave says that consumers can trust the company's JustFly.com and FlightHub.com OTAs.
"The fact that we have collaborated with the Canadian Competition Bureau and the U.S. DOT and have entered into these consent agreements is the best sign that we have committed to providing a really transparent experience to our customers," he said.
Cave's mention of Canada referred to the settlement of $5 million Canadian dollars that the Montreal-based company entered into with the bureau in February 2021, a year before the DOT assessed its record $300,000 penalty. Canada also imposed fines of $400,000 Canadian dollars against two FlightHub executives, including chief corporate development officer Nick Hart, who remains with the company.
The DOT fine was related to a slew of violations it alleges were committed by JustFly.com, FlightHub Group's more U.S.-oriented OTA, which include misrepresented airfares, airfare cancellations charges and ticket refunds and providing misinformation on bag fees. FlightHub entered into the February DOT consent order without admitting to violations.
According to the DOT order, JustFly displayed advertisements claiming free cancellations, despite the agency charging cancellation fees. JustFly also advertised phone-only fares, the DOT alleges, but sometimes told callers that such fares were not available; it was only after the callers did not accept the higher prices that they were offered the advertised fare, according to the DOT. That practice was consistent with a FlightHub Group training document, the department said.
The DOT did say, however, that violations occurred before FlightHub Group emerged from a bankruptcy restructuring in 2021.
No admission of guilt
During a late March interview, Cave reiterated FlightHub's position that it has committed no wrongdoings.
"We strongly feel that we were in line with all peers and competitors in the industry, in terms of pricing representations [and] all of the fees," he said.
The CEO said he can't explain why FlightHub Group was targeted by the authorities in Canada and the U.S. Nevertheless, he said, the company has taken a number of steps to make displays on JustFly and FlightHub more transparent.
Crucially, consumers can now clearly see when a fee is being charged by the OTA as opposed to ones charged by the airline.
A sample JustFly flight search illustrates that feature in action. For example, once a consumer selects a potential flight, the right side of the display screen states that cancellations can be made within 24 hours, for a fee. 
Consumers also have the option of clicking a link where they'll see that the agency charges up to $75 for changes made during that timeframe. (The charge is legal because it is an agency charge. Under U.S. law, airlines are required to offer free cancellation of direct bookings for the first 24 hours after purchase.)
The site also clearly delineates on its seat selection chart what the total cost is and how that cost breaks down between the airline's fee and the JustFly fee.
Cave also said that JustFly changed the language on its site so that consumers are asked to "request" a seat rather than "select" a seat, a distinction that accounts for the fact that the specific seat could disappear from an airline's inventory while the OTA is relaying the request to a carrier.
Some other OTAs, such as Expedia.com, he said, still use the term "select."
While that is true, Expedia doesn't charge an agency fee for seat selections or for most other services, including cancellations.
"Generally, we don't charge booking fees. Importantly, we also don't charge fees to service travelers' itineraries," Expedia Group said in a statement. "Occasionally, we do charge booking fees for certain types of trips, such as split tickets, that cannot be booked on airlines' own sites."
Despite the changes FlightHub Group has made, its OTAs continue to draw their share of consumer complaints. During an interview last month, Michelle Couch-Friedman, executive director of the consumer group Elliott Advocacy, singled out the company for scorn. 
"Stay far away," she said, adding that FlightHub Group does not respond to requests from Elliott's advocacy team.
FlightHub Group has also received 1,100 Better Business Bureau (BBB) complaints over the past 12 months. Cave said that the travel industry in general has drawn lots of complaints during the pandemic.
He pointed out that JustFly and FlightHub now hold a BBB ranking of B+.
"The fact that we do have a B+ rating is because we are making a significant effort at reaching out to every single customer that submits a BBB complaint, and we do our best to try to resolve their complaints," he said.
For context, far larger Expedia.com has nearly 4,000 complaints in the past year but an A+ BBB rating, while Booking.com has fewer than 1,000 complaints and an A+ rating.
Source: Read Full Article