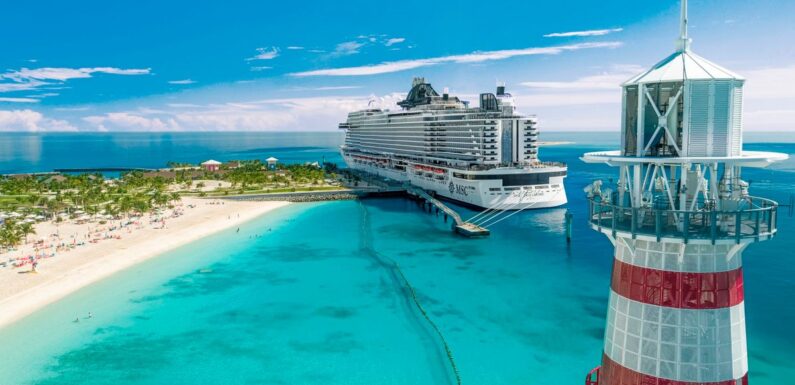 MSC Cruises is adding infrastructure and amenities to Ocean Cay MSC Marine Reserve, the cruise line's private destination in the Bahamas.
MSC will add excursion centers to support watersport activities and island tours, a sea dive and snorkel center, and additional food and beverage outlets.
Also coming to Ocean Cay: the MSC Foundation's Marine Conservation Centre, a facility that will be a base for biologists, coral reef experts and students. It will house interactive pavilions, a lecture hall and coral exhibition tanks, providing educational opportunities to guests on the importance of the marine ecosystem and the need to protect oceans.
Plus, MSC will install a third solar farm as part of its aim to achieve zero greenhouse gas emissions for Ocean Cay and an advanced wastewater treatment plant. It will plant native and adaptive trees, grasses and shrubs as part of a landscaping plan to further diversify the landscaping and provide erosion control.
New accommodation buildings will provide amenities for island staff, which will increase in numbers from 150 to 280.
Earlier this summer, MSC announced it would close Ocean Cay from April 7 to May 22 "in order to make necessary guest experience enhancements and support the island's future growth plans."  
MSC Cruises transformed Ocean Cay from an industrial sand excavation site to a marine reserve and private island destination that opened in 2019.
The line will deploy its largest capacity in the U.S. during the winter 2023-24 season with five ships: MSC Divina, MSC Magnifica, MSC Meraviglia, MSC Seascape and MSC Seashore. All ships will call at Ocean Cay.
Source: Read Full Article