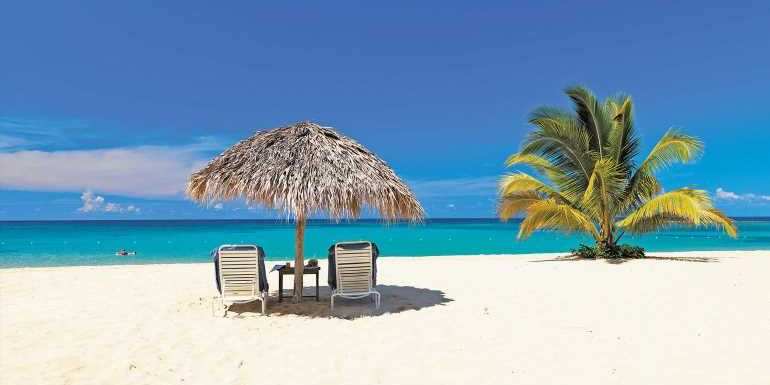 From relaxing Covid-test requirements to removing them altogether, several Caribbean islands have been scaling back pandemic-era entry protocols. And officials and travel executives say the moves will pave the way for regional recovery this year. 
Coexisting with Covid seems to be the Caribbean's current rule of thumb, with the global downward trajectory of cases resulting in less hesitancy and more confidence among travelers to pack their flip-flops and sunscreen and head to the islands.
And although the BA.2 variant is causing a new wave of cases, unless it prompts lockdowns or the return of stringent measures, the region is poised to see a return to pre-pandemic arrival numbers.
"There are early signs from preliminary data that the Caribbean is recovering from the impact of Covid-19 at a quicker pace this year, 2022, than last year," said Neil Walters, the Caribbean Tourism Organization's acting secretary general. "A lot of this can be attributed to the easing of protocols. 
"Destinations that began easing restrictions early are at a more advanced stage of recovery," he said. 
Related: The latest on Caribbean travel: Requirements for U.S. citizens
Speaking during a Caribbean Hotel & Tourism Association (CHTA) webinar on April 7, Walters said that arrivals increased 69% in 2021 over 2020 but were still down 41% over 2019. 
Nicola Madden-Greig, the CHTA's president, cited positive indicators for 2022: Hotel occupancy rates for the first two months of the year averaged about 70% of the industry's peak performance for the same period prior to the pandemic. 
She also attributed the growth to easier entry. 
"We're pleased with the ongoing reduction in Covid-19 travel restrictions, which has eliminated some of the lingering hesitation about traveling to the region," she said. "Many jurisdictions are registering an uptick in arrivals. The CHTA expects the robust travel trend to continue throughout the summer months."
To be sure, Covid entry restrictions are still in place. Many Caribbean islands still require some sort of Covid test upon entry. Several destinations are still closed to unvaccinated travelers, and the rules still can change with frequency.
But members of the travel industry hailed the relaxing of policies, such as allowing vaccinated travelers to take rapid antigen tests prior to arrival in lieu of PCR tests, which are more expensive and can take up to 72 hours to deliver results.
"The last few weeks have brought good news to the Caribbean, with more destinations, including St. Lucia, Jamaica, Barbados, Curacao, Antigua and Grenada, easing travel restrictions and making it easier for visitors to come to the region," Adam Stewart, executive chairman of Sandals Resorts International, said in early April.  
Jamaica, for example, no longer requires pre-arrival Covid testing for vaccinated or unvaccinated visitors. It has also ended its mask mandate.
In a recent speech, Jamaica minister of tourism Edmund Bartlett said the island nation's case levels had "steadily decreased in recent months, and visitor arrivals have been increasing with hopes for a full recovery in 2023."
Jamaica saw more than 1.5 million visitors in 2021 and this year projects up to 2.5 million. 
St. Lucia this month dropped all pre-testing requirements for vaccinated visitors and eliminated document upload for all travelers. Unvaccinated visitors must still show proof of a negative PCR test taken within five days of arrival.
"We remain committed to coexist with Covid, and we look to the future with hope," Ernest Hilaire, St. Lucia's minister of tourism, said during a February webinar. 
Dominica dropped its testing requirement for vaccinated travelers and removed a quarantine rule for unvaccinated visitors.
St. Kitts and Nevis on April 1 gave vaccinated travelers the option to submit a rapid test instead of a PCR test, which was previously required.
"We are confident that these amended entry requirements will aid in the rebound of our air arrivals and the ongoing recovery of our tourism industry and related economies," said Lindsay Grant, the country's minister of tourism, transport and ports.
Grenada, which last year had a mandatory, 48-hour quarantine in place, recently dropped testing requirements for all travelers. Aruba, Curacao and Puerto Rico have done the same.
The Dominican Republic hasn't required Covid testing since September 2020. 
Visitor numbers last year neared 5 million, close to 2019 levels.
One hurdle: Return testing 
One policy that many cite as a roadblock to tourism recovery — but one that is out of the islands' control — is the rule that all international arrivals test one day before entering the U.S. Regional leaders have joined the chorus of industry voices pushing for the Biden administration to repeal the requirement for the vaccinated. 
"We believe this will further stimulate Caribbean travel," Madden-Greig said. 
It is one less hurdle, however, for travelers to the U.S. territories. Puerto Rico dropped Covid protocols for all travelers on March 10. No proof of vaccination, pre-entry test or travel authorization is needed, which in combination with not having to test to return to the U.S. mainland, or have a passport to enter, makes it one of the easiest islands for U.S. travelers to visit. (The U.S. Virgin Islands has dropped pre-entry testing for vaccinated travelers, although unvaccinated travelers must still test.) 
Jorge Hernandez, CEO of Aerostar Airport Holdings, operator of Luis Munoz Marin Airport in San Juan, called 2021 a "stellar year" thanks to consistent messaging, which he said the region should embrace. 
"All the islands need this kind of messaging to explain to travelers that travel requirements are easier now that the pandemic is waning as the demand for travel is growing," he said.
Source: Read Full Article