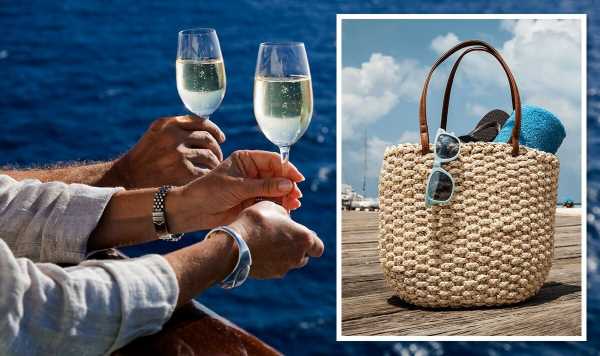 The Cruise: Crew panic as bathroom is trashed by sailor
We use your sign-up to provide content in ways you've consented to and to improve our understanding of you. This may include adverts from us and 3rd parties based on our understanding. You can unsubscribe at any time. More info
Most mainstream cruise lines ban passengers from bringing alcohol such as spirits or beer onboard. Many do allow passengers to bring on a specific amount of wine or champagne, although they might be charged a corkage fee.
While passengers who enjoy a tipple can pay for a drinks package onboard, these can be substantially higher than the cost of a general ticket.
However, one sneaky cruise passenger has revealed a tried and tested method to sneak more alcohol on board, but it comes with a risk.
Posting to a Reddit forum dedicated to the subject, an anonymous passenger using the username Banana_Hammock_Up said that all you need is a "beach bag with a couple of towels".
They explained: "I used to sneak booze on.
"You can buy bottles in your first port stop and bring them onboard.
"Just bring a beach bag with a couple of towels and put all but one bottle in the bottom, covered by the towels.
"Leave the bottle on top and when you go to the booze table, only give them the one bottle.
"Security and the booze table do not talk, so the table staff only know what you tell them."
If you don't want to try this trick, there are specially made secret storage pouches called "rum rummers", which the passenger also recommends.
They added: "Fake cosmetic bottles, plastic mini bottles on your person, and others are ways to do it."
While this trick might save you some money, it could also carry a huge risk.
Another cruiser, named HalfManHalfCyborg dubbed the comments as "very poor and foolish advice".
DON'T MISS
Cruise line finds way to dodge Venice's cruise ship ban [REPORT]
'Go back!' Norway rage as cruise passengers told 'not welcome' [INSIGHT]
Flight attendant warns passengers 'sit close to the door' [REVEALED]
They continued: "The cruise lines know all the tricks. They know what to look out for, will catch you, and confiscate it.
"If you're lucky, they will let you back on the ship.
"If you try s*** like this on boarding day then they will just cancel your vacation without refund." [SIC]
According to experts from Cruise Mummy, if the cruise ship crew suspect you are sneaking alcohol on board they will inspect your luggage in detail.
The experts added: "They may check your wine bottles to see if it really is sealed as new and contains wine.
"They will confiscate it if found to contain spirits, and may even refuse you boarding."
Therefore, before trying to sneak beverages onboard it's worth weighing up the risk.
In some cases, the cost of a drinks package may be higher than your bar tab would come to anyway, making it a worthwhile investment.
Source: Read Full Article