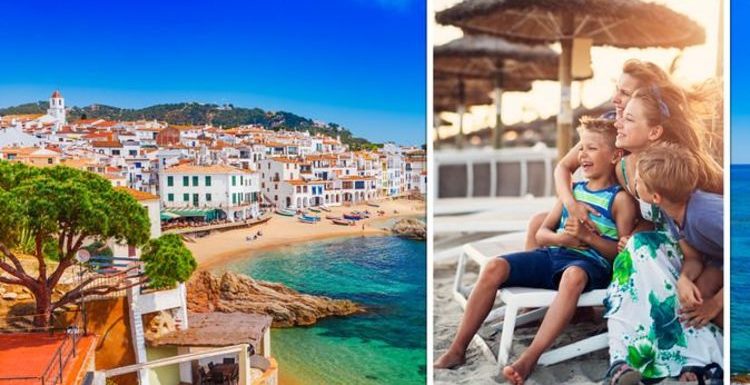 Spain holidays: Tour guide explains where to visit
We use your sign-up to provide content in ways you've consented to and to improve our understanding of you. This may include adverts from us and 3rd parties based on our understanding. You can unsubscribe at any time. More info
Britons wanting to enter Spain need to be fully vaccinated. The Spanish Government has introduced new restrictions for Britons who want to enter the country.
Since December 1, every Briton who wants to holiday in Spain need to have been fully vaccinated.
In Spanish terms, this means two jabs.
While the new rule is not particularly complicated, it has caused some confusion.
The UK's definition of vaccinated for teenagers is one jab.
This is not the case in Spain.
The FCO said 12 to 18 years old Britons wanting to go to Spain need to be fully vaccinated.
This means anyone over the age of 12 needs to have been double jabbed, as tests are no longer sufficient, even for teenagers.
Everyone will need to also fill in a Health Control Form, and this applies to children under 12 years old too.
With the UK not offering second jabs to children, the Spanish requirements are stopping many British families from travelling.
The restrictions will be reviewed at the end of the year, on December 31.
Spain is currently in the midst of its sixth wave and has tightened restrictions both at borders and within the country.
Britons who do not comply with entry requirements may get a minimum fine of €3000, the UK Government website warns.
UK families are being impacted by the new rules.
Darren Ashley told The Local Spain: "My 12-year-old daughter cannot come to Spain for Christmas despite having one dose of the vaccine and a negative PCR test.
"But her 10-year-old brother who has no vaccine and lives in the same house can come without even a test."
Even teenagers who have had two doses of the vaccine may face issues with entering Spain.
To get an NHS Covid Pass for travel, young Britons need to be 16 and over.
Children between 12 and 16 are effectively barred from entering Spain.
Other countries requiring full vaccination and a Covid pass for entry include Germany and Malta.
The UK Government is aware of the issue and it's been reported a Covid travel pass will be rolled out for 12-15 years old.
However, the new pass may not be ready for the Christmas holidays, and it will not be digital.
It will initially be a travel letter, according to an email sent by the NHS Digital team.
Source: Read Full Article