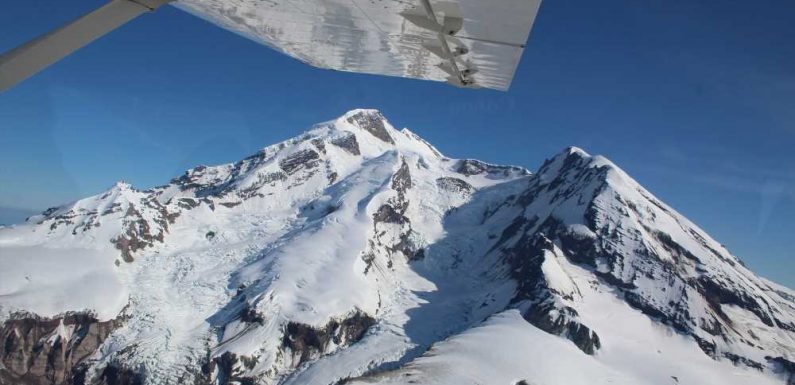 ANCHORAGE — In the 19 years since opening Pablo's Bicycle Rentals in Anchorage, its owner said that business has never been as strong as it has been this summer.
Due to overwhelming demand, Pablo's no longer takes reservations; it operates only on a first-come, first-served basis. Even on a drizzly Sunday morning, its staff was hustling to accommodate people, including my 8-year-old son and me, looking forward to riding the Tony Knowles Coastal Trail. The trail, which runs along Anchorage's coast, is regarded as one of the most picturesque paths in America.
The experience at Pablo's is not unique. Just south of Anchorage, in Girdwood, Alpine Air Alaska, operator of helicopter tours, said that business began to rebound in early spring. But the company not only recovered to 2019 levels — it is exceeding them.
"We expect the momentum will continue through the rest of the summer season," said Christina Gerber, Alpine's marketing director. "At the start of the year we didn't know what to predict, so it's exciting to see this recovery."
Alaska checks a lot of the boxes as people in the U.S. emerge from a pandemic travel pause: It's a bucket-list destination that doesn't require going abroad, and there's a focus on wide-open spaces, nature and outdoor activities.
In Seward, about three hours south of Anchorage on the Kenai Peninsula, Bixler McClure, owner of Seward Ocean Excursions, said he launched a third six-person boat in late June because "demand was not being met with just two."
And unlike most Alaska businesses, Seward Ocean Excursions had its best year in 2020. The operator's small ships enable families and small groups to do their own tours, positioning the company to thrive during the pandemic.
But this year, McClure expects that business will "be even better."
Cole Chambers, director of sales and marketing for Rust's Flying Service and K2 Aviation, a flightseeing tour operator, said it's a little too early to tell, but at the current pace, she expects this year's numbers to come in just under 2019's.
Vanessa Jusczak, director of the Denali Chamber of Commerce, said that while she doesn't have hard numbers yet, in general this summer is "much busier than expected." Many hotels and especially Vrbos are booked, she said, but capacity is down with some hotels, including the Denali Princess Wilderness Lodge, closed.
As strong as this season is for many Alaska businesses, the recovery is not equal. More than half of Alaska's tourists arrive on cruise ships, a sector that will not come anywhere near pre-pandemic levels this year. For businesses that depend on those passengers, business is still slow to nonexistent. In southeast Alaska, destinations like Juneau and Skagway, where cruisers account for more than 90% of arrivals, a real recovery won't happen until at least 2022.
Related stories:
Alaska tourism scrambles to adjust to summer season without big ships
Two seasons, no ships? Grim forecast for Alaska: 'Not everyone will survive'
As a result, two people working tours that I took, my boat captain with Seward Ocean Excursions and my pilot with Alpine Air, had both moved from Juneau in search of work this year, where they found businesses that were thriving.
Like much of the U.S., the corridor connecting Seward, Anchorage and Denali is experiencing a shortage of workers to meet demand. Staffing issues were mostly apparent in Denali, where two restaurant managers told me that they used to open for lunch and dinner but had moved to one meal service due to the lack of staff. A woman shuttling me back from a tour in Denali to my hotel told me that she is a school bus driver who had stepped in to help out this summer, something she said many in the small community are doing to help revive the area's most important economic driver.
Help wanted signs are a fixture of the pandemic recovery throughout the U.S., but the worker shortage is more acute in Alaska, which, like many seasonal destinations, depends on an influx of workers from abroad on summer work programs that have been largely restricted by the pandemic. To add to the crunch, workers who come from the Lower 48 are normally recruited in February and March, a time when the vaccination rollout was just starting and the possibility of having a real tourism season was still up in the air.
As a visitor, these staffing issues are not that apparent, unless you want lunch in a restaurant that now only serves dinner. Everywhere we went, we had top-notch experiences and great service.
We were also blessed with good weather, and everyone on our Alaska Railroad train from Anchorage to Denali got clear views of the tallest peak in North America throughout the eight-hour trip, joining the 30% of people who actually see the mountain when visiting the park. 
Passengers were asked to wear their masks for the duration of the train ride, and people mostly complied. Luckily, the Alaska Railroad has some of the only outdoor viewing cars in the U.S., enabling people to take longs breaks to stand outside to enjoy the spectacular scenery.
At the McKinley Chalet Resort in Denali, Denali Square was bustling on the sunny night in June we arrived — close to the solstice, the sun was setting near 3 a.m. Every available outside table was taken as a guitarist sang '70s rock covers with the mountain range as a backdrop. Our two Denali tours, arranged by the resort, a Nenana River rafting excursion and the Black Diamond ATV Treasure Hunt backcountry adventure were both terrific.
It's not surprising that visitors often splurge on flightseeing tours, including flying around the peak of Denali and visits to dog sled camps on a glacier.
Not only are they bucket-list-worthy, but because helicopters and flightseeing planes only fit small groups, they are attractive in an age when people want to avoid crowds.
There were only six people on a flightseeing excursion to see bears in Lake Clark National Park and Preserve, and on a helicopter tour to a glacier from Girdwood, it was just my son, me and the pilot.
As people emerge from the pandemic and may not have traveled for more than a year, those who can afford it are placing more importance on once-in-a-lifetime experiences such as seeing bears in their natural environment after flying over spectacular scenery; the flight alone was a highlight of the trip for us. A tourist from the East Coast, also on the tour, said he'd been waiting 66 years to do such an excursion. And as we walked toward the Alpine Alaska Air chopper to get on our glacier flight, the people coming off another tour told us: "You're in for one incredible experience."
The tours, about $900 per person for the bear-viewing and $400 for the glacier trip, are truly once-in-a-lifetime for most people and are experiences they aren't likely to forget. 
Source: Read Full Article