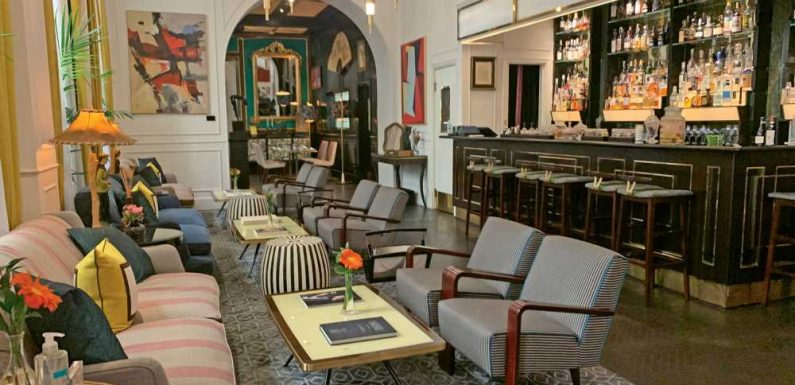 After a three-train journey complete with screaming children and a midafternoon transfer in Italy's summer heat, I couldn't have asked for a better place to land than the Hotel Vilon.
Just a quick taxi ride from Rome's main train station, the 18-room mansion-turned-boutique hotel is tucked away on a quiet side street, within easy walking distance of key sites in the city's historical center.
But after getting settled in what still feels more like an exclusive art-filled residence than a hotel, with rooms and terraces overlooking the private gardens of the Palazzo Borghese, all I could think was, who would want to leave?
The hotel makes good on its promises to be a quiet, luxurious cocoon in the heart of Rome with unique and colorful contemporary decor, furnishings and art at every turn.
Each room is different, ranging from spacious standard rooms with a seating area, desk, walk-in closet and marble bathroom to grand suites with private terraces, separate living areas and massive bathrooms with soaking tubs.
Related: A most satisfying stopover in Lucca
The main floor of the hotel is home to Adelaide Ristorante & Salotto. Its grand mirrored bar features a mix of couches and tables and opens to the indoor and outdoor seating areas for the restaurant.
Named for a princess in the Borghese family, the restaurant features Mediterranean and Italian-inspired dishes in a refined yet relaxed setting that includes a green, open-air courtyard for alfresco dining.
During my stay, I sampled executive chef Gabriele Muro's tasting menu, which included a delightful mix of fish, meat and light pasta dishes. 
The goal, which was achieved, is to offer Michelin-style dining that is not as formal or long as traditional five-course offerings.
Developed in what used to be a private annex of the palace, and later a school for underprivileged girls, the Hotel Vilon is the second of what will soon be four Italian luxury boutique properties developed and operated under three new brands from Shedir Hospitality.
Shedir was co-founded by luxury hotelier Martino Acampora, who was formerly general manager of J.K. Place Capri, and Eduardo Safdie, owner of the Capri Tiberio Palace and co-owner of J.K. Place Hotels. 
The Hotel Vilon is the flagship for the company's new Vilon brand. Also this month, the company was preparing to open the Maalot Roma, which will launch the company's Maalot brand. And later this year, the company will open its third boutique property in Rome, the Palazzo Roma, which will join the Capri Tiberio Palace under the company's Domum brand.
The Maalot Roma and Palazzo Roma
Each brand and each property is unique. While Hotel Vilon caters to guests looking for a quieter escape from the bustling city, the Maalot Roma — just steps from Trevi Fountain — expects to welcome those looking to be in the heart of the action. 
Located in what was once the residence of Gaetano Donizetti, composer of the operas "Don Pasquale," "Lucia di Lammermoor" and "Maria Stuarda," the Maalot Roma is also larger, with 30 rooms.
Like the Hotel Vilon, the Maalot has its own unique, art-focused design, but with a British colonial flair. Each room is distinct, but all have vibrant color schemes, Italian limestone fireplaces and marble bathrooms. A signature feature across all rooms is paintings of hats to symbolize "setting your hat down and feeling at home."
The rooms are spread across the four floors above the ground floor, which features a glass ceiling center court and winter garden that houses the restaurant Don Pasquale. The center court has an elegant chandelier with light-red fabric lamp shades, art-lined walls and a mix of tables with handmade tiles and silky-upholstered couches and chairs in vibrant colors to make the bistro an all-day lounge.
We have compiled information on countries that are currently open to U.S. visitors and some countries that may reopen soon.
There is also a bar area with dark woods and rich fabrics as well as reception area to the rear with a British-style library that offers a selection of books about Rome, luxury and fashion. 
The Palazzo Roma is due to open at the end of the summer in via del Corso, close to the Parliament and Piazza Colonna. Two teams have worked for almost two years to restore the building's frescoes and stuccos, boiserie and gilding. The hotel will have 39 rooms and a restaurant and bar.
According to Acampora, who is also Shedir's CEO, the idea behind the hotels is "to celebrate Italian excellence and the warm-hearted hospitality our country is famous for. Our goal is to set a new benchmark in the luxury hospitality sector, first in Italy and abroad from 2022 onwards."
They're certainly off to an impressive start. 
Source: Read Full Article