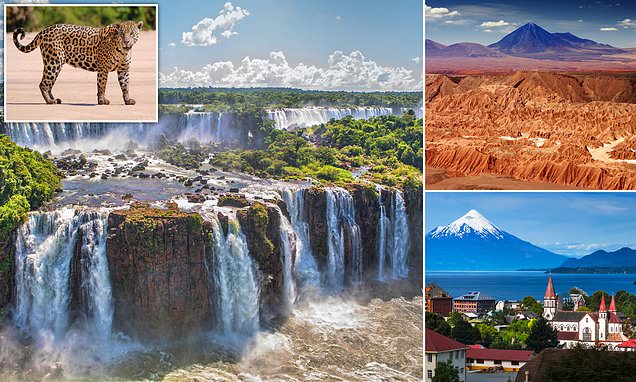 South American seductions: Thundering waterfalls, bountiful beaches, buzzing cities – the 'Southern Cone' nations of Brazil, Argentina, Chile and Uruguay will leave you spoilt for choice
In the Andean lake districts and Patagonia, the weather is ideal for hiking, camping, biking and boat trips 
During our wintertime, the Brazilian resorts of the Costa Verde and southern states are at their best 

READ MORE: Best beaches in the world for 2023 ranked by Tripadvisor – with Brazil fielding the winner 
South America is vast and beautiful. It is arguably the most diverse continent on earth.
Mountains, deserts, wetlands and lush plains lie relatively close to one another, and a fly-drive or plane-hopping tour is a great opportunity to explore the flora and fauna as well as the distinctive human societies that have sprung up from a fusion of European, African and indigenous cultures. The Southern Cone nations of Brazil, Argentina, Chile and Uruguay are sometimes classified as 'South America lite' because their towns and cities seem fairly recognisable to travellers from the Old World, and provide a soft landing for those visiting for the first time. 
These countries have four genuine seasons and right now it's late summer — the perfect time of the year to visit beautiful beach resorts, saddle up on rustic-chic estancias (cattle ranches with rooms) and see the grape harvests gathered at the close of the wine season. 
Meanwhile, down in the Andean lake districts and Patagonia the weather is still ideal for hiking, camping, mountain biking, horseriding and boat trips. During our winter, the Brazilian resorts of the Costa Verde and southern states are at their best. The Pantanal wetlands flood from December, opening up channels for birdwatching and wildlife-spotting by boat. Rio, Salvador and the north-east also start preparing for carnival, which is in full swing. So, here's our guide…
ADVENTURE IN ARGENTINA
Powerful: Explore the Southern Cone nations of Brazil, Argentina, Chile and Uruguay in South America, and take in beauty spots such as Iguazu, the most impressive waterfall in the Americas, which sits on the border between Argentina and Brazil
CANYONS AND WATERFALLS
Salta, in the foothills of the north-western Andes, was founded in 1582 and became an important way-station on the Camino Real silver road between Peru and Buenos Aires. Today it's a smallish city with grand colonial-era buildings and makes a good base for a guided road trip through the region's multi-hued canyons, wine-growing oases and pre-Columbian sites.
Combine it with Iguazu in the north-east, the most impressive waterfall in the Americas. The ruins of Jesuit sites — featured in the 1986 Oscar-winning film The Mission — lie near by.
Details: From £3,750 pp for 15 days including flights (journeylatinamerica.com).
WAY DOWN SOUTH
Admire the towering peak of Mount Fitzroy, an ice-clad pinnacle above the village of El Chalten. Above are farmers near the Argentinian village 
Patagonia is immense. Where the sheep-filled steppes end, true wilderness begins and a self-drive holiday opens up the wonders of the Unesco-listed Los Glaciares National Park. At one end is Perito Moreno, the towering glacier on Lake Argentino. At the other stands Mount Fitzroy, an ice-clad pinnacle above the 'hiking capital' of El Chalten. Go even farther south to see Tierra del Fuego and Ushuaia, the world's southernmost city.
Details: From £2,300 pp for 14 days excluding flights (swoop-adventures.com).
RANCH FUN
The central province of Cordoba is often overlooked, yet it has a glorious climate most of the year and is fringed by low sierras that are much more walkable and rideable than the Andes. Stay at Estancia Los Potreros, a working family ranch that teaches guests the rudiments of gaucho life, plus condor spotting, cooking classes, learning the lasso and polo lessons. Food is served from open-air barbecues.
Details: From £3,274 pp for seven days including all meals and flights (theultimatetravelcompany.co.uk).
TAKE A ROAD TRIP
On a self-drive trip through the lake district on the northern edge of Patagonia, stop by the city of Puerto Varas (pictured)
The lake district on the northern edge of Patagonia is home to rainforests of southern beech, larch, cypress and monkey puzzle trees. There are dozens of lakes, many protected inside national parks.
Great roads make the region ideal for a self-drive trip, passing through Villa La Angostura and San Martin and crossing the border to see Puerto Varas and Frutillar, Lake Llanquihue and Villarrica National Park in Chile.
Details: From £4,470 pp for 14 days with your car hire and flights included (audleytravel.com).
BEST OF BRAZIL…
BEAUTIFUL BEACHES
Vibrant: The historical centre of Paraty, a quaint port town built in Brazil in colonial times 
For a beach holiday with minimal fuss, head for the Costa Verde, a strip of forest-fringed beach towns south of Rio de Janeiro. Once you've had a look around Ipanema, Copacabana and the Sugar Loaf, transfer to Paraty, a quaint port town built in colonial times, with a thriving restaurant scene. There are old forts to explore and good beaches for swimming.
Afterwards, take a trip to car-free Ilha Grande, which has virgin forests and deserted beaches.
Details: From £2,360 pp for 12 days including flights and transfers (veloso.com).
JAGUARS AND JUNGLES
It's easy to get close to jaguars, South America's biggest felines, as they prowl the sandy shores of channels in the Pantanal wetland
The Pantanal is the world's largest wetland and a biodiversity hotspot, with more than a thousand bird species and 300 mammals. Whether you explore by boat or in 4WDs, it's easy to get close to jaguars, South America's biggest felines, as they prowl the sandy shores of channels on the hunt for caimans and capybaras. Combine the trip with a visit to Iguacu, where dense jungle frames the mighty waterfalls.
Details: From £4,700 pp for 13 days including most meals and four days' guiding; flights not included (pura-aventura.com).
CULTURE AND CUISINE
Brazil has 4,600 miles of coast, but the tropical north-east is considered the cultural and culinary heartland.
Visit ultra-fashionable Trancoso, laidback Maceio and the protected archipelago of Fernando de Noronha — routinely No.1 in 'best beaches of the world' rankings — to get a taste of the variety and of the region's Afro-Brazilian gastronomy.
Details: From £4,495 pp for 11 days excluding flights (steppestravel.com).
THE GOLD ROUTE
Start in Rio de Janeiro and, as well as the famous beaches and samba clubs, take note of the grand aristocratic architecture in the historic centre. Your next stop is the source: in Minas Gerais, vast amounts of gold were mined from the 17th century, bankrolling Portugal's imperial ambitions.
Stay in a traditional fazenda (plantation house) tucked away in the rolling hills and spend a couple of days exploring verdant countryside before going on to Tiradentes and Ouro Preto, two opulent colonial-era towns.
Details: From £4,325 pp for 12 days including flights and transfers (originaltravel.co.uk).
HOT STUFF IN CHILE
HIKE THE EXTREMES
Take a classic tour to Chile's extremities, visiting temperate Patagonia, with its glacial lakelands and top-class hiking, and then going to hot, arid Atacama, where desert and salt flats dominate. One of Chile's foremost hotel firms, Explora, has adventure-focused lodges in both regions, so guests can see the landscapes on horseback, by bike, in kayaks or on foot.
Details: From £7,100 pp for nine days all-inclusive; flights extra (journeylatinamerica.co.uk).
ANDES CYCLING
The foothills of the Andes have excellent, well-paved roads ideal for a cycling trip through Argentina and Chile. The route passes volcanoes, turquoise rivers, lakes and ancient forests. The scenic Seven Lakes Road is a highlight.
Details: From £4,399 pp for 16 days including B&B, nine lunches, porterage, tour guide and flights (exodus.co.uk).
PRISTINE PATAGONIA
Get the measure of Patagonia's most pristine landscapes in the remote Aysen region, where the Southern Highway takes you to fast-flowing Andean rivers teeming with trout, wildlife-filled steppes and the low mountains of Patagonia. Cross to Argentina to enjoy superb hikes in Los Glaciares national park.
Details: From £11,050 pp for 13 days including all meals, drinks, excursions and flights (scottdunn.com).
DESERT STARGAZING
Take in views of the Milky Way and the Magellanic Clouds over Chile's Atacama Desert (pictured)
The night skies above the Atacama Desert are among the least light-polluted on earth: no binoculars needed to see the Milky Way as well as normally invisible phenomena such as the Magellanic Clouds.
A huge salt lake, the impressive El Tatio geysers, volcanoes and striking rock formations make the days interesting too.
Combine a holiday here with a stopover in the lush central valleys, where you can divide your time between wine-tasting in haciendas, beach escapades and visits to the colourful port city of Valparaiso.
Details: From £2,699 pp for nine days including flights (trailfinders.com).
URUGUAY FOR ME
DREAM SANDS
Wealthy Argentines made Punta del Este their favourite summer break destination in the 1980s — and soon well-to-do southern Brazilians, New Yorkers and Europeans arrived. Tap into the sophisticated side of Uruguay's seaside social scene on a trip through La Barra, Jose Ignacio and La Pedrera, staying in a private bungalow at the beachside, art-fuelled Bahia Vik.
Latin America's best chefs fly in during peak season to open pop-ups, but Bodega Garzon, a world-class restaurant overseen by Francis Mallmann, is a permanent fixture.
Details: From £4,400 pp for ten days including flights (blacktomato.com).
TWO COUNTRIES
Uruguay and Argentina are separated by a short hydrofoil ride. Spend three nights sampling rumps and ribeyes, malbecs and cab-savs in Buenos Aires, Argentina's capital, before crossing the River Plate to Colonia del Sacramento in Uruguay and taking an hour taxi ride to Carmelo, where you can taste the competition at the excellent Finca Narbona Wine Lodge. Fly home from Carrasco, Uruguay's small and hassle-free international airport.
Details: From £2,650 pp for nine days including flights (lastfrontiers.com).
TANGO TIME
A couple doing the tango in Buenos Aires, Argentina's capital. It's not the only place to see this dance performed – Uruguay's capital, Montevideo, has as much claim to be the birthplace of tango as anywhere in Argentina
Uruguay's capital, Montevideo, has as much claim to be the birthplace of tango as anywhere in Argentina. Step out in the faded historical centre and it feels like the golden age of fedoras, fascinators and fizz.
La Cumparsita, the most famous tango of all time, was premiered on Plaza Independencia. Head east along the river to deliriously romantic Colonia del Sacramento, a former outpost of Imperial Brazil.
Details: From £3,995 pp for 13 days including B&B accommodations, transfers and flights via Buenos Aires (rainbowtours.co.uk).
HORSES AND CANOES
Good highways and quiet backroads make Uruguay a good choice for self-drive holidays. After seeing the capital and Colonia, check in to the Estancia Guardia del Monte, a working ranch from the early 19th century that's surrounded by delightful grounds.
Horse rides, canoe excursions and guided walks are offered, or you can sit back with a drink and enjoy the peace of the Pampas. Sand dunes, bird-filled lagoons and beaches are a short drive away.
Details: From £2,632 pp for 11 days including flights (journeylatinamerica.co.uk).
For more information go to lata.travel
Source: Read Full Article