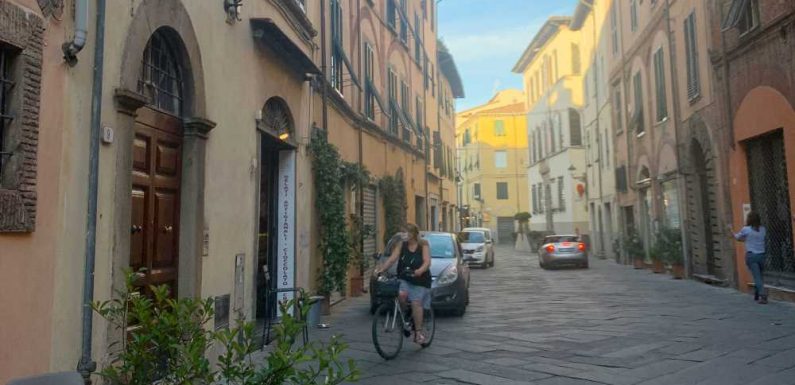 LUCCA, Italy — When I checked in at the Hotel Ilaria in this ancient walled city in Italy's Tuscany region, the woman at the desk was surprised to see my American passport.
I didn't have the time, or the desire, to research and book a quick visit to Tuscany. Railbookers offered me an easy alternative.
"How did you get in?" she asked a bit later as I was chatting with her about how beautiful and uncrowded the town was.
I was the first American they had seen since the pandemic, she said. She wasn't even aware that Italy had reopened to U.S. visitors. And while the town, she said, would normally have more American tourists, including bicycling groups and day visitors from cruise calls at the nearby port of Livorno, she told me proudly that Lucca is still an authentic small town.
The Hotel Illaria is set along a quiet street with a canal running down the center and lined by rowhouse-style residences.
It is less than a five-minute cab ride from the Lucca rail station, which made it convenient for me to hop off the high-speed train that was whisking me from Venice to Rome and unwind for a day or so before my flight home to the U.S. (I'd just completed a river cruise aboard the Uniworld's S.S. La Venezia.)
The lobby and public space on the first floor were recently redone, offering a spacious gathering spot with couches and comfortable chairs. A new lounge area features tables toward the back where complimentary snacks, beer and cold drinks are set out in the afternoon.
My room was classic European four-star, simple but clean with a queen-size bed, wood floors, a large desk and a white-and-blue-tiled bath.
In addition to the first floor lobby and lounge, there is a second floor, tree-lined terrace overlooking gardens where you can breakfast, lounge or soak in the hot tub.
While a soak and an outdoor nap was inviting, I instead went downstairs for ideas on what to do on what was clearly a very sleepy — and hot — Sunday afternoon. The woman I met earlier at the front desk suggested I check out one of the hotel's complimentary bikes and ride the well-shaded, 4-kilometer (roughly two and a half miles) trail along the top of the Renaissance-era wall, which offers great views of what lies below on both sides.
I stopped for a cold beer at a garden restaurant along the trail, then took my bike back down into the walled city, cruising along its narrow, maze-like network of cobblestone streets filled with medieval- and Renaissance-era architecture. Once inside the wall, the town felt much larger than its mere 4k circumference.
As I peddled along, oblivious to where the streets were leading me, I passed Gothic cathedrals,  palaces, a clock tower, national museums, the town's famed opera house, a botanical garden dating to 1820 and the Piazza Anfiteatro, the town square that follows the elliptical shape of the former second century Roman amphitheater of Lucca. For those wanting an even higher view than the wall affords, Torre Guinigi offers panoramic views for those willing to climb its 232 steps.
That evening, the few tourists I had encountered during the day seemed to have emptied out, replaced by locals gradually filling the outdoor cafes.
I'm not a huge museum person, so the next morning I opted to continue exploring on foot. Around every corner, it seemed, was another treasure, from a one-man art exhibit in an old church to restaurants tucked in alleys, a music school preparing an exhibit and a host of hidden doorways, courtyards and gardens.
Despite its diminutive size, Lucca offered countless ways for me to wile away my two-day diversion from my cross-country journey, making for an ideal respite from the bustle of Italy's larger cities.
Source: Read Full Article