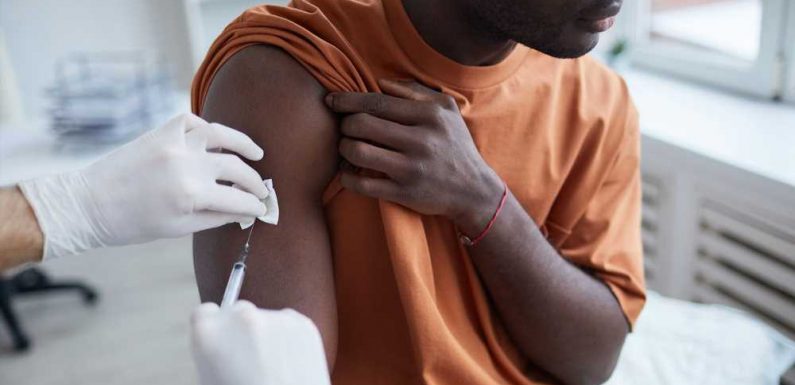 U.S. President Joe Biden on Thursday announced a set of executive orders that will mandate Covid-19 vaccines for an estimated 80 million American workers. He has tasked the U.S. Department of Labor with drawing up a plan that requires businesses with more than 100 employees to mandate vaccination or weekly testing for their workers.
The administration's six-point plan is the federal government's most aggressive effort to tamp down Covid-19 infection rates since the pandemic began. The announcement came two weeks after Pfizer's mRNA vaccine received full approval from the U.S. Food and Drug Administration and as the Covid-19 delta variant continues to smolder through U.S. communities, spiking in locations where vaccine uptake has been low. 
"What more is there to wait for? What more do you need to see? We've made vaccinations free, safe and convenient," Biden pleaded with unvaccinated Americans during his address.
The president name-checked several large companies that have already put vaccine mandates in place for their employees: United Airlines, Disney, Tyson Foods and Fox News. With the rapid spread of the delta variant, however, the impact of vaccination requirements even from those large companies may be limited when there are workers at thousands of smaller companies that may remain unprotected.
"The bottom line: We're going to protect vaccinated workers from unvaccinated co-workers. We're going to reduce the spread of Covid-19 by increasing the share of the work force that is vaccinated in businesses all across America."
The Covid-19 epidemic devastated the travel industry, and with the delta variant poking a pin what looked to be a robust return to domestic travel in the U.S. over the summer months, the industry continues to look for ways to reassure travelers — both leisure and business — that conveyances and overnight stays are safe.
As Biden pointed out, airlines have been among the companies to take the lead in vaccine mandates. Frontier Airlines, Hawaiian Airlines and United Airlines all rolled out vaccine mandates in early August, even prior to full FDA approval of Pfizer's vaccine. In the weeks since, airlines have taken additional and aggressive steps toward protecting co-workers, customers and their bottom lines from Covid-19 infections.
After mandating vaccinated status for any new employees in May, Delta Air Lines last week revealed the company would increase insurance premiums and reduced Covid-related sick-pay benefits for existing employees who chose to remain unvaccinated, citing among other reasons the cost of Covid-19 hospitalizations for unvaccinated individuals. Prior to Biden's Thursday announcement, United informed unvaccinated employees requesting religious or medical exemptions they would be placed on unpaid leave starting Oct. 2. If their exemption requests are denied, they are expected to receive their first Covid-19 shot by Sept. 27 or face losing their jobs. 
The company cited worsening Covid-19 infection, hospitalization and death rates in the memo to employees, signed by Untied HR services VP Kirk Limacher — infections up 20%, nearly 100,000 people hospitalized and an average of 1,500 people dying daily. 
"Given the dire statistics listed above, we can no longer allow unvaccinated people back into the workplace until we better understand how they might interact with customers and their vaccinated coworkers," Limacher said in the memo.
Biden backs Up the travel industry
The first movers among corporations toward vaccine requirements may feel vindicated by Biden's announcements. Others who have been on the fence about whether — or how — to require vaccination now will be provided with a path forward.  
American Airlines, Southwest Airlines and JetBlue Airways have been less aggressive about vaccine requirements for their employees, preferring to use incentives like bonus pay or time off to induce workers to get the jab. Hotel companies also have not moved en masse toward vaccine requirements. Air carriers and lodging providers already are suffering from labor shortages. Some industry experts are concerned that vaccine mandates could prove another obstacle to attracting workers. North Carolina Restaurant and Lodging Association president Lynn Minges, for example, told the News & Observer "there was some reluctance" among members to the vaccine mandate "because of the worker shortage."
Related: Alaska Airlines pressures employees to get Covid-19 vaccination
That said, Biden's six-point plan specifically supports the travel industry not only by highlighting some major players like United and Disney for their early effort but also by empowering the Transportation Safety Administration to double fines for airline or rail passengers who refuse to follow current mask mandates.
"If you break the rules, be prepared to pay," he told viewers during his televised address. He also voiced support for flight attendants and other customer-facing travel employees who have spent a summer full of complications and personal assaults from unruly travelers. "And by the way, show some respect," he said, addressing would-be travelers disgruntled by new federal regulations. "The anger you see on television toward flight attendants and others doing their jobs is wrong. It's ugly."
Those words — and the vaccine requirements for workers — were welcomed by some industry trade groups. The Global Business Travel Association put out a statement in support of the measures and the U.S. Travel Association for months has been releasing statements about vaccination being the key to the industry's recovery. 
Labor unions like the Air Line Pilots Association have conceded that vaccine mandates are legal, but have bristled about how airlines like United made those moves without negotiating it with union representatives. In the coming weeks, legal questions are sure to be mounted Biden's aggressive vaccination plan. 
In the meantime, travel industry leaders would like to see more support at the federal level for restarting travel, aside from vaccination mandates. 
"The importance of vaccinations and testing are important and GBTA fully supports these initiatives," read a statement released by GBTA following Biden's announcements and credited to GBTA CEO Suzanne Neufang.
"However, we were disappointed that another week has gone by without any details from the Covid Task Forces on when or how international travel to the U.S. will resume. The border restrictions put in place by President Trump and continued by the Biden Administration continue to block vaccinated travelers from the United Kingdom, Canada, European Union or Mexico from coming into the U.S. These restrictions, put into place prior to the availability of vaccines, have outlived their purpose and effectiveness. The continuation of these restrictions only serve to harm the U.S. economy."
Source: Business Travel News
Source: Read Full Article