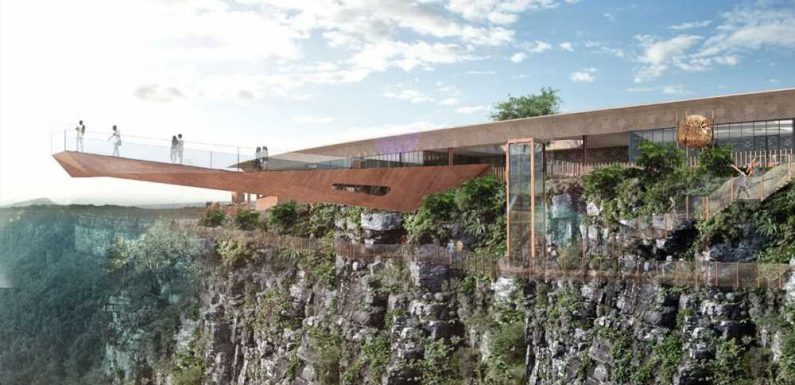 The Mpumalanga Tourism and Parks Agency this month unveiled the God's Window Skywalk project in the Blyde River Canyon Nature Reserve in South Africa. Once complete in 2023, the project will allow visitors to experience one of South Africa's most iconic vistas in an entirely new way. 
Located along Mpumalanga's Panorama Route, God's Window offers visitors incredible views that can stretch all the way to Mozambique on a clear day. The new skywalk will be a cantilevered glass walkway suspended off the edge of the cliff to give visitors a 360-degree panoramic view. The walkway will protrude about 40 feet from the cliff and will be about 16 feet wide.
The Skywalk is designed to be a global, iconic attraction with a number of activities on-site: the skywalk, sky bridge, sky swing, zero-gravity room and a conference and meetings facility. The plan is for a significant part of the activities to be run by local youths.  
"As vaccination rates around the world pick up and Covid-19 becomes more manageable, we fully expect local and international visitor numbers at South Africa's tourism hot spots to pick up," said Jerry Mabena, CEO of Motsamayi Tourism Group. "We applaud Mpumalanga Tourism and Parks Agency for having the vision to develop one of its most iconic destinations and look forward to playing our role in making God's Window a global must-see location. Our desire is to see this beautiful project acting as an instrument to put the area back into its place as a world-class tourism destination. We believe that this project will energise the area and create new jobs and support other attractions in the area.
"The Blyde River region attracts nearly 1 million visitors annually," Mabena said. "Projects like the skywalk will do a lot to increase those numbers and encourage people to roam in the area for longer, which in turn will increase visitor spend to the region while exposing more people to one of South Africa's most beautiful locations. It will also be the first skywalk of its kind in South Africa, and one of a very few to have been built around the world."
With a nearly-3,000-foot drop, the God's Window Skywalk will be much higher than the Grand Canyon Skywalk, which stands at between 500 feet and 800 feet, and the Zhangjiajie Glass Bridge in China, which is over 900 feet at its highest point.
Source: Read Full Article