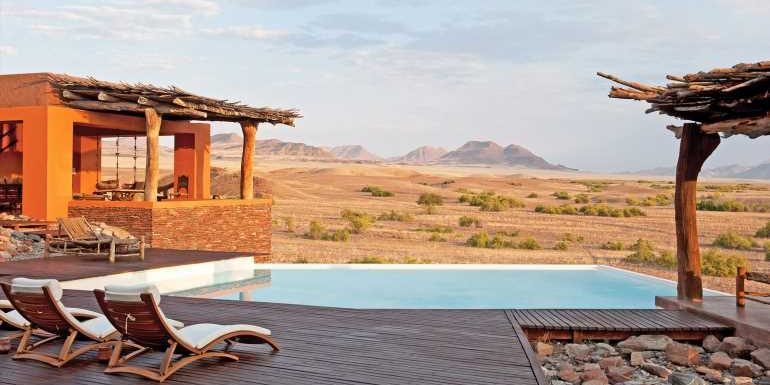 Luxury travel brand Sanctuary Retreats has added two Namibia properties to its portfolio, its first in the country, bringing its collection of African lodges and camps to 14 locations.
The newcomers are the Okahirongo River Camp, which is located in the region of Marienfluss, and the Okahirongo Elephant Lodge, which sits within the Puros Conservancy in Namibia's Kunene region.
The Okahirongo River Camp comprises an open-plan main lodge and five luxury tents as well as a family tent. The luxury tents offer a covered deck with river views and both an indoor shower and outdoor shower, while the family tent features a king bedroom, a twin room and a more expansive decking area.
The Okahirongo Elephant Lodge is anchored by a dome-topped lodge featuring a main lounge and dining room as well as amenities like an infinity pool and a traditional boma area, which plays host to evening fires and guest gatherings.
The lodge's accommodations include seven luxury suites, each with a private verandah and bathroom, and a family suite with two bedrooms, two bathrooms, a private terrace and an open lounge area.
Safari opportunities at both properties
Various experiences are also available at both of the Namibia camps, such as an early morning safari walk or a local village visit at the Okahirongo River Camp, or a game drive followed by lunch at the Okahirongo Elephant Lodge.
The expansion comes as Sanctuary Retreats also prepares to debut its new Sanctuary Tambarare lodge in Kenya next month.
In addition to camps and lodges across Botswana, Tanzania, Uganda, Zambia, Kenya and Namibia, Sanctuary Retreats manages river cruise ships in China, Egypt and Myanmar.
Source: Read Full Article