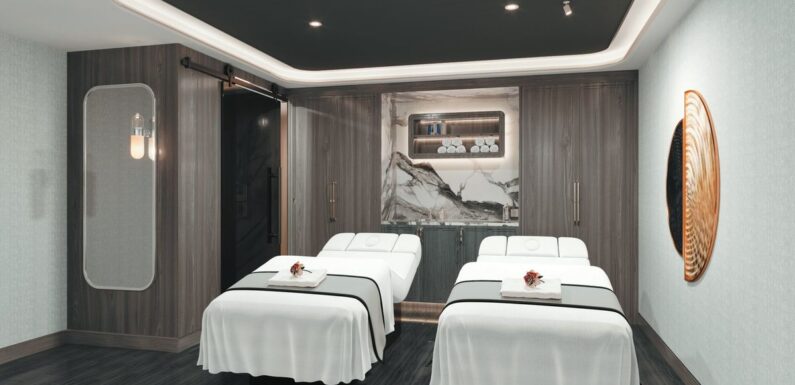 Regent Seven Seas Cruises unveiled new spa treatments that will debut on the Seven Seas Grandeur, a luxury ship scheduled to embark Nov. 26 on a 14-night maiden voyage from Barcelona to Miami.
The ship will offer treatments utilizing the restorative power of an amber and quartz crystal bed, plus a treatment table for a zero-gravity massage.
A new treatment, the Tahitian Hydration Ritual, has been created exclusively for guests staying in the 4,443-square-foot Regent Suite. The treatment happens in the suite's private spa.
Guests seeking rejuvenation can book a Hot Mineral Body Boost to alleviate muscular pain and remove toxins by stimulating every cell in the body, Regent said. The Poultice-Powered Muscle Release targets tension areas with vibrational energy, finishing with a restorative facial massage. 
An amber balm used in the Hot Mineral Body Boost and the eucalyptus, juniper, amber and quartz poultice utilized in the Poultice-Powered Muscle Release pairs with the amber and quartz crystal bed, energizing guests and elasticizing their skin, Regent said.
The zero-gravity massage table can be set to eight positions, enabling effective and precise reach of every muscle group, focusing on the back and main muscles to release tension and improve body mechanics, Regent said.
All three new treatments are 75 minutes long and priced at $299 per guest.
For the Tahitian massage in the Regent Suite, warmed monoi oil infuses frangipani flowers with pure coconut oil and melts into the skin during a body-wrap treatment, Regent said.
Regent also revealed details about the ship's Serene Spa & Wellness facilities, including a new relaxation room. The spa will have a floral motif throughout the space. Architectural details — metal canopies, lantern niches and the undulating lines of the walls — remind guests that they are at sea, Regent said. Studio Dado designed the space.
As with sister ships Seven Seas Splendor and Seven Seas Explorer, the Seven Seas Grandeur will offer a hydrothermal suite, enabling spa-goers to relax before or after treatments and enjoy the aromatherapy steam room, chill room, infrared sauna and experiential showers.
The Seven Seas Grandeur will be christened in Miami on Dec. 10 by godmother Sarah Fabergé, founding member of the Fabergé Heritage Council and great-granddaughter of Russian jeweler Peter Carl Fabergé. 
Source: Read Full Article