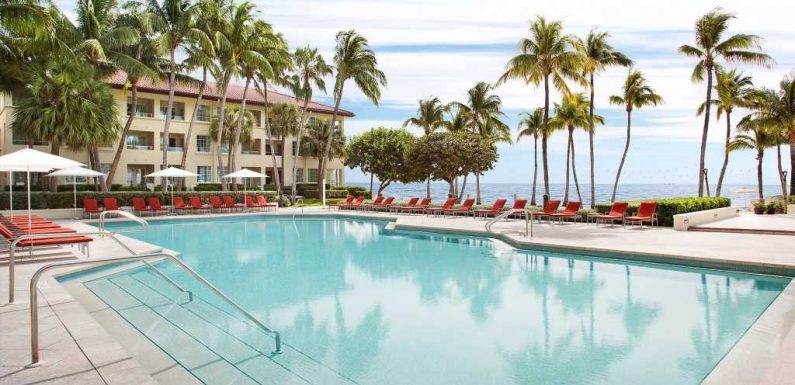 We haven't seen such a flurry of travel deals since Black Friday: Thanks to several upcoming holidays, real and cooked-up—Valentine's Day, President's Day, National Plan a Vacation Day—and the cruise industry's wave season, the discounts are plentiful right now. Whether you're considering an end-of-summer getaway or a close-to-home weekend trip in the next few months, here are a handful of hotel, flight, resort, and cruise deals to consider booking sooner rather than later.
All listings featured in this story are independently selected by our editors. However, when you buy something through our retail links, we may earn an affiliate commission.
Hotels
Marriott
Road tripping to the Big Easy? Marriott rates are up to 20 percent off for stays in New Orleans through June 30, with discounts at 13 hotels—the W New Orleans, Le Méridien New Orleans, and the Moxy New Orleans included. 
Marriott Bonvoy Escapes members can also take advantage of last-minute deals posted every Wednesday, with 25 percent off hotels and resorts for the upcoming month. (Not a member? You can still partake and get 20 percent off.)
Book now: marriott.com
Expedia
Expedia's deals and last-minute deals (some of which extend into May) move pretty quickly, but there are always at least a dozen to choose from. Right now, discounted hotels include The Pierre, A Taj Hotel in New York, where rates are up to 34 percent off, 1 Hotel South Beach in Miami, and the Wynn Las Vegas. You'll find even more last-minute deals in cities like Key West, Boston, and Atlanta.
Book now: expedia.com
Kimpton Hotels
Kimpton has a handful of Valentine's Day packages going on right now. Two highlights are the Snow Your Love in Yellowstone promo at the Kimpton Armory Hotel in Bozeman, Montana, and Vermont's Kimpton Taconic Hotel Valentine's Day package. The former adds a $100 food and beverage credit and an America the Beautiful national park pass (typically $80), good for one-year entry to all U.S. parks, into your stay, plus holiday-appropriate bonuses like a bottle of champagne and gourmet picnic lunch. At the Taconic, packages include a $100 dining credit to Copper Grouse (which is taking outdoor dining reservations and offering pick-ups inside the hotel if you'd prefer to take dinner back to your room), local flowers and chocolates, and a complimentary room upgrade at time of check-in. These can be booked by February 27 for stays between February 1 and February 28. Vermont residents who live in the 406 area code can get 25 percent off their stay right now, too.
One more Kimpton deal worth considering, especially for Utah residents: The Kimpton Monaco Salt Lake City has a Thrice is Nice Groundhog Day promotion with new perks the more you stay. Even if you only go once, you can get a discounted rate of $129 and a $20 credit to the hotel's restaurant, Bambara. Bookings must be made by April 30, 2021, and are good for stays through August 31, 2021.
Book now: ihg.com/kimptonhotels
Hewing Hotel
Minneapolis residents may want to consider a Valentine's Day staycation at Hewing Hotel. From Friday, February 12, to Sunday, February 14, the property is offering a private dining experience from executive chef Nyle Flynn in the form of a contactless, eight-course tasting menu in one of Hewing's hotel rooms. There are 14 reservations available each night, and reservations can be claimed on Tock.
Book now: exploretock.com 
Casa Marina Key West 
To celebrate its 100th anniversary, Casa Marina Key West recently launched a 100 Night Giveaway contest, with 50 three-day, two-night stays to be awarded from February 1 to June 30, 2021. To enter, past guests are invited to submit photos, memorabilia, videos, or letters from the resort by April 10, 2021, via email to [email protected].
Book now: expedia.com
Priceline
Through Sunday, January 31, Priceline is offering 10 percent off of Hotel Express deals with the code SAVELATER, good for travel between June 1 and September 30, 2021. Mind you, Priceline's exclusive Hotel Express deals already save you up to 60 percent off, with low rates in dozens of cities across the country, so this could amount to pretty steep savings. However, it's a dealer's choice: In exchange for the low rates, Priceline only reveals the hotel name after you book. Adventurous travelers can take comfort in knowing all participating properties have been vetted and must have a minimum guest rating score, inclusive of cleanliness rating, to qualify. There is also a "New Cleaning Protocol" filter which can be used to limit an Express Deal search to only include properties who have shared an updated COVID-19 cleaning protocol with Priceline.
Book now: priceline.com
Flights
United
United's airfare sale only lasts today, January 26, so move fast if you're looking to fly before May 26. Fares are as low as $29 one-way, with award fares from 3,000 miles, on routes like Asheville, North Carolina, to Washington, D.C.; Nashville to Chicago, and Denver to Santa Fe. A few stipulations: The sale is for domestic U.S. travel only, and flights must be booked 14 days prior to departure. While the discounted flights run through May, United's change fees are still waived, should your plans change (though, you may have to pay for the difference in ticket cost if you re-book).
Book now: united.com
JetBlue
JetBlue, Discover Puerto Rico, and San Juan Marriott have put together a National Plan a Vacation Day contest for anyone who'd like to visit the islands this year. To enter, simply block off a week in your Google, Outlook, or other digital calendar titled Fly JetBlue to Puerto Rico, and add the email address [email protected] to the invite before February 10. Three winners will walk away with two roundtrip JetBlue tickets to Puerto Rico and a six-day, five-night stay at the San Juan Marriott, a beachside resort in Condado. If you don't win the grand prize, you could at least get some swag out of entering: One hundred participants will receive a goodie bag filled with travel gear.
Book now: jetblue.com
Book now: marriott.com
Cruises
Uniworld Boutique River Cruises
While an official return date for cruising remains uncertain, that only means better deals (and flexible cancellations) for cruisers who want to plan ahead. Uniworld's Cruise Back Into Travel offer has savings of up to 30 percent off bookings made by March 31 on end-of-2021 itineraries ranging from a trip down the Nile to a sailing through Northern Italy. Plus, those who book flights through Uniworld will get an additional $500 per person in savings and a private car transfer from the airport to the ship.
Book now: uniworld.com
For more wave season travel deals, head here.
Video: Beach House Rentals In Uniquely High Demand This Year (CBS New York)
Parents, Kids Protest New Jersey School District's Decision To Delay Return To In-Person Classes

CBS New York


Long Island Teen's National Anthem Wows Nation Before AFC Championship Game

CBS New York


New York Weather: CBS2's 1/25 Monday Evening Update

CBS New York


High-Risk Sports Looking More And More Like A Go On Feb. 1

CBS New York


Dr. Max's COVID Vaccine FAQs: Are The New Coronavirus Strains More Deadly?

CBS New York


Search For Missing New Jersey College Student

CBS New York


Random Sucker Punch Attack In The Bronx Leaves Victim With Broken Jaw

CBS New York


Gov. Lamont Says 4 New Cases Of UK COVID Strain Confirmed In Connecticut

CBS New York


Brooklyn Couple Says They Can't Kick Tenant Out, Despite Assault Charge And Restraining Order

CBS New York


Assemblyman Calls On Cuomo To Lift Restaurant Curfew For Super Bowl LV

CBS New York


Miley Cyrus Added To List Of Super Bowl Performers

CBS New York


Restaurant Week Kicks Off As Businesses Face Unprecedented Struggle

CBS New York


MTA Launches Visual Memorial To Colleagues Lost To COVID-19

CBS New York


City Begins Effort To Vaccinate Hardest Hit Communities

CBS New York


New York Weather: CBS2's 1/25 Monday Afternoon Update

CBS New York


Victim Suffers Broken Jaw From Random Sucker Punch Attack In The Bronx

CBS New York


Parents, Kids Protest New Jersey School District's Decision To Delay Return To In-Person Classes
Parents and kids carried signs reading, "Get our kids back in school" as they protested, demanding the Montclair School District reopen schools. CBS2's Meg Baker reports.


CBS New York



Long Island Teen's National Anthem Wows Nation Before AFC Championship Game
An electrifying rendition of the Star-Spangled Banner by a 17-year-old Long Islander wowed the nation before the Kansas City Chiefs played the Buffalo Bills.


CBS New York



New York Weather: CBS2's 1/25 Monday Evening Update
Lonnie Quinn has the Tri-State Area's latest forecast on CBS2 News At 5.


CBS New York


Source: Read Full Article