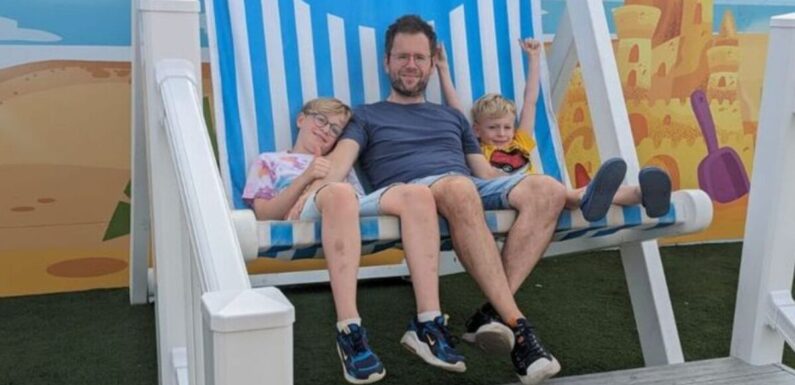 The Lincolnshire coastal town of Skegness is often sneered at for being synonymous with bleak domestic getaways which fail to compete with some of the other popular UK destinations holidaymakers can favour.
Skegness and Clacton-on-Sea, which is further south down England's east coast in Essex, were ranked bottom of the Which? guide on the best and worst seaside towns in the UK.
Despite Skegness' reputation, one dad-of-two decided to see whether such a scathing review of the bucket-and-spade resort was fair.
Sam Dimmer took his two boys to Haven's latest holiday park in Skegness and notwithstanding the town's poor reviews, he was fairly optimistic about what he would find.
Writing in Nottinghamshire Live he said: "If you set your expectations at the appropriate level then Skegness is a marvellous place to visit, especially if you have young families.
READ MORE Top 10 UK seaside towns ranked from best to worst in terms of value for money
"And Haven has undoubtedly upped its game of late, so I was genuinely excited about heading across Lincolnshire to test things out."
The new Haven park, which was previously Richmond Holiday Village, has had £11 million speny on it and Sam was thoroughly impressed by the results.
He wrote: "The site has had the full Haven treatment, with an outdoor stage, fake grass and fast-food restaurants galore.
"Inside, the arcade is just like the one down the road at Golden Sands in Mablethorpe and the Richmond Arms restaurant is comfortable and serves decent food that doesn't cost the earth."
However the East Midlander said in his eyes the main attraction was the Marina Bar and Stage.
He added: "The crowning glory though is the Marina Bar and Stage, a lovingly put-together entertainment complex that is a great place to spend the evening.
"Its decor is perfectly themed for Skeggy, there are stacks of seats and thanks to the Haven Serve app ordering a drink or food couldn't be easier."
Don't miss…
'I was with my hubby for 17 years and had kids when we found out we're cousins'[INSIGHT]
Body found in hunt for missing woman as man arrested for murder[LATEST]
Banks refusing to pass on billions as savers put up with low interest rates[REVEAL]
We use your sign-up to provide content in ways you've consented to and to improve our understanding of you. This may include adverts from us and 3rd parties based on our understanding. You can unsubscribe at any time. More info
Sam was keen to note that his experience of the staff at the new Haven facility was not like any other he had had at similar British seaside resorts.
He added: "Haven has clearly recruited well because every staff member I interacted with genuinely cared and wanted to help and, as a veteran of many caravan holidays, this is not normal.
"It makes such a difference because the park itself still has a little way to go to be where you would assume Haven wants it to be."
As impressed as Sam undoubtedly was with the Haven park, he did have some reservations about the quality of some of the facilities.
He wrote: "The pool, whilst big, warm, clean and really interesting looking from the inside, has clearly been on the park for a while and has a fair amount of scaffolding surrounding it.
"It's still great fun though for older kids, but for younger kids that shallow end gets awfully busy.
"And the playground is pretty basic by Haven's high standards and you would assume that is where park bosses will be next spending some cash. It's absolutely worth the investment though because this park is already a great place to visit."
Source: Read Full Article