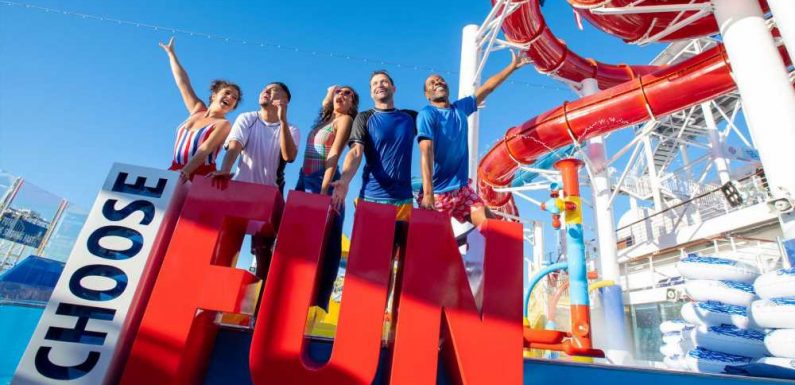 When cruise lines began announcing that unvaccinated travelers were welcome on their ships and preboarding testing would be a thing of the past for vaccinated guests, family travel advisor DeeAna Archer said that her clients began calling and texting her. 
They were ready to ditch their previous bookings and switch to a line with the least-restrictive regulations, said the Texas-based agent. 
Clients abandoned their bookings and quotes for Disney Cruise Line, which still requires children age 12 and older to be vaccinated. Others left Royal Caribbean International, which eased protocols on sailings from some ports but not from Florida.
Instead, Archer said, her clients often wanted to book Norwegian Cruise Line, the first of the major family-friendly cruise companies to eliminate vaccination and most testing requirements — and the brand that a year ago was the most restrictive.  
"It's insane how much we're booking," said Archer, owner of Archer Luxury Travel in Sugar Land, Texas, a state where 62% of the population is vaccinated (compared with nearly 68% nationwide). "The unvaccinated are super-excited because they can go on vacation for a reasonable price."
As cruise companies chart their way back to normalcy and profitability despite the lingering pandemic, several cruise lines said their decision to ease vaccination and testing requirements was met with a boost in bookings.
Norwegian Cruise Line Holdings CEO Frank Del Rio, who last November held that a 100% vaccination rate was a competitive advantage, said this month that business went "gangbusters" the day after the company eased those requirements. 
"I really think that our announcement yesterday of relaxing protocols is really going to be a tailwind," Del Rio said during NCLH's Q2 earnings call on Aug. 9. "We saw it instantly yesterday, and it accelerated throughout the day. Today is also gangbusters compared to a typical Tuesday." 
Norwegian isn't the only line feeling a boost. Carnival Cruise Line said bookings on Aug. 15, three days after it announced that vaccine and most testing mandates would go away, nearly doubled bookings on the same date in 2019. 
"Obviously, part of this is about making cruising accessible again for those who weren't able to meet the protocols we were required to follow since our restart of operations last summer, but making the process easier for everyone on those shorter sailings is an important part of this, as well," said Adolfo Perez, Carnival's senior vice president of global sales. 
The CDC retired its Covid-19 Program for Cruise Ships in July, giving cruise lines the green light to drop their pandemic-era testing requirements and vaccination guidelines. Although the CDC stressed it wants ships to maintain high Covid-19 vaccination rates and pre-embarkation Covid testing, many cruise lines eased those requirements. 
Several cruise lines, like Norwegian, Carnival and Princess, have removed most vaccination requirements for guests but mandate that unvaccinated cruisers present a negative Covid-19 test within three days of embarkation.
Other cruise lines, like Virgin Voyages and Azamara, are keeping the vaccine mandate but have done away with testing before boarding. Disney Cruise Line raised its mandatory vaccination age from 5 to 12 on cruises from the U.S. and Canada, with testing before boarding still required.
Most of the new rules go into effect in early September.
'Positive reaction' from cruise guests
Royal Caribbean International saw a "positive reaction" from guests after announcing it would roll back vaccine and testing rules, said Vicki Freed, Royal's senior vice president of sales, trade support and service.
Royal removed vaccination requirements for guests departing from California, Louisiana, Texas and ports in Europe but requires unvaccinated guests to present a negative Covid-19 test within three days of boarding. Adding Florida to that list of ports is a fluid and ongoing situation, she said. 
The line had to stop short of a full vaccination rollback because locations like Grand Cayman aren't ready for that yet. Other locations, like Canada, will be slow to drop their requirements, she added, "but that's OK right now because their season is winding down."
The Bahamas was another sticking point, she said, but one that was close to being "solved."
"The majority of the ports that we call on are very good and very comfortable with our new protocols," Freed said. "Everybody has to be comfortable with what their decision is. We're not the type of corporation that's pushy or demanding. That's just not our DNA at Royal Caribbean. We want to be good partners."
Eliminating the vaccination requirement opens up the market to unvaccinated adults, not just children, said Freed. She said Royal surveyed customers with unredeemed future cruise credits and found that up to 60% said what was holding them back from booking was Royal's vaccination policies. The survey did not ask about vaccination status.
"I suspect at some point all of these protocols are going to keep changing and adapting. But at least they're going in the right direction," said Freed. 
Vaccination and pre-embarkation testing requirements have held a lot of cruisers back from traveling, said Lisa Wagner of Denville Travel in New Jersey. 
"There are definitely clients that we have that refuse to get the vaccine, and that was always a personal decision for people," she said. "In addition to people feeling really tired of the lingering Covid mandates, policies and procedures, they want some normalcy. I feel 100% the mandates that are starting to stop or starting to change are attributable to the rise in bookings and rise in sales."
Source: Read Full Article