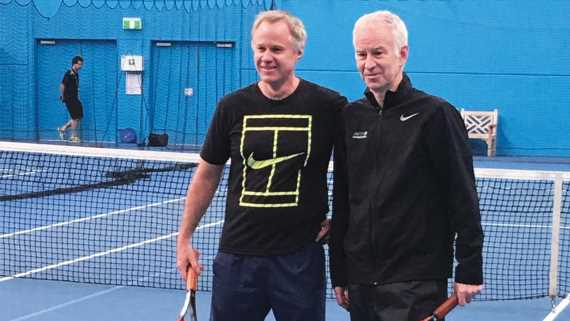 John and Patrick McEnroe will play the first professional tennis exhibition in Antarctica, during a themed Atlas Ocean Voyages cruise departing Feb. 22.   
The 11-day sailing on the World Navigator will feature the brothers, both former pro tennis players, playing an exhibition match on March 1. 
The trip organizer is Legends Abroad, a joint venture between International Experiences and Octagon, a sports and entertainment agency. The sailing is the first of what will be a series of curated travel experiences with professional athletes in remote places. Its next tennis-focused trip will be a Legends Abroad tour of Mongolia in August with players yet to be announced. 
According to Legends Abroad, during the Antarctica trip some guests will have the opportunity to play tennis, dine and go on private excursions with the McEnroes. 
Related: Lindblad christens ship on Antarctic ice
The trip is also meant to highlight the importance of conservation in the Antarctic region. 
"I'm excited to travel to Antarctica and play my brother, Patrick, in the first-ever professional tennis match on the seventh continent, and to help raise awareness to the challenges facing one of the most remote and amazing places on the planet," said John McEnroe in a statement. "This will be an epic adventure and a one-of-a-kind expedition."
Patrick McEnroe added, "I have always wanted to explore the amazing landscapes of Antarctica, and how could I miss out on playing the first ever pro tennis match there against my own brother? I can only promise one thing, a McEnroe will win!"
As with all Atlas sailings to Antarctica, a private charter fight will take guests from Orlando to Ushuaia, Argentina, where they will board the new World Navigator, which made its debut this past summer. 
All guests onboard must be fully vaccinated. 
Source: Read Full Article