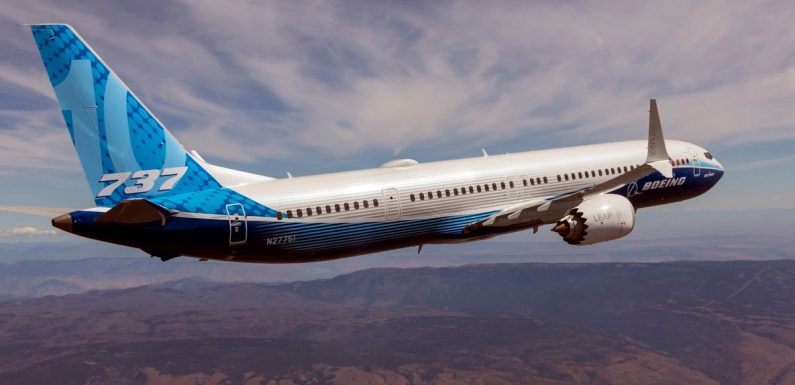 The $1.7 trillion omnibus spending bill passed by the Senate on Thursday includes a provision that would allow for the Boeing 737 Max-7 and Max-10 planes to be certified without further upgrades to the cockpit alerting system.
Language on the change, which had been lobbied for by Boeing, was agreed upon Tuesday, according to reports.
The Max-7 is to be the smallest variant of the Boeing 737 Max while the Max-10 is to be the largest. Certification delays are affecting fleets, and larger impacts would result next year without changes to the certification standard.
For example, Southwest has 35 Max-7s scheduled for delivery by the end of 2023. United has 150 Max-10s on order for between 2023 and 2026.
In 2020, Congress passed legislation to address the safety failures that led to the two Boeing 737 Max crashes that occurred in late 2018 and early 2019. The crashes resulted in a global grounding of all Max planes that lasted for close to two years.
As part of that 2020 legislation, all aircraft seeking certification were to be required to have upgraded cockpit systems by Dec. 27, 2022.  Boeing, though, hasn't completed the required enhancements to crew alerting systems.  
The proposal included in the spending bill, which now goes to the House for a vote, would exclude the Max-7 and Max-10 from the upgrade requirement until three years after the Max-10 is certified. It also includes a requirement that airlines retrofit the cockpits of all Max aircraft with manual shutoff capabilities for stall warnings and overspeed alerts. The planes would also have to be retrofitted with angle-of-attack system enhancements.
The Boeing Max crashes in Indonesia and Ethiopia in 2018 and 2019 were caused, in part, by faulty angle data, which then caused the planes to repeatedly nosedive. Pilots in the planes were unable to override the automated flight-control system. 
Source: Read Full Article