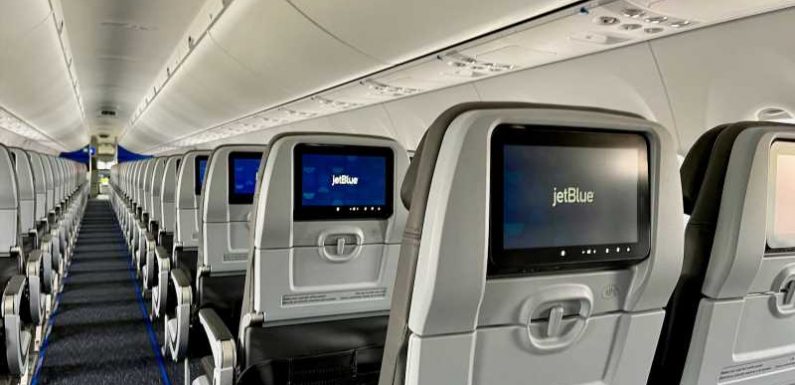 Load Error
The pandemic has caused airlines to rethink flexibility.
On Tuesday, JetBlue became the latest carrier to announce that it's eliminating change fees. However, unlike other major U.S. airlines, JetBlue's move comes with a major catch: basic economy flyers will no longer be allowed to bring a carry-on bag.
By eliminating carry-ons for basic economy, JetBlue is introducing an overhead bin space guarantee for passengers booking Blue fares or higher. You'll receive a $25 credit if you're forced to check your carry-on bag. 
JetBlue's new fare structure is good news for some and bad news for others, so let's dive into the winners and losers.
Want more airline-specific news? Sign up for TPG's free new biweekly Aviation newsletter!
Winners
Regular coach and Mint flyers booking in advance
Eliminating change fees is great news for flyers booking standard coach or Mint tickets. Fee-free changes add a ton of flexibility to tickets purchased far in advance.
Note that fares are still non-refundable; you'll receive a travel credit if you voluntarily cancel your flight. Changing to a more expensive flight will incur a fare difference. Switching to a cheaper flight will generate a future travel credit for the difference.
Of course, we'll have to wait and see how JetBlue's fares change in response to the added flexibility. Assuming they don't rise too much, then the no-change-fee policy is great for most flyers.
Related: How American, Delta and United no-change-fee policies stack up against Southwest
Flyers with carry-on bags
Starting on July 20, JetBlue will offer an overhead bin guarantee for Blue fares and above. If there's no room for your carry-on bag — something the carrier says should happen "less than 1% of the time" — you'll receive a $25 travel credit as compensation.
If JetBlue can live up to its promise, then this will be a major win for reducing the pre-boarding anxiety among travelers worried about overhead bin space.
We'll have to wait to see how the guarantee plays out in practice, but it sounds good on paper. Of course, the few flyers who are forced to gate-check their bags would likely remain upset, despite the $25 compensation.
Basic economy passengers who need to make changes
Before the pandemic, basic economy tickets couldn't be changed or canceled. Starting on April 1, flyers purchasing Blue Basic fares will be able to change or cancel their reservation at the following rates:
$100 for domestic, Caribbean, Mexico and Central America routes.
$200 for all other routes.
Though some Blue Basic tickets will undoubtedly cost less than the change fee, the added flexibility is a nice addition for basic economy flyers.
Video: United Airlines Offering Passengers In-Airport COVID Testing (CBS New York)
Judge Dismisses Charge Against White Woman Accused Of Making Fake 911 Calls About Black Man

CBS New York


75-Year-Old Woman Grazed By Bullet On Lower East Side

CBS New York


COVID Vaccine Shipments To Monmouth County, New Jersey, Delayed By Weather

CBS New York


New Data Shows Disparity In New York City's COVID Vaccine Distribution

CBS New York


Child Abuse Cases Down, But Numbers Don't Show Full Story

CBS New York


Worker Charged After Woman Killed At Car Wash

CBS New York


Charges Dismissed In Central Park Case

CBS New York


More Police Patrolling Subway System After Recent Attacks

CBS New York


Poll: New Yorkers Pleased With Cuomo's Pandemic Response

CBS New York


NYC Releases COVID Vaccine Data By Zip Code

CBS New York


Bride-To-Be's Wedding Dress Stolen From Lobby

CBS New York


Violent Robbery At Brooklyn Shopping Plaza

CBS New York


South African Variant Detected In Connecticut

CBS New York


Subway Partially Reopens For Overnight Service

CBS New York


Man Hurt In Brooklyn Hit-And-Run

CBS New York


Mercedes-Benz Recalling More Than 1 Million Cars

CBS New York


Judge Dismisses Charge Against White Woman Accused Of Making Fake 911 Calls About Black Man
A judge has dismissed the criminal charge against a white woman accused of making fake 911 calls about a Black man in Central Park last spring; CBS2's Lisa Rozner reports.


CBS New York



75-Year-Old Woman Grazed By Bullet On Lower East Side
Police say a 75-year-old woman was grazed with a bullet while walking on the Lower East Side on Tuesday.


CBS New York



COVID Vaccine Shipments To Monmouth County, New Jersey, Delayed By Weather
Some New Jersey residents set to receive the COVID vaccine in Monmouth County on Wednesday will have to wait a little longer.


CBS New York

The one caveat is that all tickets, including basic economy, have enjoyed fee-free changes and cancellations since February 2020, both on JetBlue and its main competitors. If JetBlue phases out this blanket waiver before the other major U.S. carriers, then the new Blue Basic fee structure will be more punitive than its competition.
Also note that Mosaic elite will be on the hook for the Blue Basic change fees.
Related: What basic economy means across the major airlines
Losers
Mosaic elite members
JetBlue's no-change-fee policy is a major devaluation to the carrier's Mosaic elite program, which counted free changes and cancellations as one of its top perks.
The carrier has added a limited-time companion pass, but that's hardly enough to compensate for the blanket elimination of change fees. Plus, the carrier quietly devalued another top Mosaic perk last year: the TrueBlue redemption rate for confirmed extra-legroom seats.
Dave Clark, vice president of sales and revenue management, reasons that "the new Mosaic benefits announced late last year have several new benefits. The free extra-legroom Even More Space at the gate is the marquee benefit that replaces flexibility."
Unfortunately, the Even More Space benefit is available on a first-come, first-serve basis at the airport, meaning that most Mosaics will end up in an extra-legroom middle seat if they waited until the airport.
It's not all bad news for Mosaics, though. Elites flying on Blue Basic fares will enjoy free same-day switches and standby. Plus, they can bring a full-sized carry-on, though they won't enjoy the overhead bin space guarantee.
Related: JetBlue's Mosaic status updates for 2021
Basic economy flyers with bags
If you're traveling with a carry-on, you'll want to steer clear of Blue Basic.
Effective July 20 for tickets purchased on or after Feb. 25, basic economy flyers will no longer be allowed to bring a full-sized carry-on. One personal item, like a backpack or purse, will still be included.
This is perhaps the biggest devaluation from Tuesday's announcement and puts JetBlue's Blue Basic offering on par with its ultra-low-cost rivals like Frontier and Spirit, and with United, which currently offers the most punitive basic economy experience of the major U.S. airlines.
As mentioned above, note that basic economy tickets now include the ability to make changes and cancelations, as well as same-day switches and standby.
Customers who previously purchased Blue Basic
Non-elite flyers traveling with JetBlue have had little reason to avoid the carrier's Blue Basic fare.
If your plans were set, basic economy offered the best "bang for the buck" — you'd enjoy the cheapest fare, and you'd be allowed to bring a full-sized rollaboard.
But now that JetBlue's eliminating the carry-on allowance, those flyers will likely opt to buy up to a Blue fare. That's great news for JetBlue's bottom line — and bad news for your wallet.
JetBlue isn't coy about its intentions. According to Clark, "the key is to increase differentiation between Blue Basic and Blue. By further segmenting fares, we expect more customers will buy up to Blue."
The goal is to "lower the [Blue Basic] fare for the small segment of customers" willing to forgo the carry-on. But for those who value the carry-on allowance, this is undoubtedly bad news.
Featured photo by Zach Griff/The Points Guy
SPONSORED: With states reopening, enjoying a meal from a restaurant no longer just means curbside pickup.
And when you do spend on dining, you should use a credit card that will maximize your rewards and potentially even score special discounts. Thanks to temporary card bonuses and changes due to coronavirus, you may even be able to score a meal at your favorite restaurant for free. 
These are the best credit cards for dining out, taking out, and ordering in to maximize every meal purchase.
—
Editorial Disclaimer: Opinions expressed here are the author's alone, not those of any bank, credit card issuer, airlines or hotel chain, and have not been reviewed, approved or otherwise endorsed by any of these entities.
Source: Read Full Article