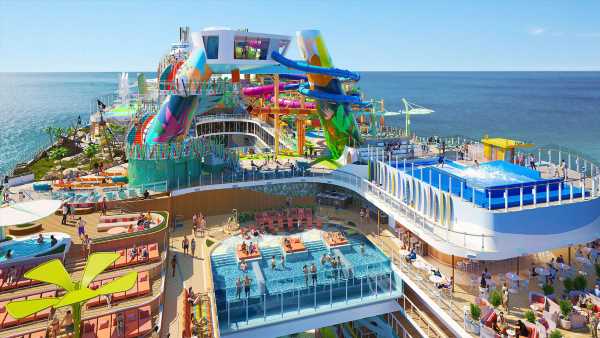 This year's Wave season has the potential to be a record-breaking one for cruise lines as executives and travel agencies say booking volumes have eclipsed 2019 levels and set records.
As the industry finds its way to a new normal after three tumultuous pandemic-era years, executives and travel advisors said they are seeing strong demand, higher prices and longer booking windows this Wave season. 
"It's even better than we thought," said Michelle Fee, CEO of Cruise Planners, who said bookings in January were 81% higher compared with bookings from the same time in 2019. "The client isn't afraid of traveling anymore. They put their lives on hold for so long that they're ready to go." 
Cruise line executives reported evidence of that enthusiasm from travelers. Royal Caribbean Group has experienced seven of the company's biggest booking weeks in its history since November, said CEO Jason Liberty. 
"We expected a strong Wave season, but what we are currently experiencing has exceeded all expectations, even when considering our capacity growth," Liberty said during a Q4 earnings call this month. Bookings from both travel advisors and direct sales are coming in above 2019 levels, he added. 
Royal Caribbean is seeing particularly strong booking trends for North America-based sailings, which account for almost 70% of the company's capacity this year, Liberty said. European sailings are booked within historical ranges, although he said recent bookings have outpaced 2019 levels. 
And both North America and European sailings are booking at higher prices, according to Liberty. 
"The other thing that we've seen over the course of this Wave is our ability to raise prices at the same time," he said. Demand is so strong that the company has raised prices across different products and is "not really seeing a pullback from the consumer as we continue to do so." 
Prices are also increasing at MSC Cruises, said Koreen McNutt, senior vice president of sales and trade engagement and the commercial sales officer for MSC Cruises USA.
"Wave season is off to a great start. We've seen strong demand, which is causing prices for most sailings to increase," she said. 
U.S. customers are showing an appetite for a range of itineraries, McNutt said, including long and short Caribbean cruises that call at the line's private island, Ocean Cay MSC Marine Reserve.
MSC is also seeing strong interest in itineraries from New York, where the line will homeport year-round; for the MSC World Europa's summer season in the Mediterranean; the MSC Euribia's summer in Northern Europe; and sailings in Japan.
One concern is over Eastern Mediterranean sailings, which McNutt said have traditionally been popular with U.S. cruisers. She thinks sales for that destination may be dampened by high airfares.
High demand for expedition and small ships
Small-ship and expedition cruise lines are experiencing a similarly strong Wave this year. 
Not only are prices up for Lindblad Expeditions, but the company's previous booking records have been shattered, said chief commercial officer Noah Brodsky. For instance, booking volume was 14% higher on Jan. 3 than the company's previous record. 
And inbound call volume at Lindblad has broken records: The line's previous busiest call day, in 2022, was topped by 30% this year, the company reported.
 Brodsky said demand is not only higher for flagship destinations such as Alaska, the Galapagos, Antarctica and the Arctic but also for itineraries in Australia and Europe. 
"Last year the story was close-to-home travel. This year we're seeing people traveling everywhere," he said. 
And closer sailings are still strong, with demand for Alaska "absolutely booming," Brodsky said. Antarctica booking strength goes out as far as 2024, as booking windows return to prepandemic levels, he added, signaling that consumers have regained confidence in travel spending.
Bookings are also strong at Windstar, said Dianna Rom, vice president of sales, with demand for longer cruises growing this year and upper-level cabin categories selling out first. 
Wave season, she said, "is not only about deals anymore. Bookings are now all about checking off a bucket-list destination and getting the best cabins on the ship," she said. 
Anthony Hamawy, president of Cruise.com, said that while bookings are strong this Wave season, they slowed down in early February, which he suspects may be due to cruise lines increasing prices, particularly in the Caribbean.
But even with the downturn, bookings for the first week in February were still above 2019 levels, he said. 
"Overall, that speaks well of where we are," he said. "Wave season is a factor of how long into Q1 it lasts, not how busy it is for one week or two weeks."
Source: Read Full Article