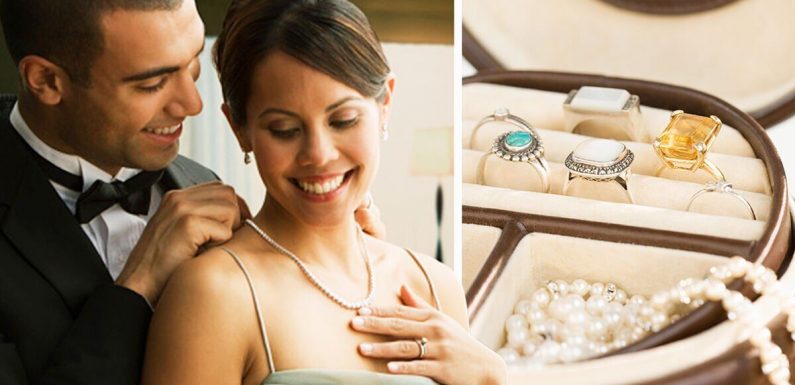 The Cruise: Crew panic as bathroom is trashed by sailor
We use your sign-up to provide content in ways you've consented to and to improve our understanding of you. This may include adverts from us and 3rd parties based on our understanding. You can unsubscribe at any time. More info
The majority of cruises host black-tie events, offering guests the chance to dress up in glamorous evening wear, be it a cocktail dress, tuxedo, ball gown or dinner jacket. Many cruise-goers like to accessorise their outfits with flashy watches and sparkling diamonds but to reduce the risk of your expensive jewellery being targeted and stolen, there's a clever travel hack to consider.
Sheri DeFelice commented: "I met a woman on a cruise who had a stunning wedding band/engagement ring set… I remarked how beautiful it was.
"She thanked me and then 'confessed' one of the smartest tips I've heard… They were fake. I was totally shocked!! So clever.
"She said her 'real set' was safe at home and felt much better travelling with this set and not having to worry about losing it."
Shari Woodard chimed: "I am married, and have an expensive wedding ring set.
"With all the activities on cruises, I do not want to risk losing my ring, so the alternative was to buy a cheap set to wear."
Someone with the Reddit username bellflowerbay said: "I bring costume jewellery.
"If you are worried about wedding rings or something of value getting lost while at port or even on the ship there is typically a safe in each cabin."
For most people, the most expensive piece of jewellery is an engagement ring, with very few taking it off.
Many will wear their engagement ring when on holiday, but consider where you are travelling to.
Instead of taking an expensive diamond ring onto a cruise, consider a fake travel engagement ring.
Cubic zirconia can be a really convincing diamond substitute.
For anyone that wants to take expensive jewellery on a cruise, here are some travel safety tips.
1. Document the jewellery you're bringing and get them insured
Make a visual inventory of the pieces you're taking with you – take pictures of every item of jewellery you own.
If you need to file a police report for any reason, this proof of ownership will be very helpful.
Check your contents insurance covers worldwide travel, or consider travel insurance including jewellery.
It is also smart to update any appraisals before you leave.
2. Alert officials, if necessary
If your insurance company requires you to notify them of travel, make sure to do so. Also don't forget that, for international travel, you must report to Customs the transport of goods valued at £10,000 or more.
3. Know when to not wear your jewellery
While your valuables are often safest while in your sight, there are activities during which you need to take your jewellery off.
4. Store safely in your cabin
Never leave jewellery lying around in your cabin.
Many cabins will have a safe, and store the jewellery in the safe.
5. Conceal, don't reveal
If you're in a dangerous or unknown area, take steps to conceal expensive jewellery from strangers.
Also, don't advertise the presence of expensive jewellery by sharing it on social media. There's no need to make yourself a target.
Source: Read Full Article