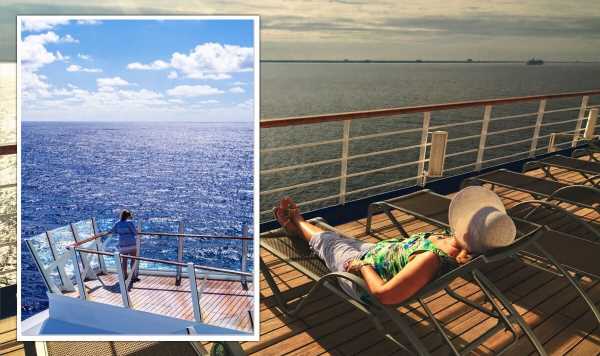 Cruises: Jane McDonald outlines steps to check in
We use your sign-up to provide content in ways you've consented to and to improve our understanding of you. This may include adverts from us and 3rd parties based on our understanding. You can unsubscribe at any time. More info
Nicky Kelvin, head of the Points Guy, told Express.co.uk there are a few ways Britons can save on a cruise. From the best time to book to the best type of ships, Nicky's tips could help Britons save "lots of money".
Nicky said: "I would suggest booking older, less popular ships, as cruise lines are always showing off their latest and greatest ships.
"Cruise-goers often flock to these vessels so they can brag they've been on board.
"For those who want to save, suites on older ships, especially when recently upgraded, are often better deals than comparable cabins on the newest, flashiest ships."
New cruise ships are always going to attract veteran cruise holidaymakers but staying on an older ship can be a lot cheaper.
Cruise lines will have set standards, so older ships will still offer an incredible range of entertainment and food for guests.
Guests that stay on an older ship will also have more money to spend on excursions or speciality dining.
Another advantage of booking an older ship is that the crew will know how to run it like a well-oiled machine.
Nicky added: "I would also advise on booking cruise-only fares.
"Cruise lines may bundle suite accommodations with air, hotel stays, limousine transfers and other add-ons, which majorly increases the prices.
"Instead, choose the option of booking cruise-only, as this will save you lots of money, particularly if you can use frequent traveller or credit card points for your flights and pre-cruise hotel stay."
Although booking an all-inclusive might seem like less hassle, it could add on a lot of extra costs to a cruise holiday.
Britons should do their own research to see if they can find a better deal on flights before opting for all inclusive.
It's also a good idea to check out which add-ons are needed and which the group thinks they can go without.
Drinks packages can be a good offer for people who are planning to drink a lot on their cruise but they won't be ideal for everyone.
Nicky said: "Another way to save money when booking a cruise is to book in a low season period when fewer people want to travel.
"When travelling in Alaska and the Mediterranean, it's best to check suite fares for early spring and September to October, while avoiding the height of summer season.
"Going on a Mediterranean cruise in autumn or winter will save you even more, and avoiding the Caribbean and Bahamas during school holiday periods, will see you come across much better deals on suites.
"I would recommend travelling here in November or mid-January to see the best deals."
The huge range of cruise options mean that travellers can take a cruise at any time of year.
Travellers will be able to save money by avoiding certain destinations during their peak travel period.
Source: Read Full Article