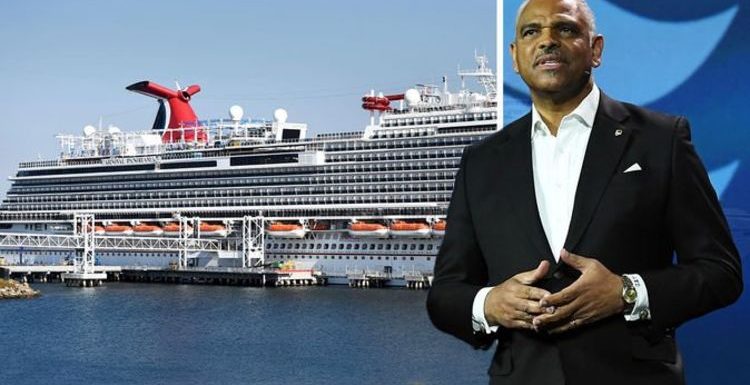 Cruises: Expert hopeful for 'July' return of holidays
When you subscribe we will use the information you provide to send you these newsletters.Sometimes they'll include recommendations for other related newsletters or services we offer.Our Privacy Notice explains more about how we use your data, and your rights.You can unsubscribe at any time.
Cruise holidays have been impossible for many months now due to the coronavirus pandemic. The industry has been hit hard, with several ships forced to transform into floating quarantine centres after Covid took hold last year. Some cruises may be returning this summer but the boss of Carnival Cruise Line has warned in the latest cruise news that it will take a further two years for cruising to properly recover.
Arnold Donald, chief executive of Carnival Corporation, told the Financial Times that the cruise industry will have to work doubly hard to attract first-time cruisers in a post-pandemic world.
What's more, returning staff to ships is a long and tricky process.
For Carnival, which has 90,000 staff, it could take up to 45 days due to differing international travel restrictions and quarantines, Donald said.
As for ships sailing this year, the boss said: "[It] depends on so many variables, because every destination is going to have its own level of comfort and what regulations are going to be."
The cruising chief has begged authorities for "no undue restrictions, constraints, disadvantages placed on the cruise industry versus the rest of travel and tourism".
Some cruise lines, including P&O Cruises, have chosen to scrap international cruises this summer and focus on domestic sailings instead.
P&O Cruises on ships Arcadia, Aurora, Azura and Ventura have been cancelled until the end of August while sailings on cruise ships Britannia and Iona are suspended until the end of September.
P&O Cruises president Paul Ludlow said in a statement that a series of short break and week-long UK cruises "will leave from our home port in Southampton and sail around UK coastal waters enjoying the summer sunshine.
"More details of dates, prices and the experience onboard will be announced later this month, but they will, of course, all have flexibility so guests can book with confidence."
UK cruises were given the green light to go ahead this week.
Maritime minister Robert Courts told the All Party Parliamentary Maritime and Group (APPMPG) on Tuesday that UK cruises can go ahead from May 17.
This is the date when international travel is set to open up as the UK emerges from lockdown.
The minister pointed out that cruise lines have gone to great lengths to ensure passengers and crew will be safe on board with stringent cleaning and Covid testing measures in place.
Some cruise lines are even demanding that holidaymakers must be vaccinated in order to sail.
However, the exact measures cruisers can expect to see are yet to be confirmed, said Courts.
A Department for Transport spokesman said after the announcement: "The restart of domestic cruises in England will be aligned with the wider resumption of the domestic tourism and indoor hospitality sectors.
"As set out in the Prime Minister's roadmap, the earliest possible date for this step is May 17.
"We are committed to restarting cruise travel when it is safe to do so, and we are working closely with the sector to prepare for a safe and successful restart."
Further details will be made clear next month with the Global Travel Taskforce set to report on April 12 with recommendations aimed at facilitating a return to international travel.
The Department for Transport said more information on the restart of international cruises will be included within that review.
Source: Read Full Article